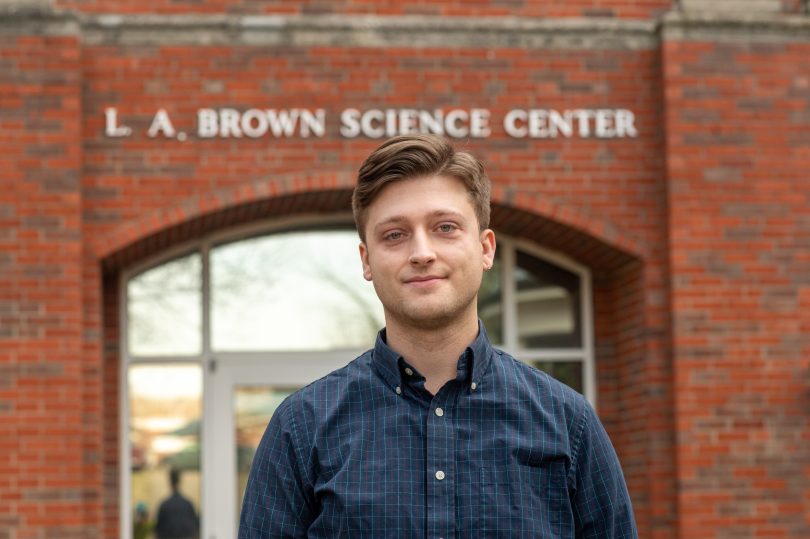 As Transylvania University's first academic module of 2021 gears up, Brandon Bailey '19 is again working out the safety and logistics for in-person chemistry labs. Chemistry professor Eva Csuhai calls him the "hero of the story" — his knack for logistics and organizing student and lab safety during COVID-19 has helped to make possible the transition from online labs of last spring to in-person experiences last fall.
"He came up with most of the practical tricks we needed so that everyone can have their own things in their own space," Csuhai says. "He lined up the timeline of how we flow people from one lab to the other." That's essential choreography during a pandemic.
Bailey also helps to train work-study students in the lab, including seniors that he knew when he was a student. He notes the good spirits of students in the lab: "They want as much experience and contact as possible," he says.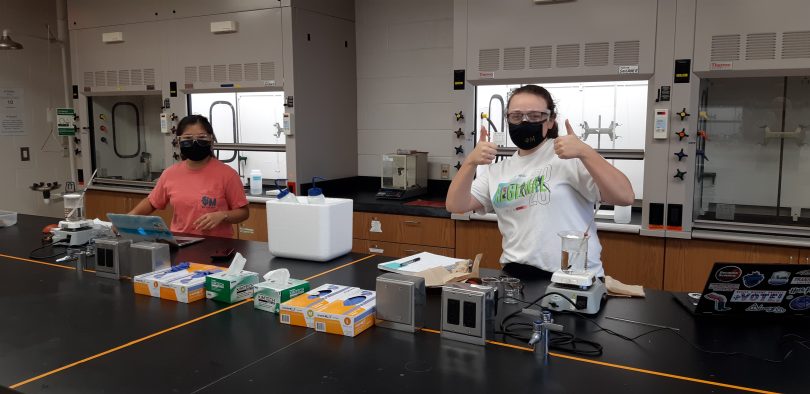 As the chemistry lab coordinator, Bailey takes his responsibility for student safety to heart. "I didn't know I was cut out for this," the physics graduate admits. "I do like to organize and have control over details, but in general I think it's in my personality — the logistics, organizing and prioritizing." The job came about unexpectedly, the summer after his graduation, when he was asked to fill in temporarily for the outgoing coordinator with whom he'd worked for two years as a work-study student. He happily obliged. By the end of the autumn of 2019 the job became official. Not long after came COVID-19.
"Up until COVID," he says, "I felt I had a complete understanding of what the students were facing day to day." As a Transy grad, Bailey knew the course loads, content, schedules and labs. "But with COVID-19, it's been harder to relate personally." He says he can't fully imagine what it must be like to do the work while dealing with the restrictions of physical distancing and remote learning. He recognizes that as a particular challenge. And he understands the importance of keeping students safe so that they can enjoy what has become a precious in-person experience.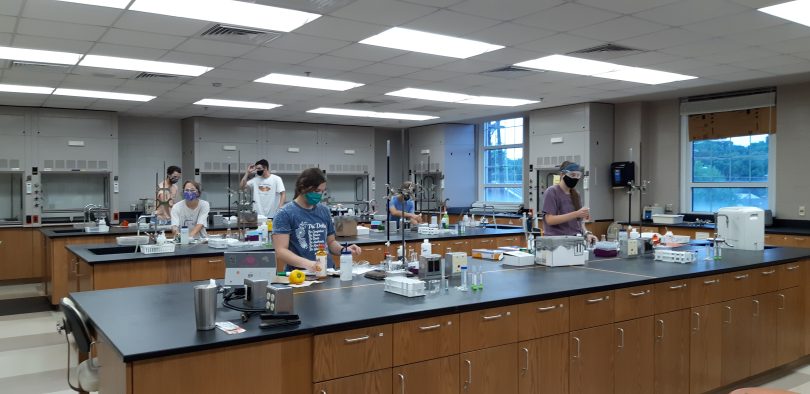 Bailey says he's observed just how eager and grateful students are for the lab activities and to simply be in a building, face to face (albeit at a distance). "That's something I've taken for granted in the past," he reflects. "But a lot of students rely on it to keep them going. That human interaction is invaluable in academia and the educational setting."
The COVID-19 era also has taught him the need to be flexible. "I've had to learn early on and over and over again to be ready to change your plans," he says. He now plans per module, setting up labs, scheduling people and space and use of materials. "For January, we have a plan." He's ready to adapt to whatever might be needed in February.
Bailey came to Transy from Bath County in Eastern Kentucky, with thoughts of being pre-med. But as his love of math and science held sway, he settled on physics as his major. "There was something about physics being such a technical description of the universe and how things work," he says. "That's why I love science as a whole — to have a full understanding of how things work." Physics, he continues, "is really heavy in the math, but the concepts you're applying the math to are fundamental. It's almost an emotional kind of thing that draws me to it," he adds.
But chemistry, he concludes, noting all of the time he has enjoyed in the lab, "has a place in my heart. I do feel fulfilled doing this work. The responsibility for keeping students safe motivates me. With room capacity limited and the danger of COVID, the stakes are higher now. I feel the need to rise to that level."