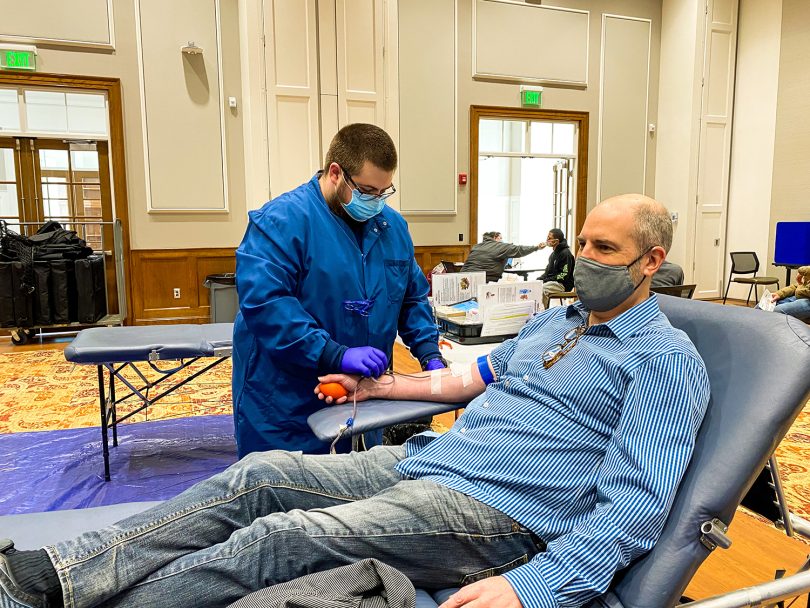 As part of Transylvania University's commitment to service, the school community today is participating in a campus blood drive — one that could help in the fight against COVID-19.
The Kentucky Blood Center event is part of National Blood Donor Month, which is January because of the increased wintertime need for blood and platelets. The university has answered the call, filling up almost all available slots on the sign-up sheet.
"The Transylvania community has once again stepped up as we volunteer to give blood," professor Mike LeVan said. "This shows how our students and community continue to try to be better citizens to those around us."
This year, donors who have recovered from COVID-19 can help critically ill patients with the disease by donating plasma, which according to the KBC has been used to treat epidemic infections for more than a century. (All donations will be tested for COVID antibodies.)
Transylvania typically has two blood drives each school year, collecting an average of around 30-35 units per drive, said LeVan's wife, Amy, who is a KBC donor support recruitment specialist. "Each pint of blood has the availability to impact up to three lives."
Giving blood is one of many ways Transylvania is making an impact on the Lexington community and the world. In fact, the school this past fall made the Washington Monthly's list of top 10 liberal arts colleges for promoting public service.
"During my 26 years at Transylvania, one character trait that has shined throughout our community has been how the students, staff and faculty deeply care about people," Mike LeVan said. "Every year our Transylvania family takes on different projects that help people in our city, our state and the world. There have been projects to collect Christmas gifts for children, help collect food and supplies for local shelters, and reach around the world to build a house for a family in Guatemala."
LeVan said this type of service learning is "rooted in a liberal arts education — but that is not the main reason why I have seen students and others give themselves to these projects. They give because they care. They care about Transylvania, they care about the people in our community, they care about people everywhere. This blood drive continues to show this same heart."
Find out more about how you can donate blood. And fill out this form if you've had COVID-19 and want to help critically ill patients.