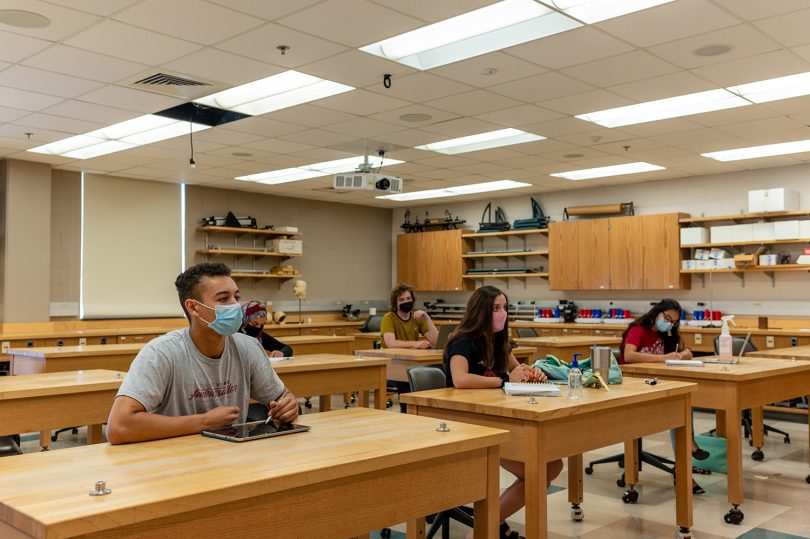 Some local high school programs prepare students so well for a Transylvania education — get them so primed for the liberal arts — that the university guarantees their graduates a substantial scholarship.
To be eligible for these awards (along with all merit-based scholarships, except for Premier Scholarships), students planning to enroll with Transylvania University's Class of 2025 this fall must apply by the Feb. 1 Regular Decision Deadline.
These scholarships cover a broad range of programs, from Lexington Catholic's Exemplar Scholars to Paul Laurence Dunbar's Math, Science and Technology Center.
"The partnerships are there to give these students an opportunity to continue their work at the collegiate level," Vice President for Admissions Johnnie Johnson said. "We are also trying to keep some of the best students in Lexington — in Lexington."
Current Transylvania students know first hand how well specialized high school programs prepare future Pioneers.
Junior Ryan Wood, who participated in Tates Creek High School's International Baccalaureate Programme, said starting college was seamless. "I felt like I was on track."
The elementary education major said the IB program is rigorous and requires a lot of critical thinking, analysis and time management. When he got to Transylvania, he was "ready to have some conversations," understanding he wasn't always going to be right. "Knowing that I can be wrong — that's part of learning."
Plus, as is evident by the title, Wood pointed out how the IB program's international flavor relates well to Transylvania's commitment to study abroad.
First-year student Jaylan Green also was influenced to attend Transylvania because of his participation in a high school program. Through the Pioneer Pathway college empowerment initiative, Green and his classmates at Frederick Douglass got a taste of life at the university through campus visits.
"I didn't really know anything about Transy until I did the program," said Green, who's studying computer science. "It's good to check out the campus and see what they're doing academic-wise." Pioneer Pathway also includes sitting in on classes, practicing interview skills and getting tips on writing application essays and resumes.
Sophomore Camae Mason's interest in Transylvania started as a young child when she'd ride past the university with her father as he commuted for his job at the nearby Sayre School. Later, as a high school student in Bryan Station's IT Academy, she attended an event where university and school district administrators announced a minimum $18,000 scholarship for program graduates. "This pretty much like seals the deal for me," she told herself at the time. "There's no way I can't go now."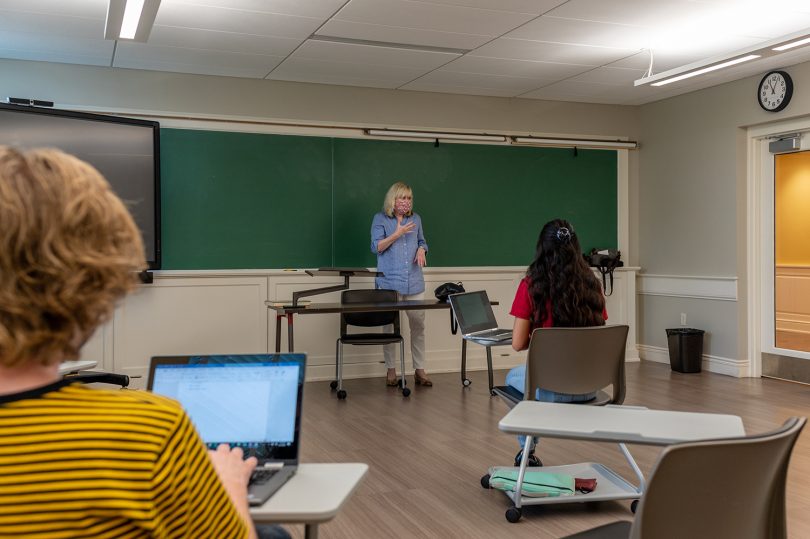 An art education major, Mason was well prepped for Transylvania's digital liberal arts focus by combining the Station Arts Academy with the IT Academy in high school.
Fayette County Public Schools describes programs like these as academically rigorous, career-focused, "small learning communities." And the work can be challenging.
"It's learning to be resilient — it can be really stressful sometimes," Mason said of the extra workload. And as with Transylvania, the academies form tight-knit communities where students benefit from connections between each other and teachers — bonds that can pay off in a variety of ways, from good advice to internships.
First-year student Olivia Greinke also got a head start on her Transylvania education in high school. "Rather than just teaching us material and making it testable, they wanted us to be inquisitive people — they taught us to ask analytical questions," said the graduate of Henry Clay's Liberal Arts Academy.
Greinke, who is majoring in math and economics and minoring in computer science, said the writing skills she learned and being able to analyze papers set her up well for college. "Being able to think critically — that's a skill that Transy really values," she said.
As for first-year student Jenna Shalash, she said Tates Creek's IB program helped her break out of her comfort zone. Along with taking courses like Theory of Knowledge and being thrown into presentations and other hard projects, she started joining clubs her junior year and ended up being senior class president.
"I come in as a freshman with a junior mindset because I've already experienced the stressors and anxiety that come with a large workload," Shalash said. "I also fit in well with the liberal arts education at Transy because in Theory of Knowledge we had to question everything."
Shalash, who is studying political science and writing, rhetoric and communication, also has an "aspiration for wanting to make a difference in my community." This kind of engagement is key to the liberal arts mission.
Looking to the future, Shalash plans to study law. "Whenever I apply to law school, Transy will be that new IB that will put me ahead of everybody," she said.