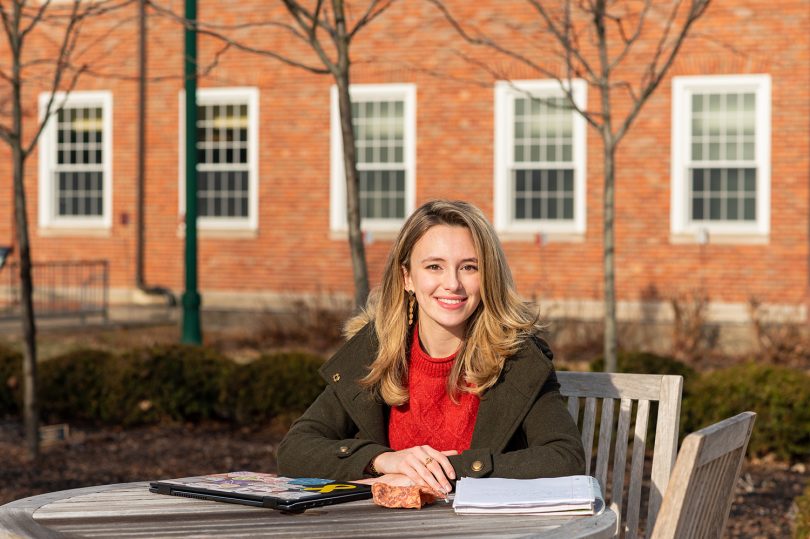 A name appearing on a recent Dean's List is the same one representing Transylvania's Student Activities Board as president. Student leader Olivia Forester '21 has been active in food justice initiatives, as a tutor at the Carnegie Center and volunteer coordinator for the peer tutoring program partnered by Calvary Baptist Church and the Charles Young Center. But without Transylvania's embrace of a test-optional admissions policy in 2016, Forester's thoughtful intelligence and commitment to service would have been missing from campus and the Lexington community.
Forester will be graduating this year with a major in writing, rhetoric, and communication and a minor in art history (with a fine arts scholarship). She says she didn't attend Transy for the degree as much as she did to be challenged. She wanted to experience something different from the community she'd known all her life.
"I wanted to come here to be a lifelong learner," she says. But as a high school student, she never imagined such an opportunity would be hers.
Forester grew up in a rural western Kentucky community that she loves, in a county that, she points out, hasn't a single traffic light. And although the community nurtured her sense of service and personal character, it lacked the resources to fully nourish her hunger to learn and her desire for opportunities to experience something different from her surroundings.
She caught a glimpse of that possibility when she attended the Kentucky Governor's Scholars Program. Then her high school AP English teacher, Jennifer Ashley Dooley '98, invited her to tour Transy's campus. Forester was smitten by the sense of community and the idea of living in a city and all that it offers.
Until that campus tour, attending an intimate liberal arts university had never seemed within reach of Forester. In spite of earning a 4.5 GPA while being active in seven organizations and working outside of school, she worried that she wasn't "smart" enough. She carried that burden because standardized tests had never been her forte and she knew that test scores were the ultimate hurdle before being accepted into a highly ranked private university. She thought she hadn't the resources to compete with students and secondary institutions that could offer their students special test preparation.
But during her tour of Transy, staff introduced her to Kentucky's first test-optional policy that gives students the choice of not submitting test scores as part of their application. Transy's policy recognizes that a student's abilities and commitment to learning shouldn't be defined by a test score.
"Not every student is a good test-taker," says Johnnie Johnson, Transylvania's vice president for admissions, "but they can still be good students. Going test-optional has opened up our application to audiences that might not have considered Transy as an option. We're providing another avenue toward getting their education."
Forester's presence as a talented student leader shows what happens when a policy in theory becomes a policy in practice. It opened her world and future, and it brought her perspective to campus.
"I always felt that the ACT was never a true measure of me," Forester says, before pointing to a larger consideration. "The test-optional policy really bridges the socio-economic gap that exists around standardized tests."
At Transy, Forester could fully explore the liberal arts that she loves. She reveled in unexpected new interests. She measured her depth of her learning by the connections she began to make between her classes and experiences; e.g., how learning about abstraction in her computer science class contributed to her understanding of cubism in her art history class, and was further illuminated during a visit to the Tate Gallery in London, where she stood in front of the paintings she'd studied on the page and computer screen.
"I feel like I've grown so much," she says, reflecting on her overall undergraduate experience. "I really am a different person from when I started out here." She gently laughs as she recalls her early naivety as she learned to navigate college and city life. Yet, the young woman who bravely arrived in Lexington with little experience of how to interpret city street signs, would embrace the city, study abroad and apply for Fulbright and Peace Corps opportunities in her senior year.
"I learned how to adapt," she says, throwing herself into the most challenging classes and experiences. Now she can't imagine not coming to Transy. "I almost don't want to imagine that," she says.
With COVID-19 restricting her dream of teaching abroad, she's also applying to Teach for America. Recognizing how much she has benefited from higher education, she'd like to make the same opportunities possible for others. "Just because of where you live doesn't disqualify you," she insists.
Eventually, Forester will attend law school with the idea of addressing deficiencies in the immigration and education systems. She understands that having access to quality education is lifesaving.
"I know it sounds corny," she says, "but it's being the change you want to see. We've all been given opportunities. I want to give more people these opportunities. It shouldn't be different because of where you're from."
Growing up, she says, "I felt like I was living in a snow globe. I could see the world but not be part of it." The politics and culture of her county defined that world. "Then when I arrived at Transy, I saw that the world was so much bigger. That's why I was so eager to study abroad."
Coming to Transy, she says, "I wanted an education that was going to sustain me for my whole life. So much of Transy is that you get out of it what you put in. I'm really blessed that I got to make my mark," she concludes. "I've gotten that true education I sought to get."