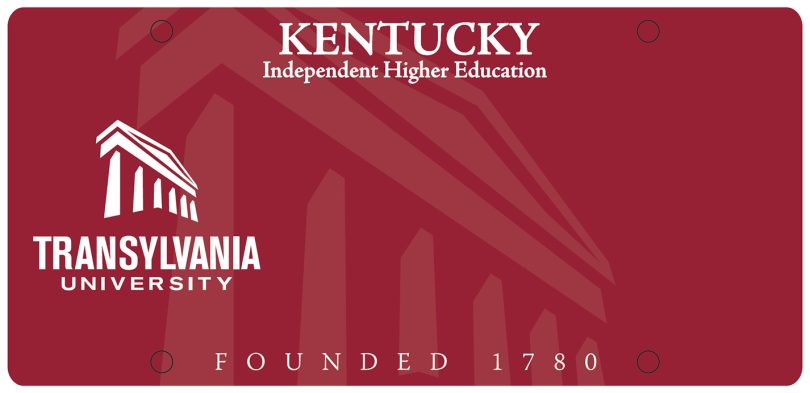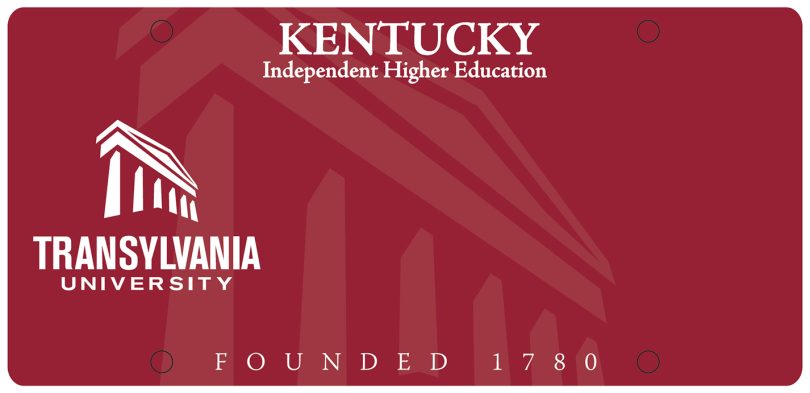 Kentuckians who feel driven to support excellence in higher education can now do so with a newly designed Transylvania University specialty license plate.
For each plate sold, $10 goes to The Transylvania Fund to pay for things like scholarships, student programming and faculty and staff development. They've raised more than $135,000 for the school since 2002.
"Every time alumni or friends of Transylvania purchase a Transy tag, they help support each of our students with scholarship funding," said Susan Ware '84, senior director of donor engagement. Almost all of the school's students receive some sort of financial assistance, and a large portion of the Transylvania Fund helps those most in need.
Designed by Transylvania's Office of Marketing and Communications, the updated crimson plates feature the school's new logo: a refreshed graphical representation of its historic Old Morrison administration building.
If the old plates are any indication, these are going to be popular: The Association of Independent Kentucky Colleges and Universities each year sponsors a Battle of the Bumpers contest — which Transylvania won 10 straight times beginning in 2008.
"Showing your Transylvania pride on your plate is an eye-catching and easy way to get our alma mater's name out in the community," said Director of Alumni Relations Natasa Mongiardo '96. "The plates are a great conversation starter when you are traveling, too, and a way to connect with other Transylvanians in your neighborhood. I can't wait to get the newly designed plate when mine is up for renewal in May."
Additional information on renewing or getting an updated plate is available from your county clerk's office, which oversees distribution. Due to COVID-19 precautions, counties have differing application requirements.