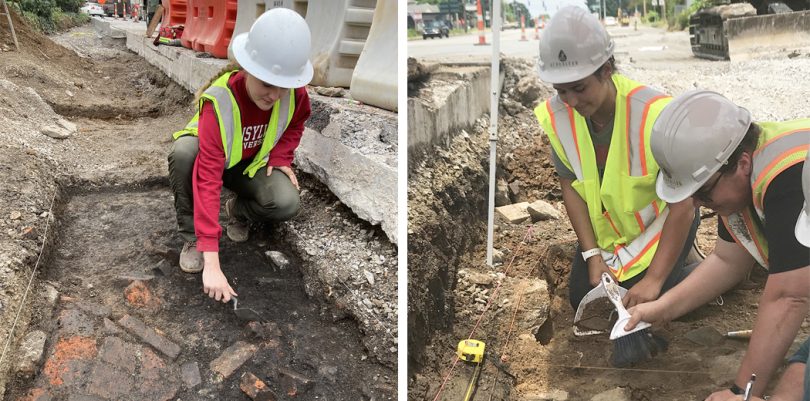 Caroline McMahan was sifting through some dirt at Lexington's Triangle Park when she noticed what looked like a random piece of bone.
After examining it more closely, the Transylvania University student realized it was too clean cut for that — it was a die (the rolling kind) made of bone from the 1800s. "That was a pretty cool feeling once we rinsed it off and saw it," she said.
Alongside anthropology professor Chris Begley '88, McMahan (pictured left) and fellow Transylvania senior Olivia Livingston (right) have been exploring a part Lexington that's usually hidden beneath our feet. The students are paid field technicians for a project tied to the construction of the Town Branch Commons walking and biking trail — one that was featured this week in Archaeology magazine. (Federally funded construction requires archaeological work.)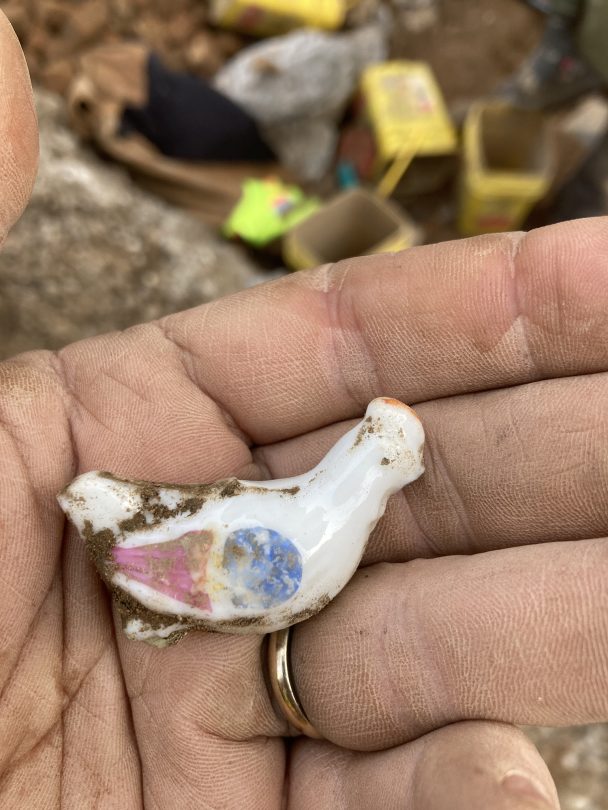 The magazine featured one of several digs that are part of the project — this one at the corner of Vine and South Limestone streets. Crews working on the trail found a brick wall buried under a sidewalk and called in lead archaeologist Jason Flay, president of Acheulean Consulting. Based on a mix of "high-end and basic" items, Flay said it could have been the site of a tavern or restaurant at one time, according to the Herald-Leader. It was part of a building that was torn down in the 1870s to make way for a hotel serving travelers from a nearby railroad depot.
"The area has been heavily developed over the years and it was thought that no historical features were present at the site," according to Archaeology. Turns out, there was a lot there. "Stone lice combs, metal buttons, pottery, an Indian head penny dated 1863, a clay pipe bowl thought to have been made in Wales or Scotland, a decorative ceramic chicken head that may have been part of a pitcher or other piece of serving ware, a bone or ivory domino, copper chains, animal bones, and ginger beer bottles were also recovered from the site."
McMahan, who's an anthropology and health and exercise science major, said she hopes to continue her work with the project at that location. "It was just interesting to be able to look back onto what it might have been like in Lexington."
Livingston, also an anthropology major, worked on the Town Branch Commons project off Newtown Pike by Third Street — not too far from campus. "I often did the sifting part of the project, looking for whatever artifacts I could find," she said. She also dug and took measurements of the site where a lot of glass from medicine or alcohol bottles, porcelain and a basement wall and floor turned up.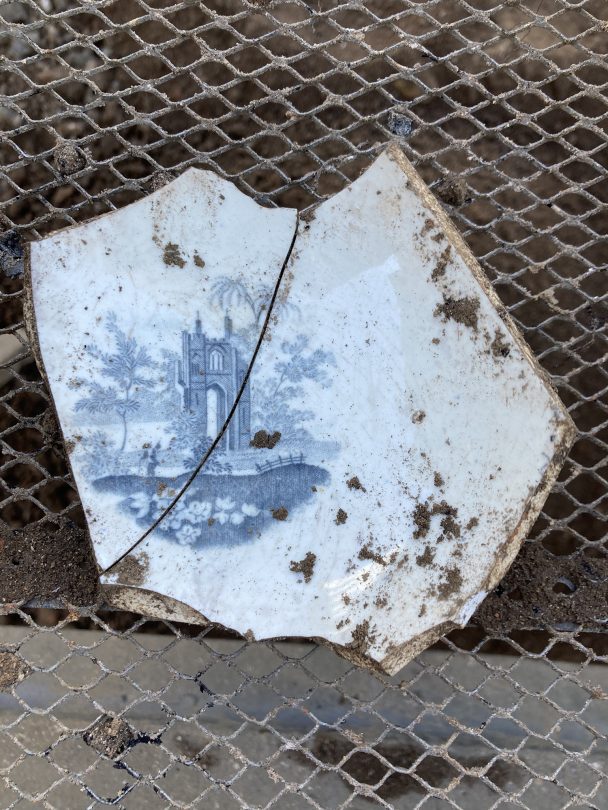 Both students got to brush up on their field skills through the work over the past year. Livingston also said she gained urban archaeology experience, which she never thought she would do. "In a way, it helped me to narrow down a particular time period that I would be interested in pursuing a career in."
Professor Begley said, "Urban archaeology is incredibly complex and difficult, because so much happened in the same space, and it's all so fragmentary. This project represents a great opportunity for students to learn in that challenging environment."
While most of his archaeological research is in Central America or Europe, he appreciates "the chance to contribute to our understanding of our past here in Kentucky. During this pandemic, archaeological work closer to home makes sense. I'm glad to focus on this project, on my underwater archaeology project in Kentucky waterways and on upcoming work with the U.S. Forest Service on the early iron industry in Kentucky."
As for the Town Branch Commons trail itself, that will connect to the Legacy Trail, which runs right past Transylvania.