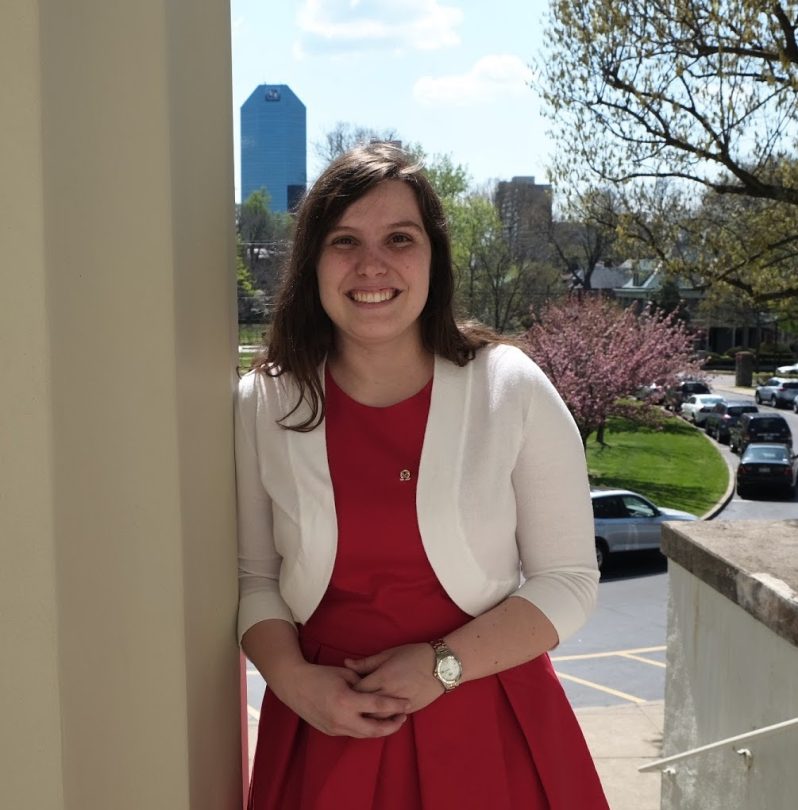 When Katie Tucker '18 first imagined her college experience as a high school senior, she was convinced that she would: 1) study pre-med at a large school; 2) learn primarily from her professors; and 3) definitely not attend her parents' alma mater. For the self-described introvert, the idea of being smitten by the humanities, of leading a variety of student organizations and pursuing a Ph.D. at the Harvard Kennedy School never crossed her mind.
But Transylvania University has a unique way of revealing deeper truths and inspiring students to pursue their most authentic self. It offers opportunities for complete and surprising metamorphoses. If there's a "public policy" butterfly in a cocoon briefly misidentified as "pre-med," it's going to be discovered, nurtured and released into the post-Transy world, ready to thrive.
Fortunately for Tucker, her parents, Lance '91 and Jill '90 (Crouch), managed to sway their daughter into touring their alma mater. And, as so often happens, once she set foot on Transy's welcoming campus, no other college would do.
"I loved the small campus and the way that everyone interacted and how the professors and students all seemed to know each other," said Tucker, who is from Oldham County, Kentucky. "I couldn't fathom going to a big school after that. I pretty much crossed everything else off my list."
It didn't take long for her to see how that level of connection would translate into an intimate, dynamic classroom experience. It would become the heart of her evolution, the place where she would find academic rigor, the revelation of her true passions, and the invaluable discussions with peers who offered an array of perspectives.
The classroom, Tucker says, is "where the magic happens."
In her very first semester in the classroom, she discovered an unexpected interest in the humanities, her curiosity piqued by professor Carole Barnsley's Introduction to Religion. The subject, she says, "took me totally off guard." Her enjoyment of the content, the open discussion and diversity of opinions encouraged her to take more humanities and social sciences classes, including political science, history and law. "And I just loved all of them," she says. "That's kind of what drew me in." By her second year at Transy she'd changed her major to international affairs and religious studies — "about as far away from pre-med as you can get," she adds with laughter.
In Transy's classrooms Tucker developed her academic chops, elevated by the high expectations of her professors. "I think Transy professors are really, really good at making the classes rigorous enough to teach you, but not too rigorous that you feel you're drowning or that it's impossible," she says. But she admits to not fully appreciating the value of doing all that homework or striving to meet the bar they set, until she attended the University of Southern California for her master's and then Harvard for her Ph.D.
"I found that Transy went above and beyond preparing me for graduate school," she says, describing a fairly seamless transition. "A lot of my classes at Transy were harder than classes in my master's program," she notes. "I was really well prepared because of how rigorous Transy is." This includes the writing skills she developed in class and as a patron and consultant in Transy's Writing Center, all of which put her ahead of the game in grad school.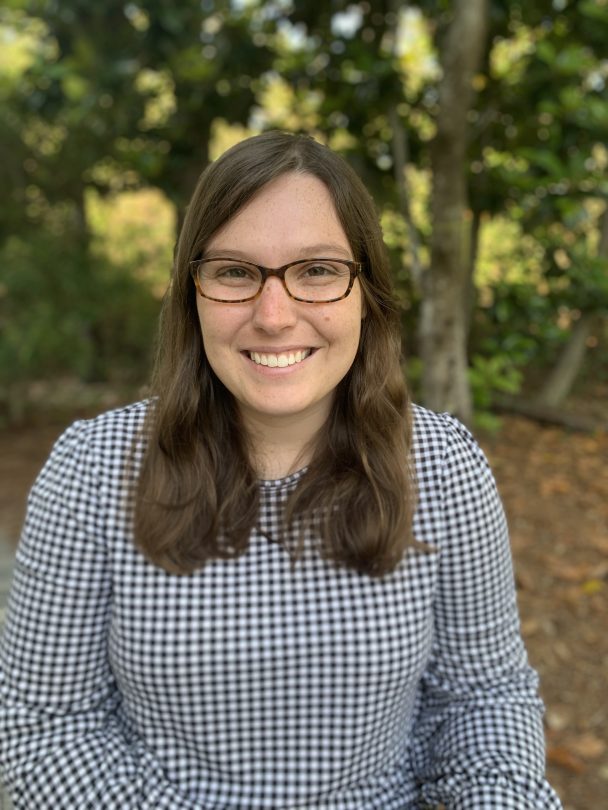 "Writing papers for history, politics and religion classes, and the feedback the professors give you on how to make them better, is really transformative," she says. "In graduate school, the difference between the students who have the capacity to clearly communicate their ideas and those that can't is amazing. And I can't say enough about what Transy did in that realm."
But perhaps most important of all her classroom experience was having the opportunity to engage for the first time with people from so many backgrounds and belief systems. "Those discussion-based classes taught me to listen to viewpoints other than my own," she says, adding, "how important that was and how much I would learn from them." The quality of those interactions with her peers was key to her education.
The power of those open, productive dialogues perfectly served her growing interest in public policy. And it provided the model of behavior for Transy's student body during one of her most significant memories as an undergraduate. As a sophomore during the presidential election season of 2016, she helped to organize a series of roundtable discussions on political issues, co-led by the College Democrats and the College Republicans. Part of what made the series work, she remembers, was that the leadership of both political groups worked together.
"Looking back," she says, "that series was incredibly meaningful because we were able to engage a large portion of the student body in discussions that were very respectful, intelligent and academically oriented. Everyone respected one another's beliefs. And a lot of people really learned about the other side and what their opinions may have been." In the context of 2020, she says, "and how divided our country is and how partisan everything has become, that remains a really special moment for me." And it's something she'd like to replicate.
The experience, she says, "made me believe in politics and the power of public policy, and in people to be able to come together for the betterment for society."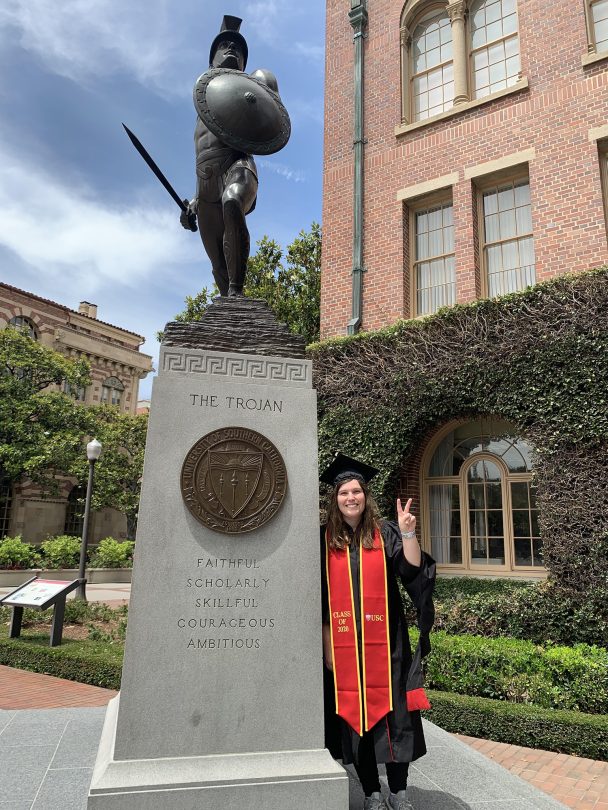 By the time she graduated from Transy, Tucker's interest in conflict and security had led her to apply to USC. There, she specialized in homeland security as part of her master's in public policy, tackling issues ranging from active shooters to wildfires and climate crisis. Being at USC helped confirm her path and her desire to be in an academic environment. "I found that I loved the intellectual life and the feeling of life on campus," she notes. "That led me to the decision that I did want to pursue a Ph.D." At Harvard, she'll be a teaching fellow as well as taking classes and working on her dissertation.
For Tucker, public policy is all about making decisions that better other people's lives — "whether that's a political decision or the decision of a business or a think tank," she says. She's drawn to conducting research that has tangible, measurable goals and is responsive to the changes in human society; for example, responding to technology companies as they collect massive amounts of personal data.
"I love the idea of a field whose sole devotion is basically: 'How do we make existing policies better and how do we make the best new policies that we can make?'" No doubt, creating successful public policy requires knowledge and compromise and the ability to listen and debate multiple points of view – the hallmark of her Transy experience.
"I think the small classes cannot be oversold enough," Tucker concludes, "because so much of what I got out of Transy was not just the wonderful, smart professors, but getting to have in-class discussions with everyone in the classes. In bigger classes, you just can't do that. It just doesn't work. The ability to learn from each other really is where a lot of the magic happens at Transy."