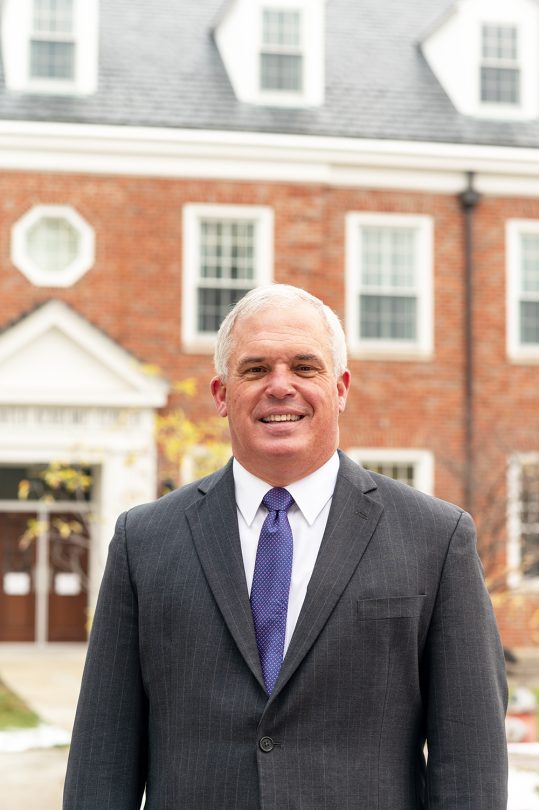 The liberal arts transformed Shawn Lyons' life back when he was in college — and since then he's spent much of his career ensuring the resources are in place for them to inspire others in the same way.
Lyons began earlier this week as Transylvania University's new vice president for advancement after serving in similar roles at other institutions. He will be leading fundraising initiatives and engaging with alumni and others who want to invest in the school's mission to not only prepare students for the workplace of the 21st century, but to help them lead fulfilling lives.
"In a world that is increasingly complex, where solutions to big problems are going to require people who can think broadly and creatively, there's no better preparation than a liberal arts education where you are encouraged to delve into disciplines that have different ways of approaching their subject matter," Lyons said.
After all, taking a wide range of classes and making connections between far flung ideas is at the heart of the liberal arts.
Lyons also is attending to practical matters of starting a job at a new school. For one thing, his wardrobe is undergoing a color shift from gold (more on that later) to crimson. In fact, the first thing he did when he got to campus was head over to the bookstore and buy a Pioneers face mask.
He's also spending his first week getting to know the school community better. "My highest priority is to get immersed in the Transy culture as quickly as possible so I can be more effective at my job," Lyons said.
Additionally, he wants to make sure he has a firm grasp on priorities like the university's strategic focus, which among other things aims to increase enrollment to 1,150 by 2024. That's going to require increased financial aid for new students and more support for academic programs, for example.
To help ensure this financial backing, his office fosters relationships with alumni, parents and other friends of the university who share a commitment to Transylvania's mission. This rapport looks a little different these days, though, because of the pandemic. "The most traditional way to do that is meeting with people and talking with them — and having events where they can talk to others who care about Transy."
As with everyone else, the Office of Alumni and Development has adapted, coming up with creative ways to build relationships. For instance, on Dec. 15 President Brien Lewis will give a virtual State of the University Town Hall for alumni and others. Since it's online instead of in person on campus, alumni from around the world will be able to participate. So while 2020 presents challenges, it also opens doors that may be beneficial in the future.
"It is a challenging time for colleges and universities, but challenging times are also times of great opportunity," Lyons said.
Now about that wardrobe color change …
Lyons' most recent job was vice president for development and alumni at his alma mater, nearby rival Centre College, hence the gold. Lyons — who's gotten a warm welcome at Transy, along with a little good-natured ribbing from friends at both schools — also served as VP for development and college relations at Washington College in Maryland and director of development for the Prichard Committee for Academic Excellence, which champions excellence in education throughout the state.
Although he's new at Transylvania, he's no stranger to the school community.
"I've lived in Kentucky most of my adult life," Lyons said. "I know a lot of Transy folks already, and one of the things that attracted me to the position is that I know Transy alumni have a great fondness for the university."