During the spring break of 2020, just before the novel coronavirus shuttered the world, Transylvania's Center for Academic and Professional Enrichment took a group of students to Atlanta to network with area professionals who are Transy graduates. Among them was Lexington native Adam English '06, the general manager of the Gwinnett Stripers, the AAA affiliate of the Atlanta Braves. 
English was happy to host his compatriots at the Stripers' stadium and to share something of his journey from student-athlete and business administration major to one of only 32 AAA general managers in the country.
"I didn't go to Transy saying I want to work in minor league baseball," English recalls. "I knew I had a passion for sports, and I knew that I had a passion specifically to be around the game of baseball. But it was through the opportunities provided me at Transylvania that I found that passion. I think more and more students go to college knowing what they're passionate about, but not knowing how they're going to translate that into a career."
Transy is where he discovered a new way of interacting with the sport he loved, starting with an internship with the Lexington Legends, then working his way up after graduating. By the time he left his job as the vice president of ticketing for the Sacramento River Cats, Forbes magazine had named the organization the top franchise in minor league baseball.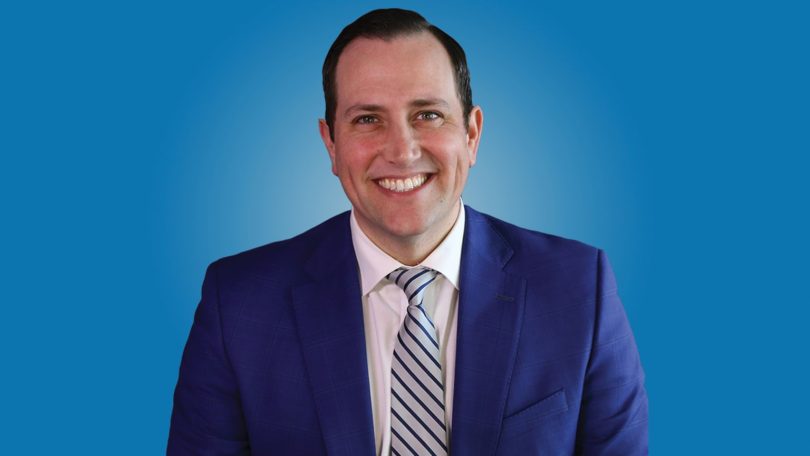 "The culture of how you learn and how you're challenged at Transy sets you up for the challenges you'll meet when you get into the real world," says English. "The opportunities provided are second to none."
English says that building toward that success began with the small class sizes. "You're really able to get that individual attention to help you grow academically and to see where you can take this," he says. He remembers professors calling him on those occasions when he missed class.
"A lot of it too is in the business program," he adds. "You do real-world, real-life projects. Learning by doing was always the most effective way that I learned, absolutely."
Developing personal accountability, being held to the highest standard, risking failure and developing the resilience to bounce back are just some of the elements of his education that helped him transition from baseball player to an executive on the business side of the sport.
He recalls an early lesson at Transy when he received a D on a paper from Julia Poynter, associate professor of business administration. "And I'd worked hard!" he says with laughter. "Her response was, 'You've got a foundation of an idea here, but you need to have so much more detail in the execution of this and how you actually implement your ideas.' It challenged me in a way I'd never been challenged before in a class."
The culture of how you learn and how you're challenged at Transy sets you up for the challenges you'll meet when you get into the real world.
Adam English
As soon as he entered the workforce, he found himself applying that lesson. When asked to add details to a comprehensive report, he recalls, "I realized I needed to think about the report from a critical standpoint: 'How do I put together every angle of this information for exactly what my boss is looking for?' And it brought me back to college. Rather than teachers giving me a B and saying 'good idea,' they really challenged me to say 'this is what you're going to face in the real world.' So that was incredibly helpful."
That same professor encouraged him to apply for an internship with the Lexington Legends. As a junior, he'd stopped by professor Poynter's office to talk about his interest in being part of baseball after college, and not as a player. Following her lead, he applied for an internship with the Legends but wasn't selected. The next year, Poynter pushed him to apply again. He resisted. Then he remembers she told him, "Throw your hat in the ring. Show them that you're resilient and can go after it — that you want it." And she was right. He later learned that he had secured the internship for those very reasons.
He attributes his success to the generosity of mentors like Poynter and to the variety of his liberal arts education that made him nimble and prepared, as well as fulfilled. Being at a liberal arts university, he reflects, meant he could pursue his love of singing and receive permission from his baseball coach to arrive late to practice twice a week in order to fulfill the terms of his vocal scholarship in his first year. It's all part of the richer experience.
"The more that you learn across the entire education, the better," he notes. "You just don't know all of the things you're going to use on a day-to-day basis." For example, he never imagined how much he'd rely on a statistics course he took — or on the writing. "It's having a well-rounded education and the ability to write effectively," he adds, that has made the difference in his career. "It's writing a 15-page research paper in your first year and being challenged in a variety of ways." He finds those skills missing in many of the younger people he hires.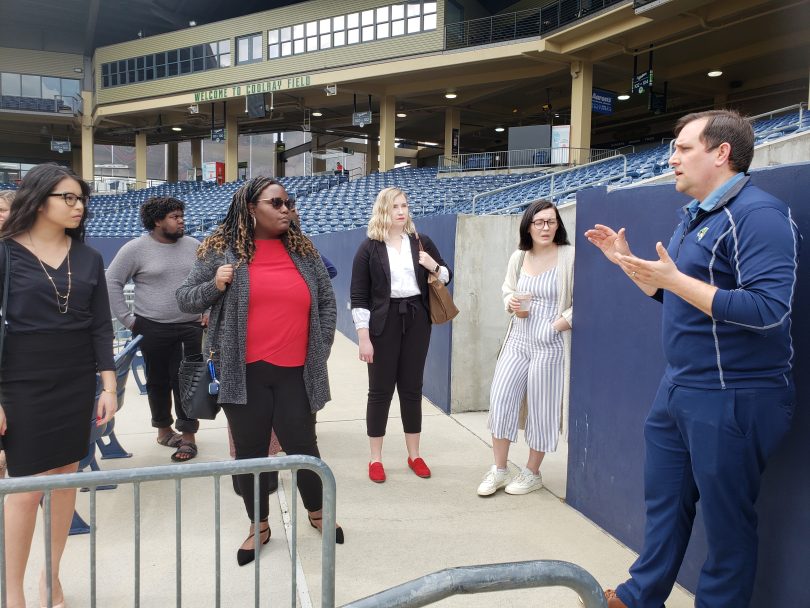 In his day-to-day work, English is responsible for the operations and revenue-producing side of the Gwinnett Stripers. He oversees ticket sales, sponsorships, marketing and advertising, team travel logistics, stadium operations and developing new ways to use the facilities. He sees himself as being in the people business. Much of the work, he says, is in bringing the community together and being a good community partner. But it's also in recruiting and developing talent, encouraging collaboration and creativity, and accepting the risk attached to trying new ideas.
"The Transylvania community is similar in my mind," he says. "It's collaborative. People work together to do great things." The way in which he works with his staff "hearkens back to that collaborative way of learning." The ideas are debated; multiple perspectives are presented; and discussions ensue about why something is good or bad. When English states the goal and asks his team for creative ideas on how to reach it, he tells them there is no bad idea on the table. "I'm an advocate of trying. Let's try it and vet it out. If it fails, fine," he says. They question what went wrong, decide what needs improvement, and then they try again.
"I feel like that embodies the spirit of Transylvania — from the standpoint that you're learning by doing and sometimes you're learning by failing. And failing isn't necessarily a bad thing," he says, noting that some of the best ideas have stemmed from failure. Ultimately, it's about being open, prepared and willing to meet new challenges.
"I wouldn't change a thing about my college experience."