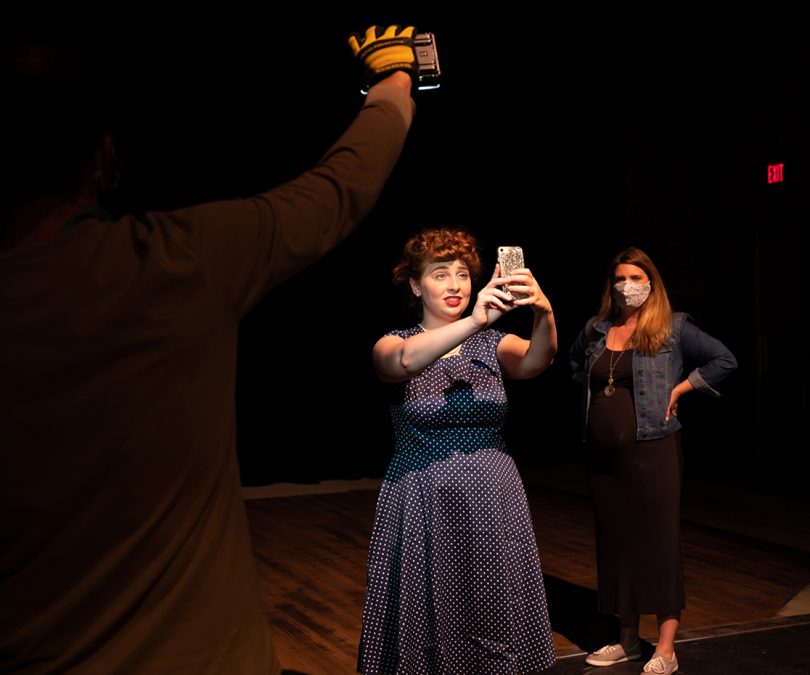 Ian Valencia-Miranda worked a line that raises and lowers theater scenery on the stage of Transylvania University's Haggin Auditorium, but there was no backdrop attached to it for this particular production.
There weren't even any people in the audience or actors on the stage, what with the pandemic. Valencia-Miranda was slowly lowering a GoPro camera to capture digital imagery of the empty scene, lit by a ghost light, accompanied by a poem on emptiness in the voice of a deceased Abraham Lincoln.
Valencia-Miranda and his fellow students are getting experience in the digital liberal arts — an unexpected, crash course of sorts — as part of the school's production of "Railsplitter." The show is an online adaptation of a collection of poems by Maurice Manning, an English professor and acclaimed poet.
Watch the premiere of "Railsplitter" here Friday at 7:30 p.m. It will remain available for free viewing through January.
The digital skills Transylvania students learned after COVID-19 forced the theater department to go online are increasingly valuable in today's world. Necessity brought about a union of creativity, collaboration and technology.
"We had to adjust," said Daniel Bennett, a theater instructor and production technical coordinator. "It kind of fell into our laps."
It was no mean feat to conceive of and put together a collection of 31 one- to four-minute interpretations of Manning's poems, all told in Abe's posthumous voice. The segments range from straight readings of the works to music videos.
Bennett pointed out how those involved with the technical side had to think about storytelling in ways they normally wouldn't have. For instance, seemingly insignificant details like transitioning between shots — or even adjusting the color temperature of a frame — can add to the narrative.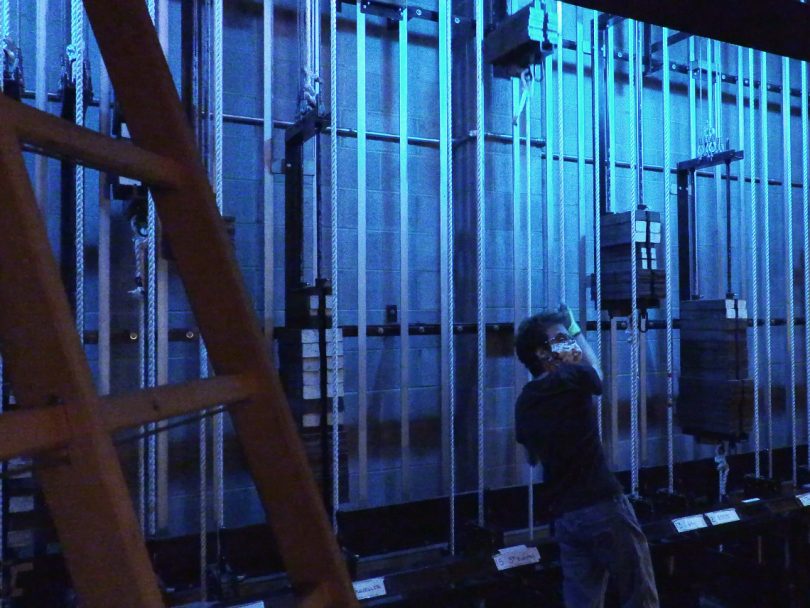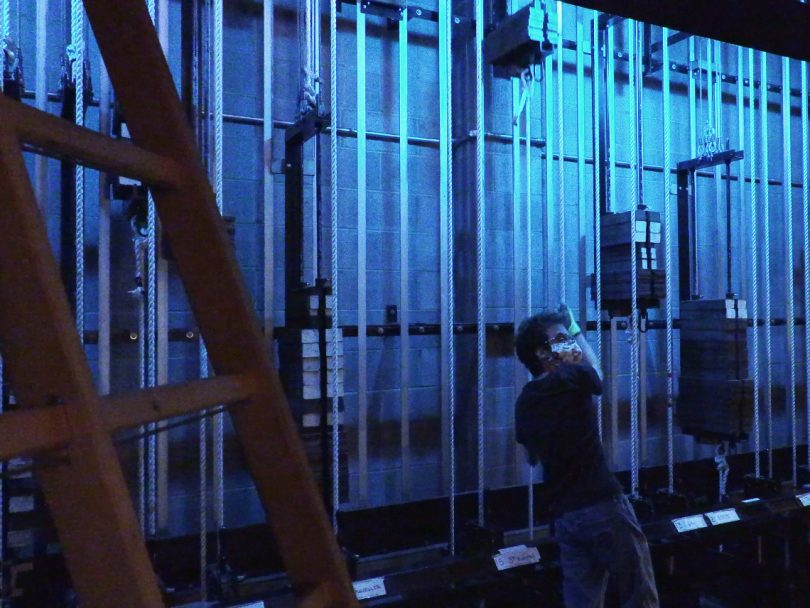 For Valencia-Miranda, who's Bennett's work-study student, a theater scholarship recipient and computer science major, this was a chance to combine his two main interests of technology and the stage.
Besides working the camera, Valencia-Miranda was one of eight student editors on the project (program director Tosha Fowler oversaw the overall aesthetic). He found the poems fascinating in themselves, and "to see them in ways that other people envisioned them, either story-wise or the way they were presented on video, was really cool," he said.
Through technology, Valencia-Miranda could help digitally represent abstract concepts like the passage of time (a theme of the segment shot in Haggin, which Bennett directed).
"Technology is a really good way to marry digital arts and practical effects," Valencia-Miranda said.
Beyond learning hands-on skills like how to use editing software and the school's podcasting studio for voice-overs, these students developed their digital communication prowess while collaborating with each other via technology. Because they couldn't easily (or safely) be in the same room, editors and directors had to find ways to send each other footage and make notes on their projects.
"Though we have had to be physically apart, the entire process has been surprisingly collaborative," first-year student Anne Elizabeth Forker said. "We used video conferencing platforms for meetings and rehearsals, sent and received feedback via email, filmed and recorded various performance aspects and edited everything together to make an incredible show."
Before "Railsplitter," the extent of Forker's video production experience was just playing around with iMovie. With Bennett's help, though, she was able to piece together videos while making artistic choices for a multimedia piece she had conceptualized.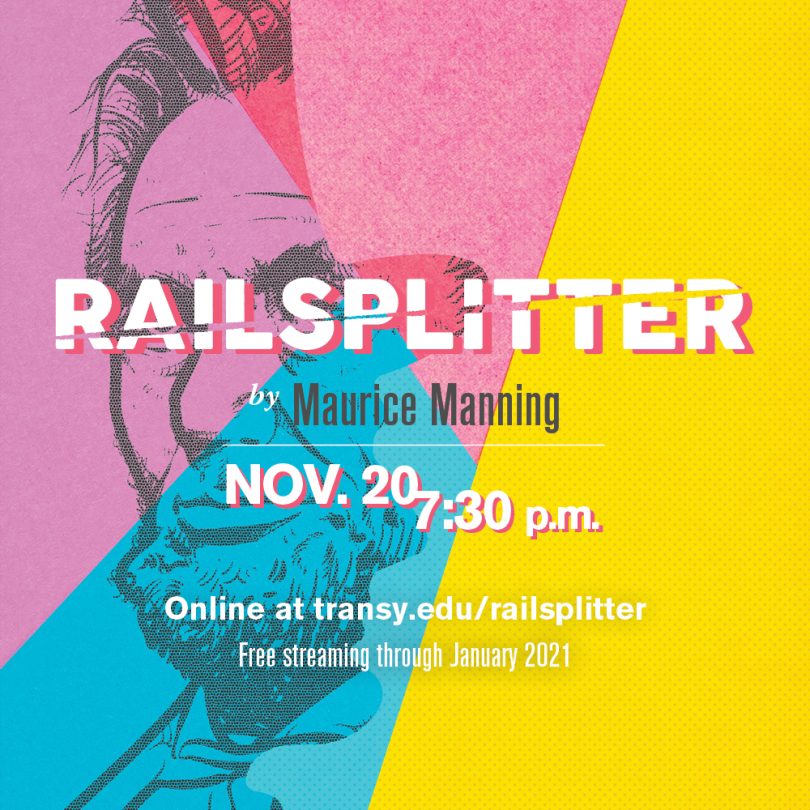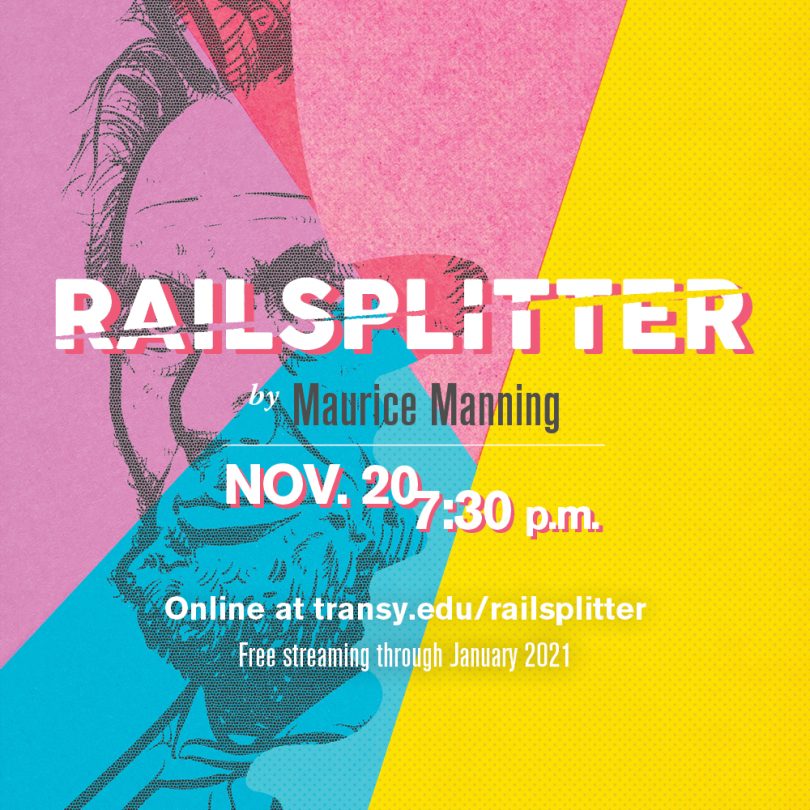 "It has been a lot of tedious hours in front of my computer screen, but I am proud of the work that we have done, and I hope everyone enjoys watching 'Railsplitter' as much as we enjoyed creating it," Forker said.
Bennett said it was important, especially in these times, to give students something to grab ahold of, to really call their own. And the process helped them form a sense of community. "That's the liberal arts," Bennett said. "We're all working together on one thing — we're all coming from different backgrounds, different viewpoints."
He said the various segments of "Railsplitter" work well together and are engaging. "It's a great piece. I could not be more proud of the students."
Bennett, who hadn't had much experience with making videos before "Railsplitter," found free software for students to work with, and the department spent money that had been set aside for a normal season on equipment like a 4K camera. Post-pandemic, this technology and the skills students and faculty have learned can be incorporated into in-person performances — e.g. projections that complement the action and marketing videos to promote the shows.
"We have to figure out ways to keep up with the times," Bennett said.
Emma Louise Laird, a first-year elementary education major, wasn't around technology a lot growing up, but she was moved to collaborate after she heard an alum's musical composition for the production. "Honoring my Cherokee ancestry, I included my rituals of using healing stones and Native tarot cards in my visual arts concept piece," she said. "Each item I picked had strong significance to me and my family."
Laird said she learned a lot about the digital process and plans to work more with these high-tech tools in the future.
She also realized something else. "The value of technology in the theater is that we were still able to produce something and work together in the time of COVID-19 — and that's pretty awesome."
Listen to the Think Humanities podcast, featuring Maurice Manning, Tosha Fowler and Daniel Bennett.