Courtney Smith, Transylvania University's director of global and intercultural engagement, has been recognized as the region's outstanding new professional in the international education field.
During a virtual conference last week, NAFSA: Association of International Educators honored Smith for her many accomplishments and her strong commitment to transforming the lives of Transylvania students.
In her role at the university, Smith helps students with all aspects of the study abroad process — from the planning stage to reflecting on their experiences after they return. She also coordinates their travels with faculty and outside organizations that sponsor international learning programs.
"More than an accomplished resource, Courtney was my friend and backbone at every stage of the study abroad process," junior Tatianna Verswyvel said. Smith stepped up in March when borders were closing because of the pandemic and Verswyvel was studying in the Czech Republic. Smith made arrangements to ensure Verswyvel could return to Lexington and receive some refunds because her study abroad program was cut short.
Smith, who graduated from Transylvania in 2016, is driven to help students like Verswyvel have the most impactful international experience possible — after all, her own travels as a student broadened her perspectives and gave her a better understanding of her life back home.
Plus, she sees study abroad as career development for the 21st century. "There's this big wide world that they'll soon be a part of when they graduate, and with our society becoming more globalized, the more internationalized their experience, the better equipped they are for their future."
Smith has grown these opportunities by expanding the GlobalTransy program from five to 35 programs for students of any major to spend a semester abroad while paying their normal tuition and keeping scholarships and aid. Verswyvel, in fact, said her trip to Prague wouldn't have been possible without this expansion.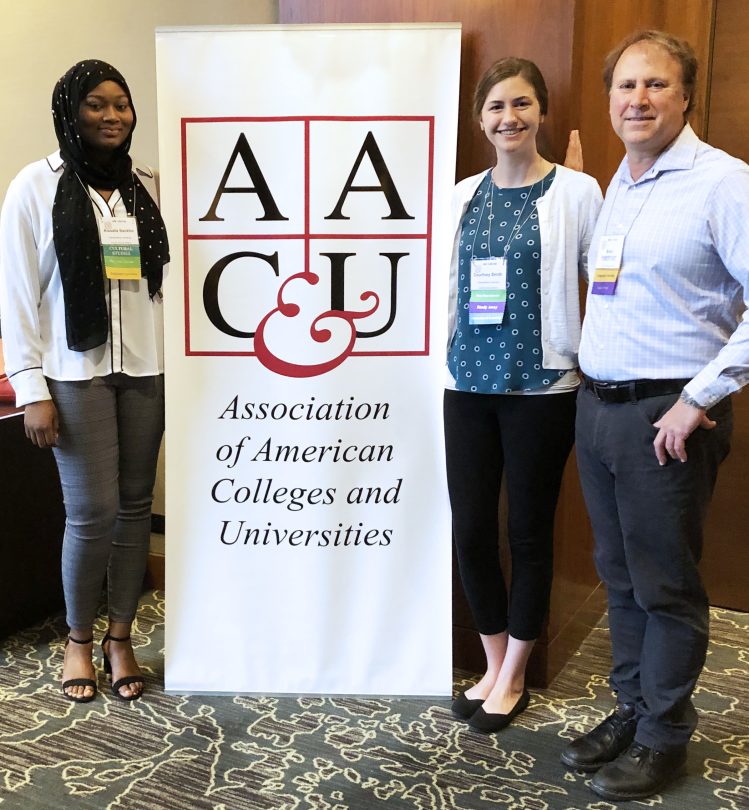 Senior Aissata Sackho also credited Smith with facilitating her experience abroad — whether it was helping her apply for a prestigious Gilman scholarship for studying in France, which she received, or finding support for conducting research in Senegal through the Kenan Fund for Faculty and Student Enrichment. Smith also accompanied Sackho to Texas for a 2019 conference where the student presented alongside professor Brian Arganbright about ecovillages in Senegal and the importance of service-learning experiences.
"She has done so much for me," Sackho said. "She's always willing to help."
While Smith's main job is to assist students with traveling abroad, she recognizes the value of global learning without having to leave Transylvania — especially these days. For instance, she recently promoted a list of courses students can take without having to travel that are internationally focused, from Spanish Conversation to the Psychology of Globalization. Other activities include employing technology for the virtual Transy Travels program and arranging for students to get in touch with mentors in countries they may one day visit. She also launched a pen pal program in March.
NAFSA mentioned Smith's "nimble transition to virtual offerings in response to the current circumstances" in last week's presentation.
Smith's recognition — the Dorothy Brickman Award for Outstanding New Professional — is "presented to an outstanding individual who has been in the profession for fewer than three years." She began her job at Transylvania early last year.
A quote from one of her colleagues was included in the presentation: Smith's "enthusiasm, passion and drive to lead global learning as a new professional and new director should serve as an inspiration to us all. Even leading during COVID, [Smith] has soared and continues to lead with professionalism and positivity."
Smith said she is honored to receive the award. "It was a wonderful surprise in a year full of challenges. None of us are giving up on international education even though COVID is happening."