For almost three decades, Transylvania University has partnered with Big Brother Big Sisters of the Bluegrass to help make the Christmas season special for local youths.
2020 is no different.
While the traditional gathering with Mr. and Mrs. Claus to open presents isn't possible this year, the university is collecting gifts and other donations for the 20 kids who are participating in the 29th annual Crimson Christmas (they'll be getting a holiday craft package too).
"Things will look different this year, but we are excited to still be able to provide gifts to the youths of Big Brothers Big Sisters of the Bluegrass," said Tevin Monroe, assistant director of campus and community engagement. "I'll miss the experience of seeing the kids light up when they open their gifts or when they get to take home their crafts. We are rolling with the punches this year, and hopeful that next year's event will be able to continue the spirit of the holidays."
Crimson Christmas is an example of the university's strong commitment to community engagement — and it's been rewarding not only for the children but also for Transylvania students who've participated in the carnival.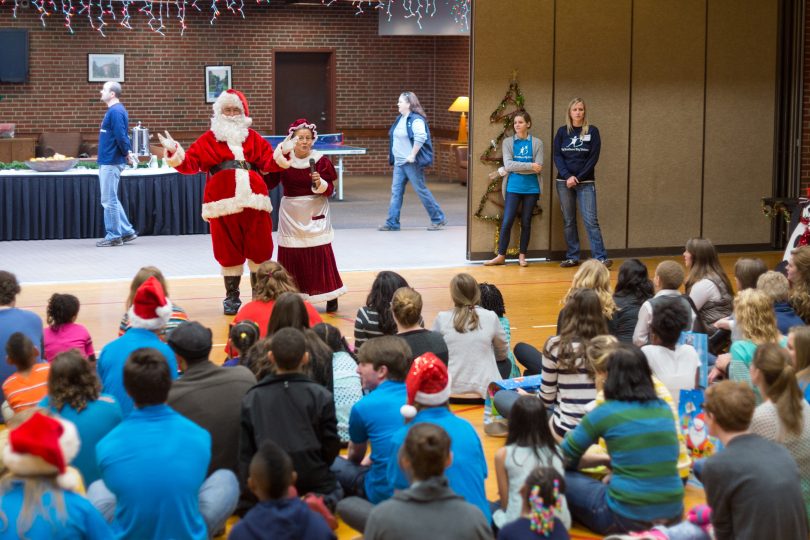 Three seniors reminisced about the joy of giving and camaraderie made possible through the annual carnival.
Avery East said Crimson Christmas brings together the campus community. "Especially during finals times, it creates an energetic atmosphere that makes me grateful for the opportunity." The event also is a chance for her to see how "the school uplifts the younger generations in the vicinity of campus."
Makayla Dublin said, "As cliche and cheesy as it might sound, it is pretty awesome to see the magic of Christmas come alive for the kids that are involved each year. Watching them as they are completely enthralled with Mrs. Claus as she reads "How the Grinch Stole Christmas" or sings "Jingle Bells" along with Santa reminds me of the wonder and joy this time of year can hold."
"To me, Crimson Christmas is all about joy, and I think everyone who participates leaves with a little bit more of it," Dublin continued.
Spencer Hemmerich also mentioned the joy the event brings. "I am very blessed and lucky to be able to spend my Christmases and holidays with my family and friends," he said. "These positive holiday season experiences are certainly not universal. For some families of Lexington, this time of year brings on more stress, anxiety and uncertainty than it does joy. Crimson Christmas allows me and my peers from Transy a chance to change that."
Donate here by Nov. 30, and contact Michelle Thompson for more information.