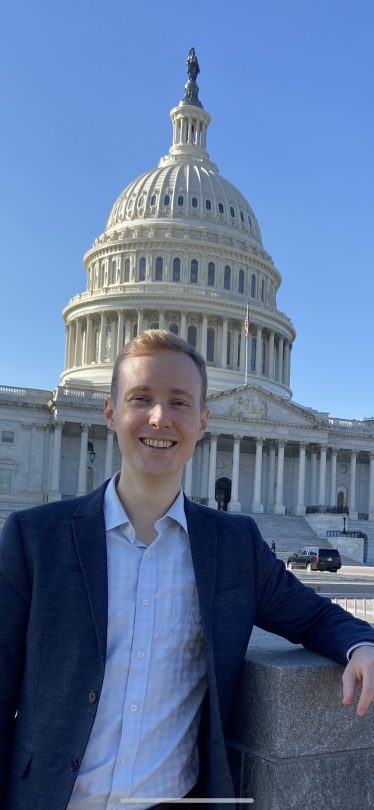 On the walls of his apartment in the D.C. area, Bobby Puckett '13 keeps images to remind him of Kentucky and Transylvania University — of home. As someone who is responsible for a portfolio of large-scale policy issues, including health care, voting rights, foreign policy and defense, Puckett says the photographs help to keep him grounded. They connect him to his origins and to the people who feel the impact of the legislation passed by Congress.
During his short time in Washington, D.C., rising from Capitol Hill intern to senior legislative assistant in the House of Representatives, Puckett has seen how easy it can be for some policy makers to lose sight of the individual as they look at systems. But Puckett remains motivated by the lives of the people he serves.
Growing up in Murray, Kentucky, he never imagined having a career in politics or even majoring in political science. Then came Transylvania and Don Dugi, professor of political science. "I took my first poly sci class with Dr. Dugi (as most eventual poly sci majors do)," Puckett says, "and I got the bug." In doing so, he realized that he liked history even more when studying it "from a political angle." He found himself becoming more interested in the world.
"I had lived in Kentucky my whole life," he reflects. "Transy gave me the opportunity to go and live abroad for the first time." It's something no one else in his family or network had done. With his friends at Transy providing examples of what was possible, he took his first steps abroad as a member of the Hansard Society Scholars program, working in the British Parliament's House of Lords.
"It was like a whole new world," he remembers. "I learned a lot." He began to contrast the political systems and government programs that were new to him with the familiar ones at home. He experienced firsthand, for example, the difference between private and public health care systems by being a patient in both.
"It led me to want to continue to learn more about international politics, and not just domestic, local or state," he says. So, instead of pursuing graduate school in D.C., he chose to study international relations at Oxford University in England, devoting his master's thesis to how the legislative branch of Congress affects foreign policy. He says the experience opened his eyes in ways that wouldn't have happened if he had stayed at home.
"I was lucky enough to meet people from around the world," he says, appreciative of the lasting friendships he made and the expansion of thought that comes from being open to points of view that challenge ideas that once seemed intractable. "For better or worse, learning about where you're from, from the world's perspective, is pretty neat and rare from my experience. I learned even more than I'd imagined," he adds, noting the personal growth too. "You get out of your shell, out of your comfort level."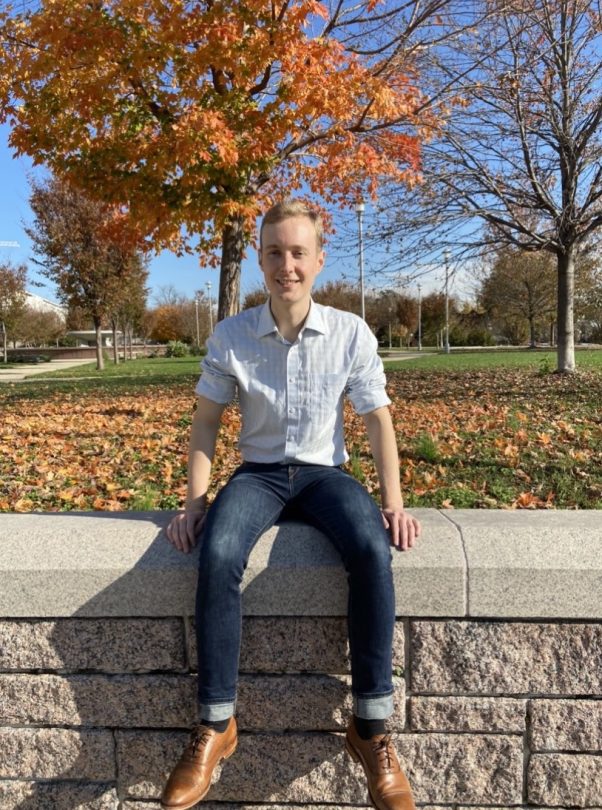 Puckett describes the many ways that Transy helped make him ready for these experiences and developed his confidence to pursue graduate school. He includes the comparative politics classes, the internships and the opportunity to learn among people from different backgrounds. And he emphasizes the importance of developing as a writer, and the ability to read and write analytically.
"I think you can do that through any degree you get at Transy," Puckett says. "I think Transy really prioritizes that."
He notes how fortunate he was to have taken his first-year writing course with professor Scott Whiddon, director of Transylvania's Writing Center. "He helped me grow my confidence in writing. He then hired me as a Writing Center staffer, where I was able to help fellow students with their writing while also continuing to develop my own writing skills."
Puckett gained additional experience as he interned with the Office of United Nations Political Affairs, part of the U.S. Department of State, and the U.S. Embassy in London. Tapping into his Spanish minor, he taught English in Spain for the Spanish Ministry of Education.
But after living and working abroad, Puckett felt the need to return home and be of help. He thought D.C. offered the right environment, a combination of "international and domestic," and he hoped to put his experience to work. In terms of political paths, he knew from interning on a Kentucky gubernatorial reelection campaign as a sophomore, that his preference was for behind-the-scenes work and that his talents lay in policy.
"There's the debate about being within or outside the system to effect change and to try to make the world a better place," he acknowledges. "There are positives to both sides."
But Puckett finds value in working within the system rather than simply railing against it. And, although Congress might not be the most beloved institution of the day, he finds purpose in the effort to contribute and to remain upbeat, even amidst so many crises. "If we're jaded," he notes, "then nothing's going to get better."
Ultimately, he says of his current role, "If I can help give an informed analysis, or help advise in a way that could help move public policy, or help build support externally for a set of ideas that can affect somebody's life in a positive way, then I want to continue doing that." And, as he does his work, he'll look at the images of home that keep him focused and grounded in what matters most.