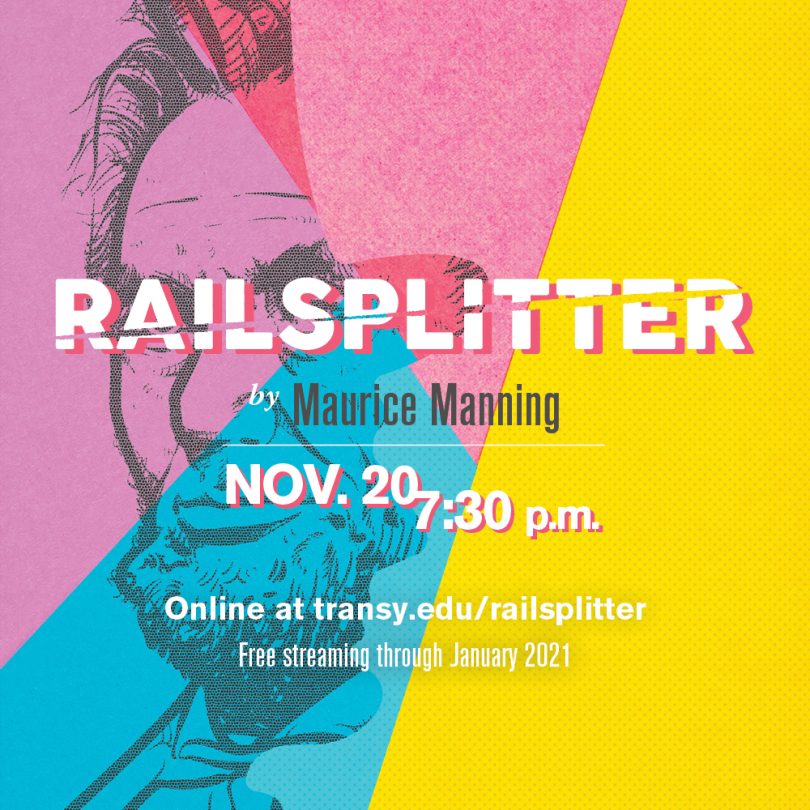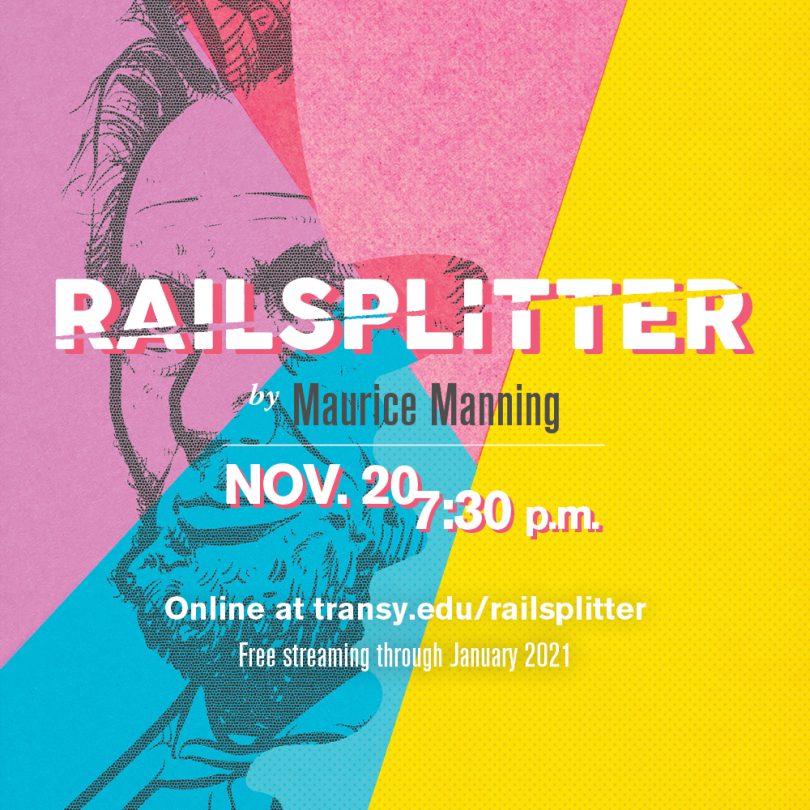 Besides the obvious hurdle of physical distancing for in-person performances, the theater world faces myriad challenges these days.
A major one is that publishing companies who own the rights to plays haven't figured out an easy way to deal with productions for an online audience, said Tosha Fowler, Transylvania University's Lucille C. Little Chair of Theater and program director.
A way around that, though, had been sitting in her mailbox.
Before the pandemic, her colleague Maurice Manning — who's a poet, English professor and Pulitzer Prize finalist — dropped off his latest collection, "Railsplitter," with a note asking if they could perhaps work together on a dramatic adaptation of it.
Fowler thought it was a great idea — she said the collection of poems told in Abraham Lincoln's posthumous voice is beautiful. And it was an added bonus that after the coronavirus had made things absurdly complicated, Transylvania Theater had an opportunity to go ahead, sans red tape, with an online production.
The result is a multimedia performance of "Railsplitter," which will premiere on the university's main YouTube channel Friday, Nov. 20, at 7:30 p.m. The audience will have a chance to chat with the cast and crew by posting comments during the show, which is part of the university's New Frontiers event series. It will remain available for viewing through January.
Lincoln, as you probably know from where he met his end, was a fan of the theater himself. He'd often recite Shakespeare or other famous lines from plays in his day when faced with a difficult problem. "There is something really beautiful about that," Fowler said. Before she got started on the production, she told herself: "I don't know how we're going to do this, but let's do it."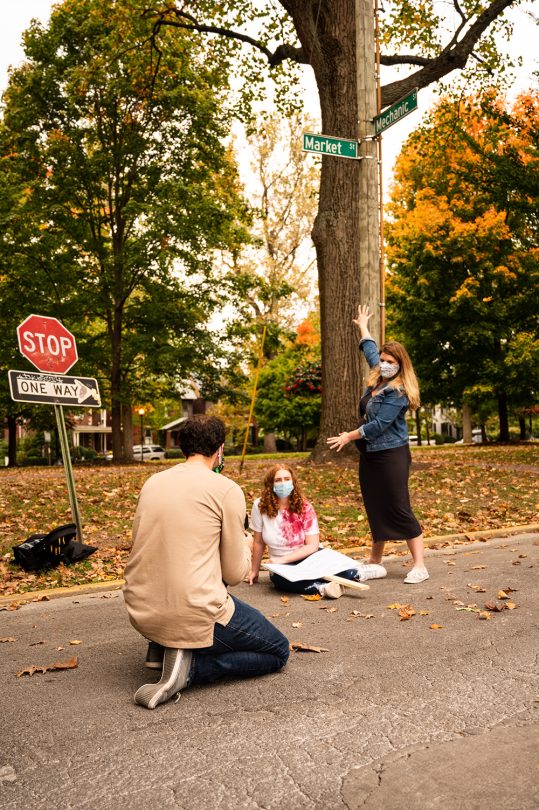 So Fowler, along with Daniel Bennett, theater instructor and production technical coordinator, and Missy Johnston, resident costume designer and coordinator of costuming, sat down for "a beautiful four hours" to pore over each poem and come up with ideas for the production.
The theater department's "Railsplitter" adaptation ended up as a collection of 31 one- to four-minute interpretations of Manning's poems — ranging from straight recitations of the lines to music videos. "It's kind of a choose-your-own adventure," Fowler said.
She headed up the project's overall aesthetic and directed some of the segments — there were more than 10 directors in all working with over 40 performers and eight student video editors. In addition to students, faculty and staff, the collaborative effort included alumni, and Fowler enlisted the Transylvania library to make sure the campus community had access to the poems.
Segments were filmed at a variety of locations, including the Lexington Opera House. Another was made by an alum who's a professional actor in Los Angeles, and a student was recorded on Market Street across from campus with a protest sign and shirt covered in fake blood to make a connection between a poem on Lincoln being shot in Ford's Theatre and the 2017 Charlottesville car attack.
Additionally, President Brien Lewis, who has community theater experience, reads a voiceover, and Manning's band performs a song.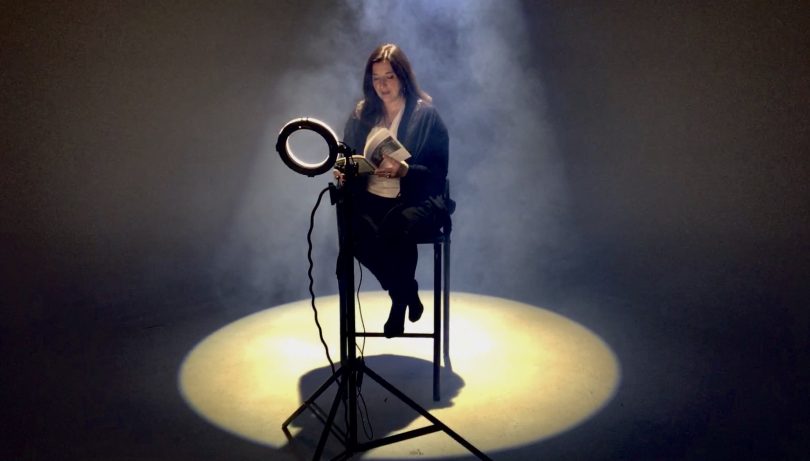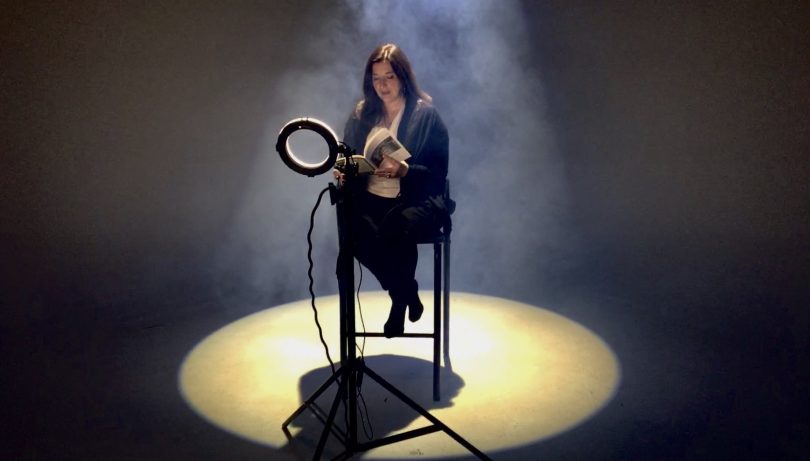 Reflecting on the production, Manning said the experience has been humbling and gratifying. "I find I am moved again and in ways I could never have anticipated. They have taken one work of art and made it a wholly new creation."
Last month, Manning went with Bennett to Hodgenville, the small town in rural central Kentucky where Lincoln was born 211 years ago. They traveled the backroads of LaRue County to get video footage of places affiliated with the former president's family. "One site brought us to the tiny cemetery where Lincoln's brother and sister, who died in early childhood, are buried. The plot is in the middle of a cow pasture, surrounded by a falling down fence. I was reminded again of the almost unimaginable world Lincoln came from, yet there it was in front of us."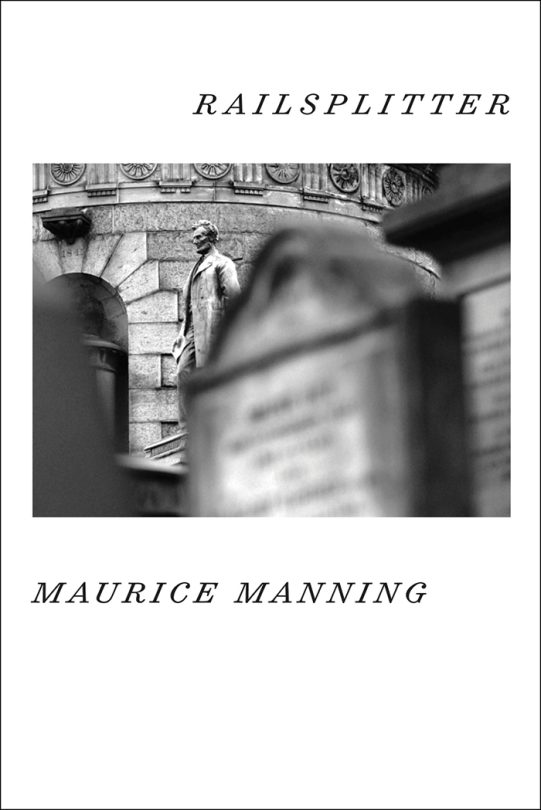 Manning also visited Lincoln's birthplace and Knob Creek childhood home back when he was composing "Railsplitter" — and he traveled to the spot in southern Indiana where Abe's family later moved, his adult home in Springfield, Illinois, Ford's Theatre in Washington, D.C., and the house across the street where Lincoln later died. "His frontier life and his senseless death seemed real to me," Manning said. "It was personally moving to work on the book."
A previous collection of Manning's poems, "Lawrence Booth's Book of Visions," was produced by Transylvania Theater six years ago.
Fowler said the newest theater production of his works explores how the mythology of President Lincoln, a man with a complicated past, still lives with us to this day.
Students are benefiting from their participation in "Railsplitter" in a variety of ways — they're learning how to work collaboratively and picking up on things like camera angles, which they wouldn't have encountered in a typical in-person theater production.
"They're learning how to communicate through a screen, which I would say is more important now than it's ever been," Fowler said.