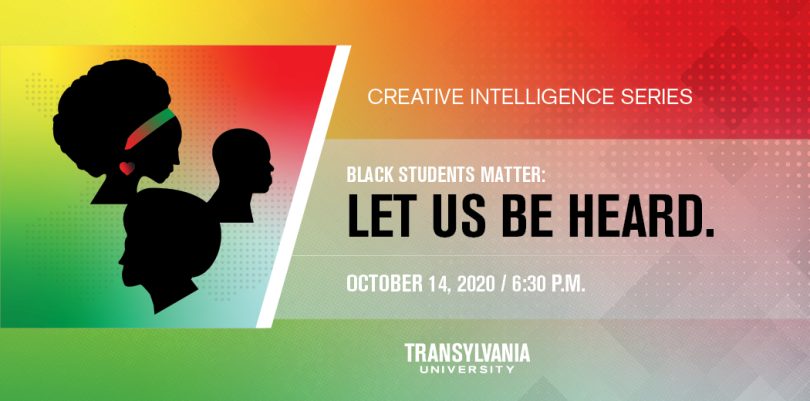 Transylvania University on Wednesday kicks off a series of virtual town halls on racial justice and the experience of Kentucky's Black college students.
The first online conversation in the "Black Students Matter: Let Us Be Heard, A Creative Intelligence Initiative on Justice" series will be livestreamed via Zoom here at 6:30 p.m. and on shared later on the university's YouTube channel. Hosted in partnership with Transylvania's Black Student Alliance, the forum features a panel of students and members of the school's administration and faculty.
"The Creative Intelligence program is, for the first time, supporting a series of events meant to examine our own community as we work for racial justice," said Zoé Strecker, an art professor and director of Creative Intelligence and special academic programming. "In the first event Wednesday evening, our panelists will discuss diversity in our faculty and administration, retention rates for black students, the effect of 'racial fatigue' on college students, and other crucial issues."
The campus community and general public are invited to ask questions during the forum, which is a collaboration between the Creative Intelligence program, BSA and other members of the faculty and administration.
"I look forward to the evolution of this series throughout the 2020-21 academic year and imagine that such town halls may become a regular feature of the Creative Intelligence program," Strecker said.
Senior Jonathan Neal, BSA president and a panelist in Wednesday's forum, said, "We have to let everyone feel like their voice is heard, and I commend Transy for all they are doing."
Kenzie Green, who's a Transylvania junior, BSA member and participant, said she is honored to have been asked to join the panel. "I want to use this opportunity to become a face that other students — especially students of color — recognize as someone who will be a voice for them. I want them to feel like Transy is going to be behind them as an ally in their fight for justice and equality both on campus and off.
"I believe Transy is a great school," Green continued, "but no doubt there is still plenty room for improvement in terms of what life can and should look like for students of color. I believe this discussion will be a great place to start."
Another panelist, Deidra Dennie, vice president for diversity and inclusion, said students of color on campus may not feel like their voices are being heard. "I really want to listen to what is being said. Students want leadership to know that they are there, that they are watching what is happening" — and they want to make it known that they have a stake in decisions being made that affect the institution. "I think that is vitally important," Dennie said.
Other panelists include religion professor Carole Barnsley and guest Taran McZee, who is associate vice president for diversity, equity and inclusion at Bluegrass Community and Technical College and Transylvania's former associate vice president for diversity and inclusion. The moderator will be senior Summer Taylor, president of the Student Government Association.