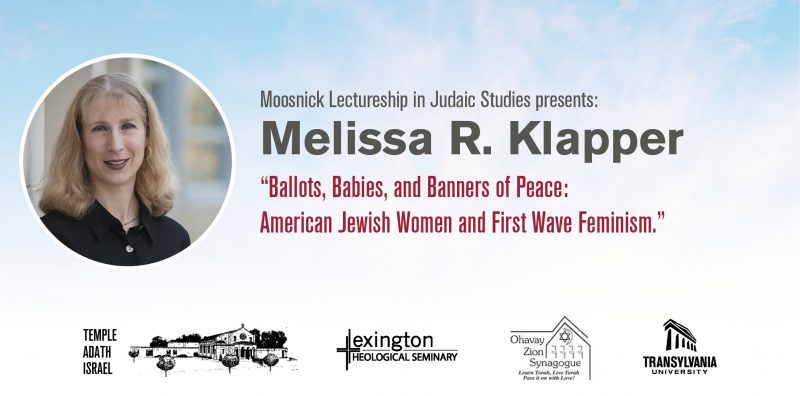 Award-winning author Melissa R. Klapper will deliver this year's Moosnick Lectureship in Judaic Studies: "Ballots, Babies, and Banners of Peace: American Jewish Women and First Wave Feminism."
Watch the virtual event here on Oct. 27 at 7:30 p.m. The talk will be available for later viewing, and there will be a discussion the next day on Zoom.
The annual lecture is sponsored by Transylvania, Lexington Theological Seminary, Temple Adath Israel and Ohavay Zion Synagogue.
"American Jewish women participated in all the great women's movements at the turn of the 20th century — suffrage, birth control and peace — but their activism has largely been erased from the narratives of the women's movement," said Klapper, who is professor of history and director of women's and gender studies at Rowan University. "One hundred years after the ratification of the 19th Amendment, we can see how important it is to include a full range of voices in the stories we tell about the past."
Klapper's books include "Ballots, Babies, and Banners of Peace: American Jewish Women's Activism, 1890–1940," winner of the National Jewish Book Award in Women's Studies. She teaches women's and American history with a concentration on the late 19th and early 20th century. Her other research interests include American Jewish history and the history of education and childhood.
"The committee was very excited to invite Dr. Klapper as we wanted this year's theme to coincide with the 100th anniversary of the 19th Amendment," Transylvania religion professor Carole Barnsley said. "We are excited to hear about the work of Jewish women in particular in this regard."
This year's Moosnick Lecture is in honor of the late Supreme Court justice Ruth Bader Ginsburg.