There's more than meets the eye in Jordan Long's seamless transition to her first job in Nashville.
On the surface, her progress proceeds without a hitch — from her Transylvania University liberal arts degree to her master's (with full ride and stipend) and immediately into her first job in Nashville with a national financial technology company.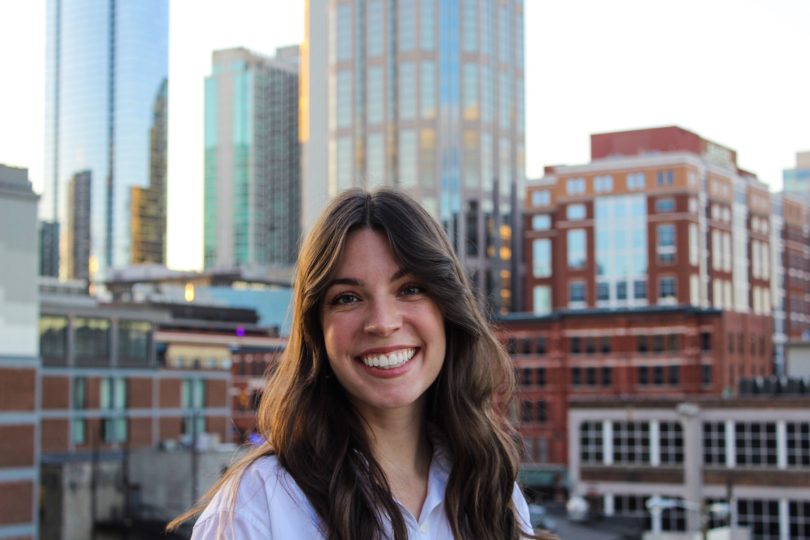 Her relationship with Computer Services Inc. began as part of her writing, rhetoric and communication major at Transy. She interned over the summer in the education services office in her hometown of Paducah, Kentucky. She then renewed the connection during her graduate capstone project at Clemson University, this time with the marketing department, developing a branding document from the perspective of a rhetoric student. Invited by the same company to apply for a full-time job as a marketing specialist in their Nashville office, she had a job in place before she graduated.
Seamless, right? But the confident, job-ready candidate recalls the challenging work of becoming that person — and how all of the threads connect back to Transy and her WRC major. Early on, she wasn't so sure of either.
Long's journey began at her Transy scholarship interview as a prospective student. When asked by the panel if she had any questions, she felt emboldened — and comfortable enough — to seek an answer to her nagging question: Why should she study writing, rhetoric and communication at Transy instead of journalism or some other standard major somewhere else? What was so different about the major that she should spend the rest of her life explaining what that long title actually means?
She can laugh now with some amazement about that conversation, even as she feels grateful for the response she received. "Because," she recollects them telling her, "you're always going to have the opportunity to explain your major to someone. They're never going to make an assumption about what your degree is in or what you can do with it. You get to shape that yourself.'"
Long was intrigued. She liked the flexibility and scope. Once she was on campus and learned more about WRC, she realized how the major, along with the full context of a liberal arts degree, offered preparation for any number of directions after graduation — from law school to religion, business to biology and the yet-to-be-invented fields.
"Being able to define it in your own terms and make it successful for you is what's so unique about WRC," she says. But the journey wouldn't be easy.
Long remembers the trepidation she felt in her first semester at Transy. To fulfill a humanities credit, she'd chosen to take Introduction to Religion, only to learn through the grapevine that professor Carole Barnsley had quite the reputation for drawing everyone into collaborative class discussions.
"That's not how I was as a first-year student," Long says, noting how she would have preferred silent and easy observation from the sidelines. "So I was in her office probably more than she would have preferred. We built a relationship where she became a mentor to me. And still is."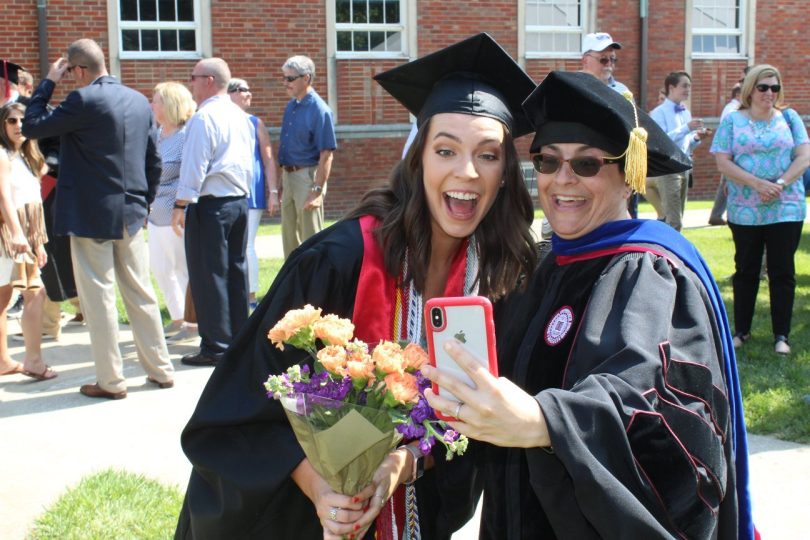 Learning to speak up, to build collaboratively on other ideas and to push beyond her comfort level, made the class the perfect start to her Transy career and, eventually, to her professional path. The threads were already connecting. And from that early class, her mentor encouraged her to make religion one of her minors, noting that it would enhance the fields she was pursuing in unexpected ways. In fact, her culminating project for that minor explored religion in the digital sphere, which applied directly to her WRC major and resulted in Long becoming the first at Transy to graduate with a digital media minor. It was perfect for her master's degree.
"It all ties together with a nice bow," she notes, with every facet of her experience inside and outside of the classroom further preparing her for her professional life. Excursions into non-Western music taught her to see how each person responds differently to the same excerpt of music. And her work for the admissions office developed her ability to represent an institution as well as articulate her own voice. "And that's exactly what I'm doing everyday," she notes.
"It's the same thing with the Writing Center," she adds, "where you're constantly thinking about the audience of the piece." Now, audience is on her mind every day when it comes to customers, prospects and the campaigns she helps to create.
She also is able to easily work across teams at the company. "I think that's something that goes all the way back to Transy and the liberal arts. It's not just you in your tight-knit major. You're working with people all across campus all the time, in ways you never expected."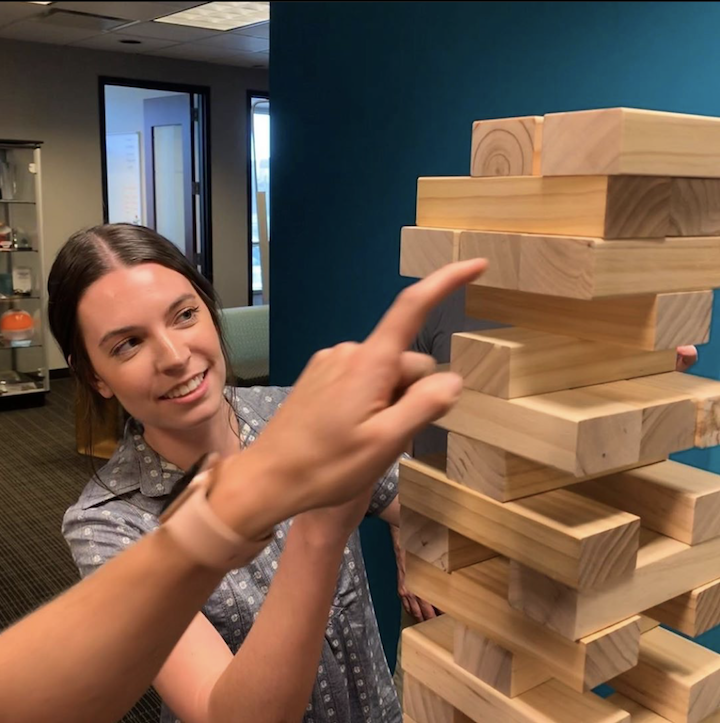 She sees the direct connection between her abilities and the way Transy provided opportunities to explore new areas and find her strengths. Building skills and confidence made it possible for the new employee, fresh out of grad school, to step fully into her job, able to pitch an idea or an entire campaign to people at a company who have been with the organization a long time. She could be confident, creative, productive and ready to turn on a dime.
"I think that is such a valuable trait for me to have in my current position," she says, "because there is no formula on how to run a campaign. Each campaign is different — whether it's audience or the materials you want to make or the promotion you're running. You have to be flexible. In the middle of a campaign you may have to shift strategies and completely reorganize the timeline or points of communication," she adds. "I think if I didn't feel confident in my ability to do all that, I wouldn't have found my voice as a strategic thinker."
Collaboration, too, figures prominently in her career. Until Transy, she had little experience of it. The classroom setting, the Writing Center and admissions office, are, she says "environments that really foster collaboration and push people to be in a more collaborative mindset. And that's the best way you're going to learn and improve. I carry that with me in other ways, to recognize there's not just one way, one limited scope to view anything."
Reflecting on why Transy has been the right college in preparing her for a future that is always changing, Long says, "It's because Transy is an enigma — in the sense that it's traditional, it's always been there, but it's ever-changing. When you're there, you're not realizing the way that it's shaping your life and the way that you think about your future. It's going to prepare you in ways you never expect."