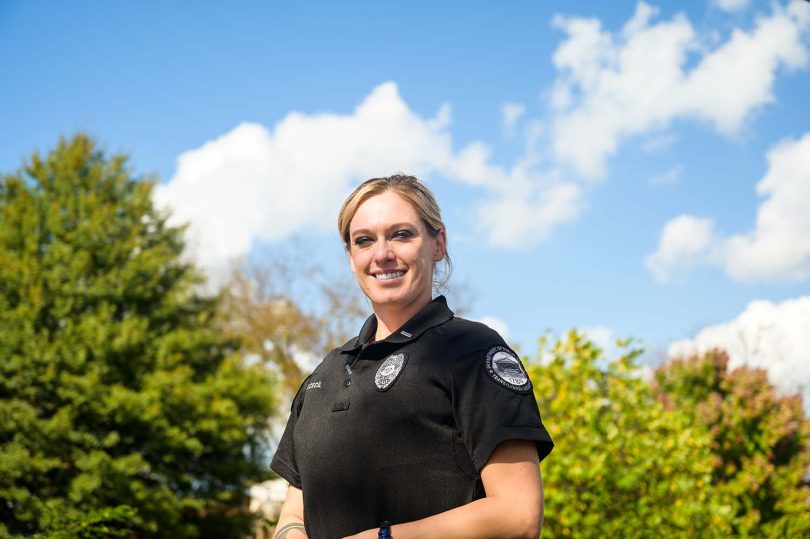 The small, gold bars on the collar of Elizabeth Cecil's uniform were earned, not given, just like a lot of things in her life.
She received these lieutenant bars during a pinning ceremony earlier this month — becoming the first female supervisor for Transylvania University's Department of Public Safety.
This achievement is more remarkable — more of an inspiration to young women looking to get into any male-dominated field — if you consider how determined she's been.
"I grew up in Floyd County, Kentucky, where there really were not ample opportunities for women except for starting a family," Cecil said. But she wanted more, putting herself through Midway College and the University of the Cumberlands. In fact, she said to get where she is today she's worked every day of her life since she was 10 (this includes farm labor). "Hard work and dedication, with a little faith, can get you anywhere you want to go."
Cecil began at Transylvania a year and a half ago after serving as an animal cruelty investigator in Woodford County. Since coming to campus, she has been a reliable resource for students. "I'm always there for them," she said.
Even if they're just having a bad night and need to talk, they'll come up to her office, maybe visit with her German shepherd Rogue (whose medical condition has kept him from official police work). She wants them to see her not so much as an officer with a badge, but as a real person they can make a connection with.
And being a woman can help female students relate better to her, and it can come in handy in situations that are deeply personal or require her to go into their residence hall room.
As a lieutenant, she trains new recruits on things like campus policies and paperwork, and she helps with scheduling and hiring. She also kept some duties she had before her promotion, including patrolling and responding to calls.
DPS Chief Joseph Casey McClure said, "Transylvania and the Department of Public Safety are blessed to have Lt. Cecil joining the command staff of our agency. She brings upbeat optimism and dedication to training, something we as a department need in a university campus policing setting."
Cecil said she especially likes working with new officers and helping them gain their confidence in the job. She's also been making their field training program more in depth. "I don't want them to be left out there not knowing how to do something," she said.
Additionally, Cecil will assist officers in court matters — she gained extensive experience with judicial proceedings through her previous work with animal control, which sometimes was part of large scale operations with state and federal agencies.
Cecil said she likes this work she does for the department and the school as a whole.
And being the first female supervisor may help motivate others in the campus community. "I feel like that helps inspire younger women to not give up on what they want to do," she said.
If they want to get into a field that's predominately male but feel intimidated, she's got a message for them: "You can do it, you just have to work really hard."