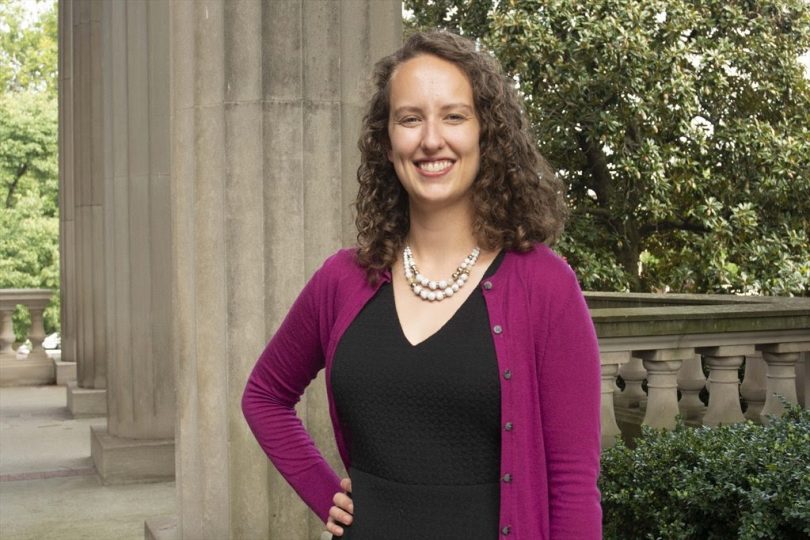 Every student needs a hand when transitioning to college life. But helping first-year students acclimate to campus during COVID-19, when so much is new to so many, requires special agility, openness and a calm and comforting mien. It's why Transylvania University has Denise Hall, assistant director for student success.
As the recipient of the Transylvania Recognition Team's Essential Piece Award for October, Hall is being honored among staff and faculty for her "dedication to student success and for working tirelessly and without acclaim for the betterment of the university." The award acknowledges faculty and staff for their outstanding work and character.
Hall, a 2013 alumna, understands the honor of being recognized at a time when everyone in the community is working hard to maintain the special Transylvania experience during such challenging circumstances. "We set a really high bar at Transy," Hall says, "and nothing will change that — not even a global pandemic!"
The nominating statement from the admissions office commends Hall's ability to meet the needs of students "every step of the way" and her "deep dedication to service to the university community," adding that she is "one of the kindest people you will ever meet."
For Hall, who is marking her fifth year as an employee at Transylvania, the driving force behind her work is the students she serves.
"I've learned so much from the new students who came to Transy this fall. They are resilient, innovative, tenacious and principled. I love that I get to help them form their first impressions as a Transy student and to be one of the first to guide them toward the impact they want to make on our campus and beyond. To be trusted with that work is really special to me, and to have the opportunity to collaborate with so many talented and passionate people at Transy is inspiring."