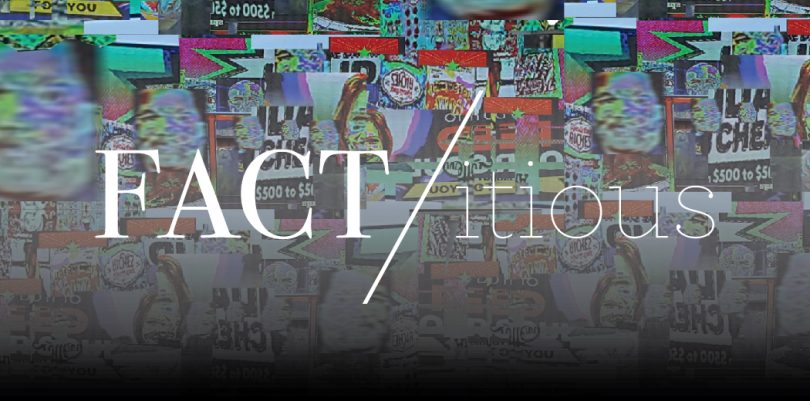 Transylvania University's Morlan Gallery this week kicked off a new, virtual exhibition that focuses on the challenges our society faces in separating fact from fiction.
Artists from across the country have contributed works to the online "FACT/itious" show, which runs through Oct. 9. Morlan is presenting its exhibitions virtually through the end of 2020 because of the pandemic.
The current show spotlights a variety of works, from the images of renowned photojournalists to book illustrations by 2018 Transylvania graduate Annelisa Hermosilla.
"FACT/itious" will include virtual programming, beginning with "Spotting Fake News" with Technical Services Librarian Jason Cooper on Sept. 16 at 12:15 p.m. Then on Sept. 23, exhibition artists Sharon Farmer, Ryan Morris, Chris Usher and Paul Morse will present "Through the Lens: Campaign Photography in a Digital World." And on Oct. 8 at 7 p.m. is "Mock-Documentation" with artist Beauvais Lyons; register here.
Other artists participating in "FACT/itious" are Steven Rainey, Jonathan McFadden, Michael Jacobs, Jasmine Best, David Wischer and Leo Selvaggio.
Their works will engage with truth, fiction, facts, narrative and source material from many different perspectives, exploring the idea of what makes this moment so particularly relevant in terms of separating fact from the fictitious, which means artificial or manufactured — made by human beings, often in imitation of something natural and often made up for a particular occasion.
These works allow us to reconsider, recontextualize and analyze the world around us in new, unique and interesting ways.
"'FACT/itious' is an exhibition about the complicated relationship that we have with fact and fiction as human beings," gallery director Anthony Mead said. "On the one hand, fiction plays a central role in our beliefs. Without them, we wouldn't have storytelling, myths, money or art. On the other hand, we rely on data drive, observation — based, peer-reviewed facts to understand our world and make choices in regards to that understanding. On the reverse, we have seen the troubling outcomes of what happens when the facts that we put so much weight in are skewed to the point of becoming fiction and misinformation."