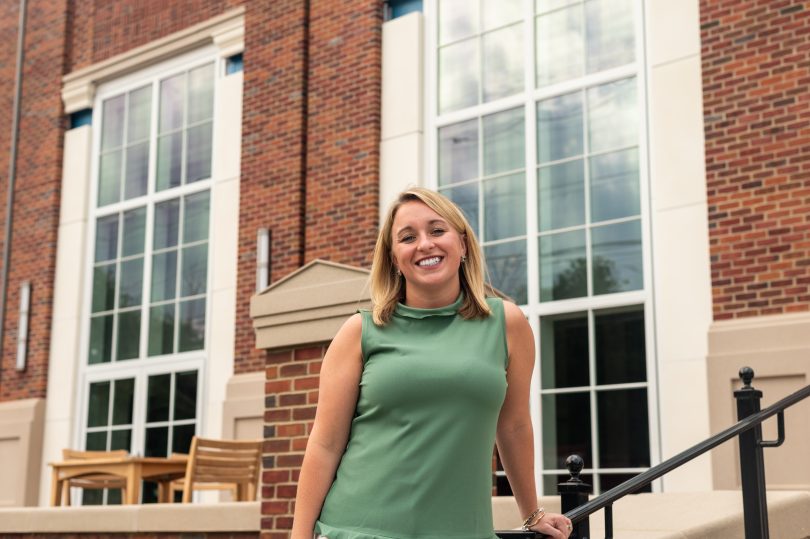 There's no large crowd of college students dining under the round chandeliers hanging from the high ceiling of the Great Room in Transylvania University's new William T. Young Campus Center. And they aren't packing the Hearth Room to chat or study as autumn chills the air outside.
Because of the pandemic and physical distancing, it's been a soft opening of sorts over the past couple of months for the new facility.
Helping guide the Campus Center through this unexpected start is a new addition to campus herself: Brittany Wildman began earlier this month as the university's director of campus center and event services. "As time goes on, we're just going to see how much students love it," she said. "Honestly, I'm excited for Transy to have a space like this; I've seen the great things they do for campuses."
She really has.
Wildman has visited more than 30 campus centers across the country and is writing her doctoral dissertation on students who work in them. She also serves on a leadership team of the Association of College Unions International, a group for professionals who ensure college students benefit from these types of facilities.
The $30 million Campus Center on North Broadway, a mix of new construction and renovation of the previous student center, bridges the residential and academic sides of Transylvania. In addition to dining and just hanging out there, students can get in a workout, pick up something from the bookstore, or drop into a club meeting or career fair. The facility also houses health services, classrooms, staff offices and conference rooms.
"It's such a good opportunity to build relationships," Wildman said. "There's so much research about how a student's success is dependent on how involved they are with campus, how they feel the institution invests in them as people."
As director, she'll build this engagement by planning events and encouraging students to use the spaces. She also leads a team of them earning money for school through the Federal Work-Study program.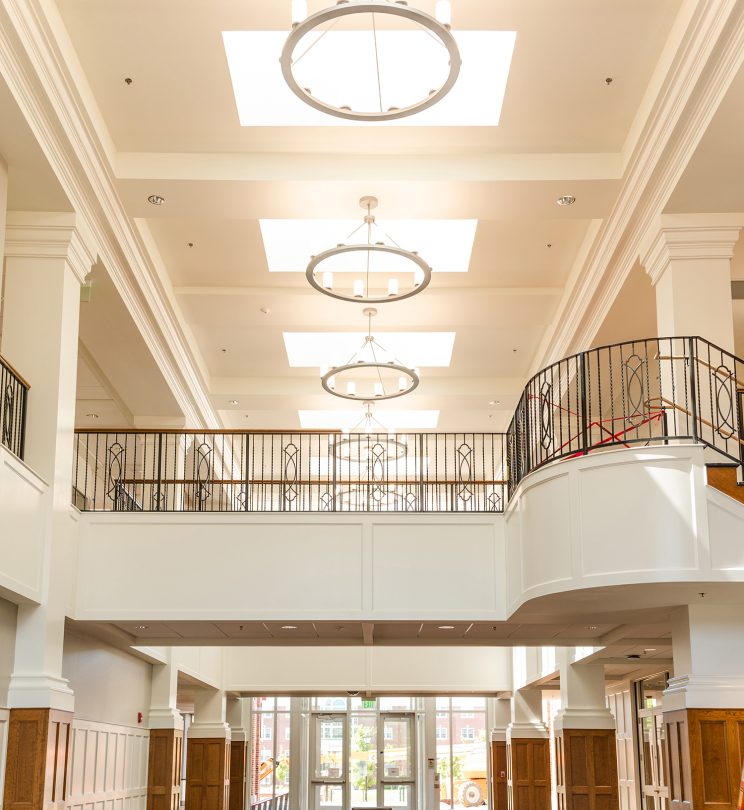 Wildman, who is researching on-campus student employment for her Ph.D. in education policy from the University of Kentucky, is a strong proponent of working in a campus center — as she is of the facilities in general.
These students get real-world experience while keeping the Campus Center running — for instance, they'll help organizations from the Lexington community set up for events once the pandemic is over. So through their job they're learning a wide range of professional skills they may miss in the classroom, from technology to leadership to interpersonal communication — and it increases their sense of belonging. "There's just so much opportunity for informal learning," said Wildman, whose master's thesis was on professional development at UK's student center.
Her first student center job was working an information desk at UK, and then she moved up to building manager. "I fell in love with student centers as an undergraduate," she said.
Wildman went on to earn a master's in higher education and was working in a leadership role at UK's Gatton Student Center when it opened a couple of years ago.
Now she sees good opportunities for student engagement through the Campus Center that just opened at Transylvania, a close-knit community that provides many different opportunities to get involved. To help foster this engagement, she wants to support the organizations that use the building's spaces — including the Student Government Association and Student Activities Board. For example, Wildman plans to post updates online about the activities of groups using the facility.
She said she also sees a campus center as an important part of deciding what college to attend for students still in high school, and then, later on, "It should be a space that students remember after they graduate."
They probably won't forget this one. "It's just beautiful," Wildman said. "I love the Great Hall and the idea of packing it with people. Hopefully, in the not-too-distant future we can start doing that."