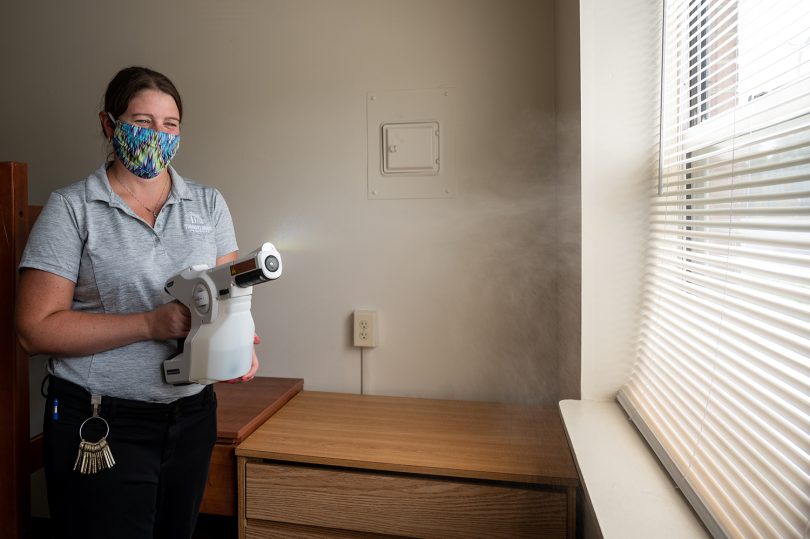 It's easy to find examples of how members of the Transylvania University community look out for one another.
On a typical new student move-in day, for instance, faculty, staff and returning students swarm cars and trucks stuffed with boxes, pillows, lamps and other necessities of college life, which they lug off to residence hall rooms, sometimes up several flights of stairs. This helps make a stressful day go more smoothly.
Because of the coronavirus pandemic, this month's first-year move in will be far from typical. To provide adequate physical distancing, it'll be spread out over three days and lack the campus crews' added muscle. Nevertheless, the Transylvania community's camaraderie — and sense of shared responsibility — will be obvious in many other ways this fall as the school works to ensure everyone stays healthy.
"We're still planning to deliver an amazing campus experience to where this is truly your new home away from home," said Jeremy Sheffield, director of housing and residence life. "But safety and taking care of yourself and those around you has to be at the forefront of all our thinking."
The effort to make sure students stay healthy is evident across the board — from housekeeping staff intent on keeping campus clean and free of the virus, to resident advisers assembling student welcome packs with items like face masks, hand sanitizer, soap and cases to keep toothbrushes safe during regular bathroom sanitations.
To address the myriad of concerns raised by in-person classes and on-campus living, the university has instituted a flexible plan called Healthy at Transy, which empowers students, faculty and staff to make the best decisions for their own well-being and that of others. For example, students can choose either a residential campus environment or remote learning, depending on their situation.
The plan includes a 12-day move-in process for those coming to campus — it kicks off Aug. 17 and features safety measures such as cart sanitation after each use.
For the most part, residence halls will open at normal occupancy according to strict health protocols. Private rooms will be available after the semester begins based on availability; if one is needed because of a medical condition, students are encouraged to contact the disability services office.
Transylvania also will provide limited quarantine spaces for those who are diagnosed with the disease and can't return home for the two-week isolation period, with student life staff supporting them through meal deliveries and other services.
Plus, for this academic year the university has suspended a requirement that students live on campus. "Our goal is to be as flexible as possible in this ever-changing environment," said Sheffield, who wants them to reach out to him if they need anything.
When surveyed earlier this summer, almost all students told the housing and residence life office they plan to return to campus and they're OK with having roommates. They will perform daily health pass screenings through the Transylvania app, as will anyone else coming to campus.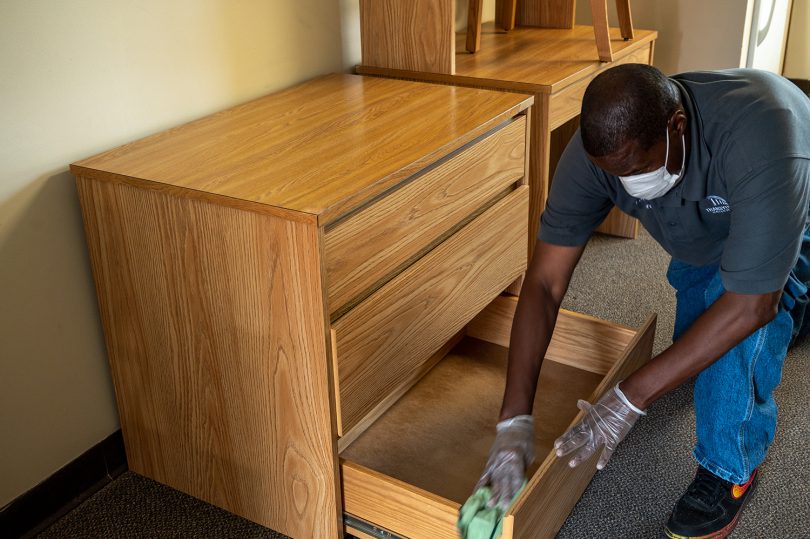 One of the most visible changes students will see this fall will be everybody wearing face masks unless they're outside away from others — or in their residence hall rooms alone or with their roommates, and even then, distancing is encouraged. Another difference will be fewer people in common areas, like laundry rooms and elevators. (Student events such as pizza parties could still happen, but they might move outside.)
Distancing also is a consideration of university food service provider Bon Appétit, which will limit the number of people inside dining facilities at any particular time. Additionally, students will get their meals in single-use containers in protected serving lines — or pick up pre-packaged, fresh food or other takeout options.
Other changes are the installation of plexiglass shields across campus and removing furniture so students can better spread out. Also, stairwells will become one way and hand sanitizer dispensers from a local distillery will be installed around the university, including at building entrances.
Cleaning deeply and often is already part of the mindset at Transylvania. "We need to give a big thanks to our awesome housekeeping staff because they've been working hard this summer, and their job is going to be even tougher this fall," Sheffield said.
Housekeeping crews are using enhanced sanitation measures, like cleaning commonly touched areas (think doorknobs and elevator buttons), and they're doing things you might not have ever considered — trashcan lids you have to push to open: gone.
"We want to make sure we can do everything to make campus as safe as possible when students come back," said Kelsey Ley, manager of campus appearance. "We're making sure we're hitting everything with our disinfectant, even if it's not something we normally use the disinfectant with. It's a more intense cleaning than normal."
Not having summer campers staying on campus gives housekeeping more of an opportunity to be thorough, as they, for instance, clean carpets campuswide and strip and wax floors this summer. "Then we just have to maintain it," Ley said.
Disinfectant fogging machines will provide extra protection once school starts, and housekeeping is working on a plan with faculty to ensure classrooms are up to standard, while supplying the rooms with sanitizing wipes. They're also working with athletics to help keep players and fans safe. (This is in addition to high-contact fall sports being postponed to the spring.)
These measures, along with a call for members of the entire Transylvania community to take responsibility for the well-being of themselves and others, will help make sure the university can provide students with an on-campus college experience if that's their choice.
The academic year, though, has been structured to facilitate a shift to all remote learning if necessary.
"When we get back to campus, we're all in this together," Sheffield said. "We've got to look out for not only ourselves but our fellow students. If we can't take accountability for our actions and hold each other responsible, we're going to get put in a bad situation."