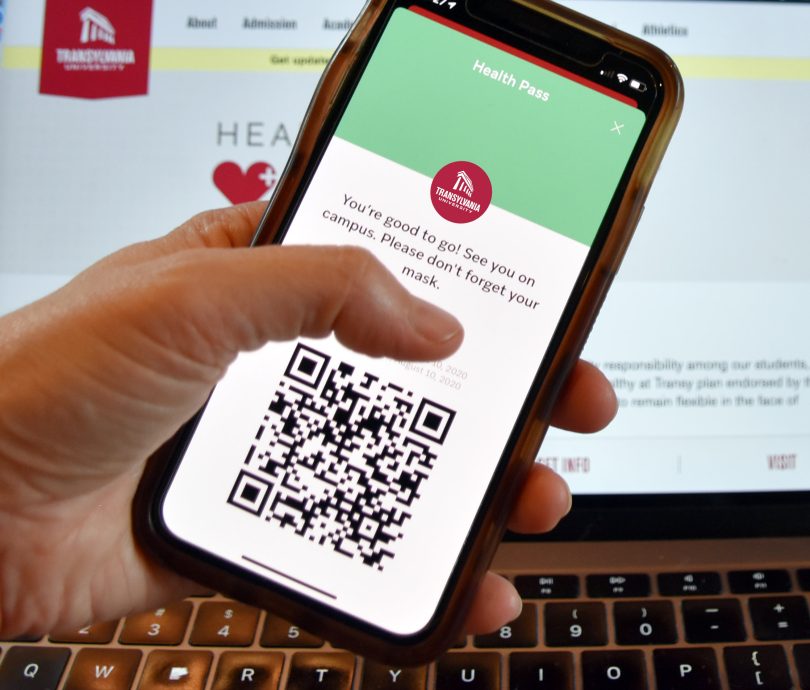 While technology has played an obvious role in remote learning, it will be an important part of safely reopening campus as well.
Transylvania University has adopted a daily self-screening app to reduce transmission of the coronavirus and to provide easy access to resources. It's part of the Healthy at Transy plan to empower individuals and encourage community responsibility.
Each day before coming to campus, students, faculty, staff and visitors will answer questions like: Have you recently attended a large gathering in which face coverings and physical distancing were not followed? In the last 24 hours, have you had a fever of 100.4 or greater?
If cleared, users will receive a date-specific green health pass in the app and by email, and it will be checked for in-person class attendance and in areas such as the library, student services offices and the dining hall. Also, students can use the app to find out things like how many open computers are available in a technology lab — and even reserve one of them (this helps with physical distancing).
Tailored to the university's specific needs, this Health Pass system is part of the Transylvania University app, which users can download from their mobile device's app store. Get detailed instructions.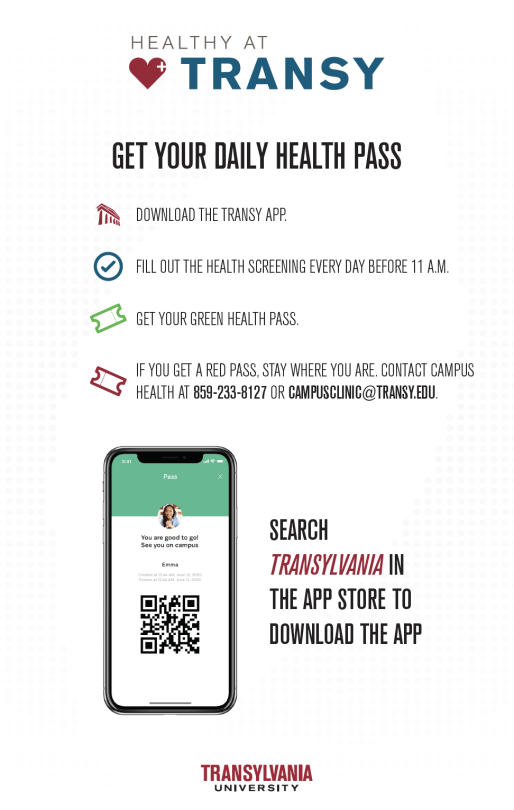 "Technology's role during this pandemic has become crucial, and we are leveraging it in as many places as we can so our students have the best experience while they are at Transy," said Deepa Dubal, vice president for information technology. "With this app, we're assuring our students, staff, faculty and visitors are staying safe and being responsible and alert when they come to campus. Nothing is better than making these resources available at our campus community's fingertips — and technology is making it all possible."
Robin Prichard, a staff member who's leading the school's COVID-19 response, said "the health and wellness of our students is our first priority at Transy. As there are many pieces in the Healthy at Transy plan, our Health Pass screening is important as it allows for students to think through both their physical and mental health on a regular basis. It also links students to our Campus Health Clinic staff to receive the support they may need. Transy is a family, and I believe the Health Pass is a great tool that will help keep us safe as a community and connect us in this time of distancing."
The clinic will provide support for those who receive a yellow or red pass instead of a green one after the screening. If there's concern about infection, the student or employee will be contacted about getting tested for the virus. Through the app, which also assesses feelings of anxiety and depression, students can make an appointment to see a nurse.
Only medical professionals will have access to this Health Pass data, which is private and subject to HIPAA regulations.
Students, faculty and staff are asked to begin using Health Pass seven days before arriving on campus, and then continue to self-screen daily by 11 a.m. If they're coming from a state under a Kentucky travel advisory, they should begin using the app 14 days before arriving at Transylvania.
Get more details on the Health Pass app and the Healthy at Transy plan in general on Transy's website.