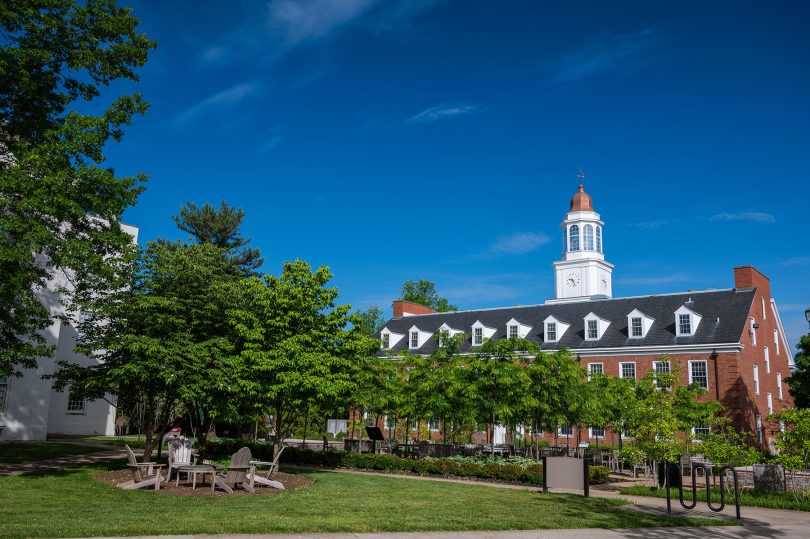 As we continue to navigate these challenging times of the COVID‑19 pandemic, I am reminded repeatedly of the necessity of remaining flexible and nimble in our response to what is a constantly changing situation. Two weeks ago, I officially started as Transylvania's president and in that short time have continued to be impressed with the members of our campus community and their commitment to our institution. I see you working to make sure that as we begin our next academic year, we can do so safely and with academic excellence.
I shared in my welcome email on July 1 that we are facing new challenges this year, challenges that require a shared responsibility among our community. During my first two weeks I have, along with our faculty, staff and cabinet, continued to diligently and carefully review our plans for reopening Transylvania this fall even as the situation around us continues to evolve. I have also appointed Robin Prichard to serve for the next academic year as an adviser to me and our senior leadership on health policies, practices and protocols regarding the novel coronavirus and COVID‑19.
My message today will not answer all the questions you may have, but rather offers an update on what we do know and when we expect to have additional updates for you. Please find below updated information, which is also available on our 1780 blog and the Healthy at Transy webpage.
In particular, I would like to note the virtual town hall meetings we will be holding over the next two weeks. These will be good opportunities for students, faculty, staff and parents to have questions answered and receive more in-depth information.
While our current journey may feel uncharted, we know that the underlying tenets of a liberal arts education, in fact, are the best preparation for difficult times. As we move toward this new academic year, I encourage you to join me in embracing the thoughtful consideration, independent thinking and community focus that are the framework for a Transylvania education.
In Pioneer spirit,
Brien Lewis
President
---
Webinars for the Transylvania Community
Beginning next week, Transylvania will hold a number of online town hall meetings for faculty, staff, incoming and returning students and student‑athletes. These meetings will give participants the opportunity to ask questions in advance or during the event, as well as hear from members of the Reopening Working Group on a variety of topics. Panelists will include representatives from across campus: student life, academics, health and wellness, athletics, human resources and others.
Registration will be required to participate, and an email with registration details will be sent to your Transy email address, as well as to parents of current and incoming students. The schedule for the webinars is as follows (all times are EDT):
Faculty & Staff: Monday, July 20, at 4 p.m. and Thursday, July 30, at 11 a.m.*
Returning Students & Families: Friday, July 31, at 2 p.m.*
Incoming Students & Families: Thursday, July 30, at 7 p.m.*
Student‑Athletes & Families: To be announced. Student‑athletes will be contacted directly with information. 
*Updated as of July 23
Fall Modules Instruction Models
Becky Thomas, vice president for academic affairs and dean of the university, joined Transylvania full time on July 1. Since then, she has been meeting with each of the four academic divisions to discuss how classes will be held for students beginning this fall. Those meetings conclude next week, and we anticipate having specific details available as soon as those meetings conclude.
Options for instruction are likely to include: in‑person and physically distanced classroom instruction, a combination of in‑person and physically distanced instruction with some virtual learning, and some classes being held entirely online with either synchronous or asynchronous interaction. Determining factors for each course include space availability appropriate for the class size, pedagogical needs according to the topic and accommodations for both faculty and students.
On-Campus Safety
This fall will be decidedly different from previous years, not only in how we teach, but how campus looks. Unless wearing a mask creates a serious health hazard, all students, employees, contractors and visitors are required to wear a mask on campus and will be required to do so in most spaces. We will practice physical distancing in the classrooms and common areas. Signage and spaces have been arranged to encourage a healthier environment for everyone on campus. In addition, our cleaning and disinfecting protocols have been significantly enhanced with hospital-grade cleaners and frequent cleaning of high‑touch surfaces.
We will all need to remain flexible in the face of changes necessitated by the global COVID‑19 pandemic, and we best protect the health of our community when we prioritize the well‑being of the community. We must all work together to make that happen.
Housing and Residence Life
Transylvania intends to reopen campus housing at normal occupancy (two students in most rooms) using strict public health protocols to monitor student health regularly. Incoming first‑year students and upperclass students have already received their room assignments for the fall semester. Updated information on fall move in, residence hall cleaning and sanitation and what physical distancing will look like in the residence halls has been added to the Students page on the Healthy at Transy website.
Athletics
Transylvania Athletics is committed to protecting the health and safety of our student‑athletes and staff. Our pandemic response plans will be based upon the benchmarks and guidelines established by the federal and state governments along with the NCAA, HCAC (or associated conference) and the National Athletic Trainers' Association. The strict safety protocols implemented for student‑athletes and staff focus on ensuring that personal behaviors align for the common good of the team and the individual.
Additional information for student‑athletes has already been sent via email and in video discussions with coaching staff. Visit the Healthy at Transy website for additional information for athletes.
Admissions Campus Tours
Daily on-campus admissions visits resumed July 13. The campus visit consists of a 90‑minute walking tour of both the academic and residential sides of campus with a student ambassador, as well as a 30‑minute virtual admissions session with a counselor. Optional additional virtual meetings with coaches or offices may be added, based on availability. See Healthy at Transy for tour protocols and required registration information.
Campus Events
We continue to monitor guidance from the state on public gatherings, and, given the current guidelines, we do not believe we would be able to safely accommodate events with more than 50 people. Because we also want to protect the health and safety of our students and employees living on campus, we will not be hosting most large events open to the general public this fall. Additional information on campus events and health protocols required for attendance will be provided as they occur.
Class of 2020 In‑Person Graduation
In May, we announced Transylvania would hold an in‑person graduation ceremony for the Class of 2020. We hoped to be able to accomplish this in early September but have not yet set a date for the event. We continue to monitor guidance from the state on public gatherings, and, given the current guidelines, we do not believe we would be able to safely accommodate a large ceremony on campus with hundreds of guests from across the country early this fall. We will continue to look for the best and safest options to celebrate our most recent graduates.