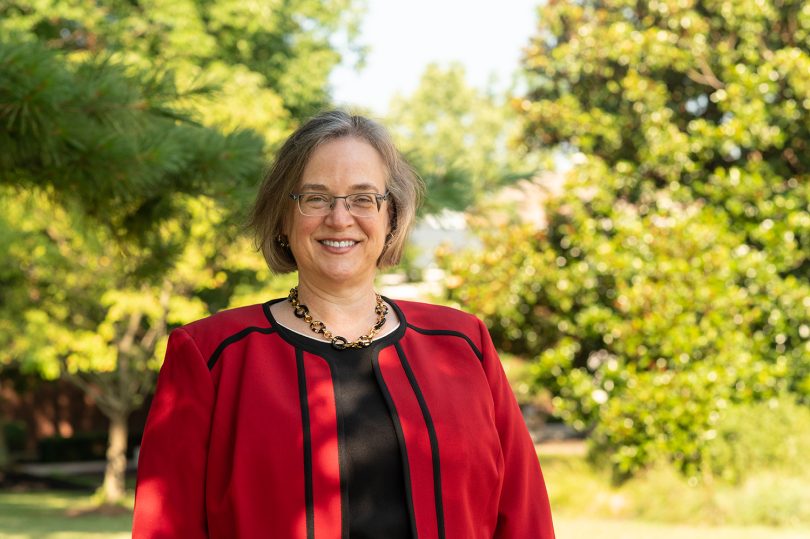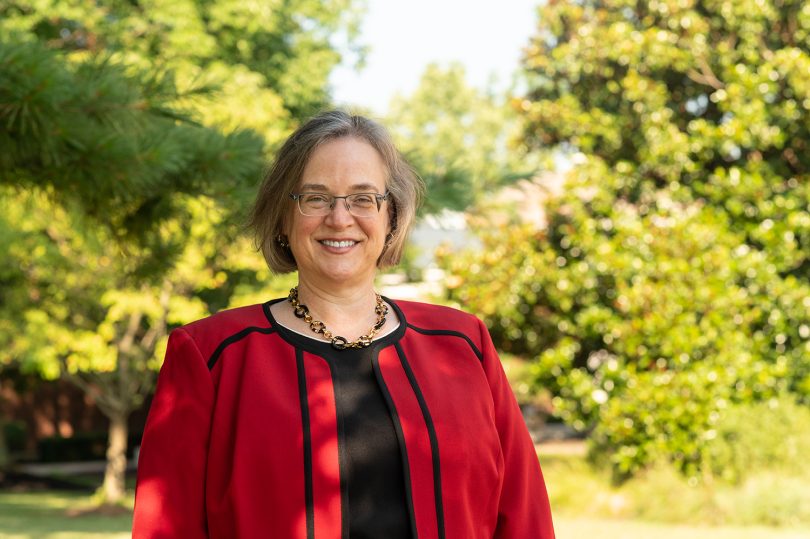 Transylvania University, by design and lately by necessity, has embraced the powerful synergy between digital technology and the liberal arts.
This project — exemplified by the school's Digital Liberal Arts initiative — got a boost this week with the arrival of Transylvania's new academic dean, Sarah Rebecca "Becky" Thomas. She has not only a passion for the university's liberal arts mission, but also a bachelor's degree in electrical engineering from the Massachusetts Institute of Technology and a Ph.D. in computer science from Stanford University.
She most recently served as vice president for academic affairs and dean of the faculty at Earlham College. Before that, she was dean of the college and a longtime faculty member at Bard College. She also served on the faculty of Marist College, the University of Northern Iowa and Middlebury College.
Coming to Transylvania is a homecoming of sorts, as she grew up in Barboursville, West Virginia, near the Kentucky border, and her mom and brother live in Lexington. She has a son and daughter who are twins and recent college graduates.
Thomas, whose full title at Transylvania is vice president for academic affairs and dean of the university, will lead the school's four academic divisions, library, Writing Center, Center for Academic and Professional Enrichment, academic development, registrar, first-year experience and Office of Global and Intercultural Engagement.
In addition to preparing Transylvania students to lead fulfilling lives and thrive in the workplace of the 21st century, Thomas has an immediate task: help the school adapt to the unique challenges of the coronavirus era.
As the university reopens this fall for in-person classes, Thomas will pull from her ability to adapt and think creatively, as well as from skills she's learned as a computer scientist. These include the ability to break a big problem into smaller ones — or, on the other hand, to examine the messy details to figure out if a more general problem needs consideration.
Currently, her office is helping figure out details such as the ideal number of students per classroom, how to best employ technology to teach some of them remotely if necessary, and how to safely open science labs and art studios.
"We're thinking about what the classroom looks like in the fall," she said. "There are a lot of decisions to be made about how we can give our students the best educational experience, given all the constraints that we're suddenly under."
It's possible the university will discover that some of these adaptations are worth continuing after COVID-19. "Maybe we should question our assumptions about the best way to do classroom teaching and really be open to possibilities," Thomas said. "Some of what we find in the coming year may turn out to be practices that we want to keep even once things go back to normal."
She also said she is excited about the school's Digital Liberal Arts program. "New tools can help you have new insights," said Thomas, who taught Experimental Humanities and Digital Humanities courses at Bard. She hopes to participate in scholarly work at Transylvania and perhaps teach a course.
President Brien Lewis welcomes what she brings to the school. "Transylvania has embraced the digital liberal arts and is preparing our students for what has been called the 'conceptual age,' where creative problem-solving and adaptive ways of thinking are critical skills," he said. "Becky's skills and expertise will be very helpful in furthering our discussions on how best to serve our students."
A strong liberal arts perspective can give students an edge on those with only specialized interests — including computer science majors focused on the technology du jour. Back when Thomas was a Marist professor, she was participating in a program with prospective students and their families when a parent held up a newspaper's help wanted ads and asked why her child wasn't learning a particular programming language that employers wanted new hires to know. Thomas said that instead of just drilling down on Pascal or Java or any other language that might be obsolete in a few years, we're going to teach fundamentals like how computers work and what might be the best way to approach a problem. "I think that's an analogy for the value of a liberal education," Thomas said. The priority is developing lifelong thinking skills, not just immediate job skills.
Thomas of late has been learning the particular priorities and visions of the Transylvania community. Other than the pandemic, top-of-the-list items for her office include gearing up for the school's next accreditation review and making progress on general education revisions.
"Over the last few weeks I've had the opportunity to meet with different faculty and staff about specific topics," Thomas said. "It's only strengthened my impression of Transy as a place that I want to work and that I think really has a vital mission — one that people believe in and pull together to achieve. I couldn't be happier to be here."