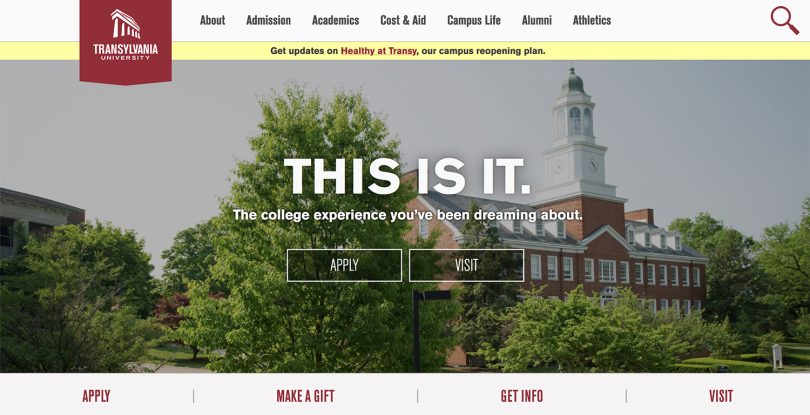 Transylvania University recently gave its transy.edu website a refresh, making it more user friendly — especially with mobile — and updating the look.
The Office of Marketing and Communications spearheaded the effort, which was more than a year in the making and involved testing groups made up of dozens of students, alumni and staff.
Lee Boone, the school's web developer/designer who did the bulk of the work for the project, asked himself: "What would be the best way to make the overall experience more user friendly?" In addition to improving the ease of use, the team tried to preserve the site's existing content while restructuring it a bit here and there, he said.
The efforts also included research like looking into benchmark universities' sites, focus groups and user testing, which began with the old site.
"There were things to improve upon when it came to our navigation," said Lead Graphic Designer Stephen Russell, who ran the testing. "We worked really hard on that, and afterward we user-tested it with a second round of folks, and they were all able to accomplish tasks really easily."
The testers had the important task of searching for things prospective students are concerned about — like tuition prices, specific majors and financial aid.
"The team put in a lot of effort to get input from various places, especially relying on our students to help drive some of the design choices," Russell said.
The biggest gains came in the mobile experience, including improvements in speed, navigation and layout. That's especially helpful because mobile is the way to go for one of the site's most important audiences — prospective students.
The website changes included a redo of the admissions page. "We really wanted to have a specific experience for prospective students that got them more quickly to what they were looking for," Russell said.
Also, prominent features of the homepage include large buttons for student visits and applying to the university, along with information about affordability and other reasons to choose Transylvania.
While maintaining a strong focus on this audience, the website refresh will enhance the experience of alumni and other groups, such as current students and members of the community interested in what's going on at Transy.
Graphic Designer Sam Cooper helped with many of the visual updates, which balanced form with function. "We definitely wanted to update the look a bit, but I think the main motivation was functionality," he said.
Boone thanked Cooper and everyone else who worked on the project, including members of the school's information technology department like Stephen Poynter — the systems and security administrator, who set up the server configuration and worked on the back end of the new site, which uses the WordPress platform.
"I couldn't have done it by myself," Boone said.
These changes are the second major update to the website recently. Earlier this year, the school launched a virtual tour that lets students explore the campus remotely.