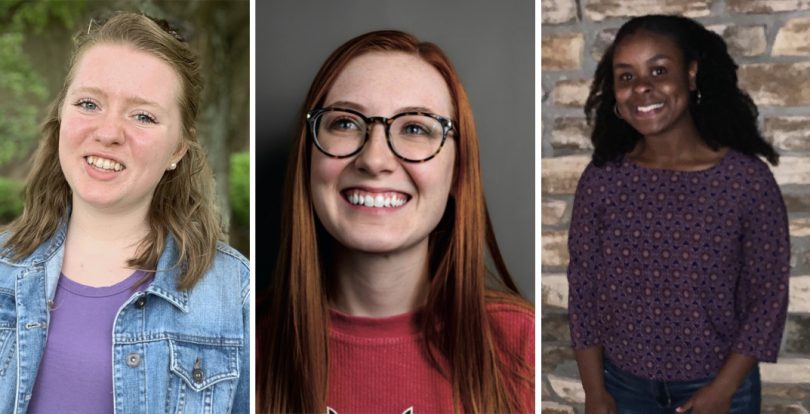 While the pandemic has pretty much ground any globetrotting to a halt, three Transylvania University students look forward to taking advantage of a prestigious scholarship that will financially support their studying abroad — once it's safe.
Seniors Haley Franklin and Caroline Hawk along with junior Shania Jones have received a Benjamin A. Gilman International Scholarship from the U.S. Department of State.
"While we still do not know when international travel will be allowed and deemed safe for our students, it is very exciting to have three Gilman scholars," said Courtney Smith '16, the university's director of global and intercultural engagement. "Haley, Caroline and Shania are wonderful representatives of Transylvania and worked extremely hard for this scholarship. I look forward to seeing where in the world they head once borders begin to open and international travel is safe."
Administered by the Institute for International Education, the program will offer more than 3,600 scholarships of up to $5,000 to U.S. citizens this academic year.
Jones, pictured right, said the scholarship has given her "the opportunity to be able to travel and inspire other underrepresented university students to not let any obstacles or uncertainties stop them from achieving their dreams. Studying abroad will allow me to learn, witness and share diversity so that I can serve as an advocate for intercultural competence."
Franklin, pictured left, called the opportunity a "master key to studying abroad. The program has helped me to truly consider the impact that studying abroad can have on my college career, and I plan to take full advantage of the benefits of studying abroad once it is safe again." She said the experience will help her "understand different cultures, which can improve my professional and personal communication skills."
Hawk, who started learning French in kindergarten, said, "Using a language is more than just the grammar and structure, but understanding the culture that has built it. The Gilman Scholarship is allowing me to grab ahold of the study abroad opportunity that was canceled due to the pandemic and finally experience French in the place it was born."