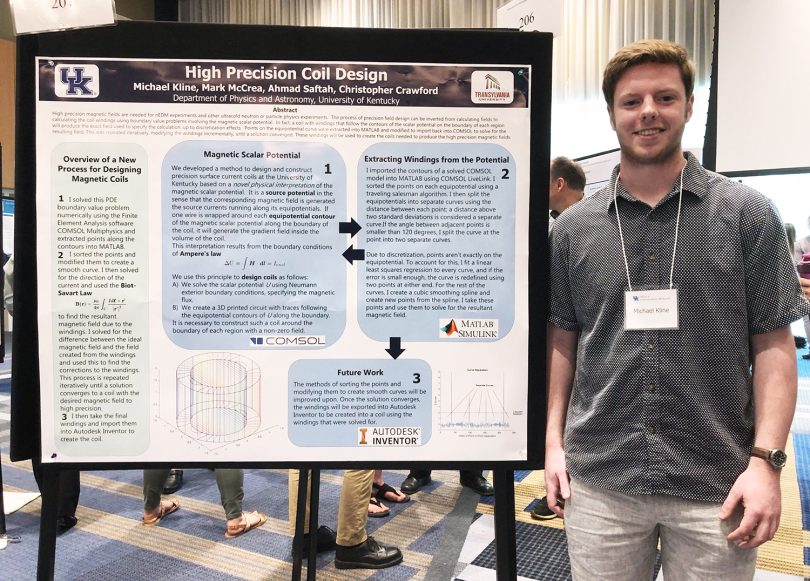 When matter and antimatter collide, annihilation ensues. So, how is it possible that our universe continues to exist?
As a summer intern with the Oak Ridge National Laboratory in Tennessee, Michael Kline '21 joins a collaboration of scientists from around the nation whose work in nuclear physics seeks to understand the mysterious relationship between matter and antimatter.
"The standard model says we should have equal numbers and they should annihilate each other, so we should be left with nothing," Kline explains. "But obviously, there's a lot of matter." The scientists are trying to understand why matter is visible in the universe, but antimatter is not — they're using subatomic particles to answer expansive questions about the universe and our existence.
Kline's exceptional summer experience is part of the Science Undergraduate Laboratory Internship. Sponsored by U.S. Department of Energy Office of Science, the internship is "the premier undergraduate education and research program." Because of the pandemic, he is participating in Zoom meetings and conducting his research remotely from his home in Westerville, Ohio.
"What I'm doing is a very niche part of a very big collaboration," he says of his computational work. "I'm tracking the spin of the particles within the measurement cell. I'm creating simulations to do that." He's found that he loves the work.
Kline, who grew up in Westerville, has been building toward this moment his entire Transy career. A double major in physics and math, with a minor in computer science, he came to Transylvania as a soccer player focused on astrophysics but developed an interest in nuclear physics as a student working on a research project at the University of Kentucky during his sophomore year. His physics professor Stephen Johnson '04 made the UK connection for him after he'd expressed an interest in gaining more research experience. By working on professor Christopher Crawford's project at UK, he was introduced to the national collaboration that he would become part of during the Oak Ridge internship.
"I wouldn't be in this position if Dr. Johnson hadn't reached out to other people to give me research last summer," he notes, "because building those connections helped me stay in the project."
Kline appreciates how much he's been learning this summer from the work, the team and his Oak Ridge mentor, physicist Leah Broussard. It's knowledge he knows he will continue to use. More than just the subject matter, he says, "I'm learning a lot about being a researcher from her. I can also ask her about grad school admissions and things like that. That's really nice."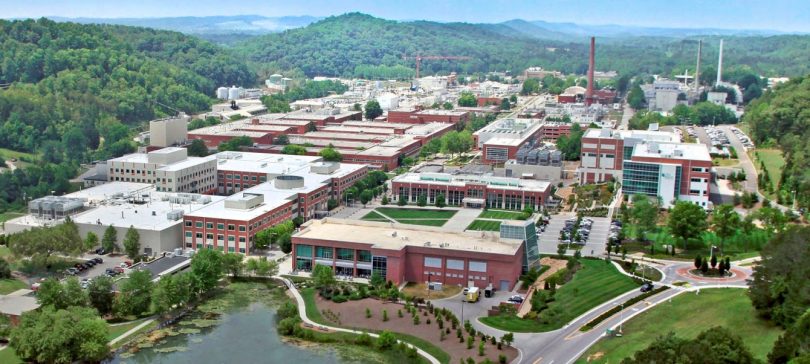 Kline has found satisfaction in how computational physics research allows him to draw on both his majors and his minor together, and how he's been able to use aspects from his many different classes at Transy. As well, his leadership experiences on campus, as president of his fraternity and as a physics tutor, have given him the confidence to share his ideas at the virtual table. "When I'm in my meetings," he says, "I don't feel out of place as an undergrad among scientists." It's the many dimensions of his college experience that prepared him to thrive in the internship.
"Really, it's Transy," he says of the tight community that makes it possible to get to know everyone, to have all of these connections and to branch out into different things — more easily than being at a big school." (He spent his senior year of high school at The Ohio State University.)
Reflecting on what a liberal arts education brings to his nuclear physics research, Kline acknowledges the benefits of learning to write well and of broadening his knowledge of the world beyond a narrow focus of one project or a single field. "Being open to more ideas, just in general, and taking them from other areas, helps with your critical thinking and your creativity. And being able to be open to new ways of doing things is helpful."
The last part of the internship involves writing a research report and making a poster, things he's done before. And he'll be presenting his work (no doubt, virtually) at the 2020 fall meeting of the American Physical Society Division of Nuclear Physics.
With his senior year about to begin, Kline is now committed to pursuing research as a profession, eager to play his part in the larger search to understand the universe. The internship has been an important part of that trajectory. He's ready.