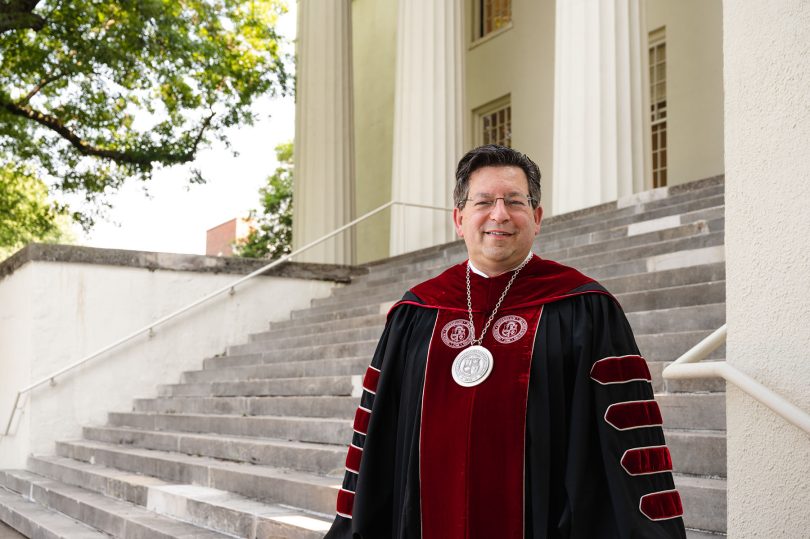 Thank you, Mr. Cowgill and warmest congratulations to you on becoming chair of the Board of Trustees of your beloved alma mater. Thank you to you and Judy for the warm hospitality that you've shown to me and my family.
It is a time of new beginnings, and new beginnings are typically full of hope. Perhaps the ultimate collegiate hope was expressed by the late Bart Giamatti, who issued the following memo on his first day in office as president of Yale University:
"In order to repair what Milton called the ruin of our grandparents, I wish to announce that henceforth, as a matter of university policy, evil is abolished and paradise is restored. I trust all of us will do whatever possible to achieve this policy objective."

Bart Giamatti
Thanks to my late mother, the English professor, I got not only my fair share of Mother Goose, Beatrix Potter and "Winnie the Pooh," I also was exposed at a fairly young age to James Joyce, Jane Austen and Shakespeare. I was also exposed to Mozart, Rudolf Nureyev, Charlie Chaplin and, always, the evening news. In countless ways my parents exposed me to the life of the mind: to ideas, to artistic expression and to trying to reach some understanding of the human condition.
Lest you think that our family dinner table was some stuffy affair straight out of "Downton Abbey," let me assure those of you who don't know my parents that it was anything but. Throughout my childhood and youth, my father and I had an unofficial ritual of watching a weekly television series together. Which show it was changed over time as shows came and went, but it was always deep, intellectual stuff. The sequence was roughly this: "The Six Million Dollar Man," The A-Team" and, of course, the one constant: "Hockey Night in Canada."
Taken together my childhood was, in retrospect, a remarkable liberal arts education. It was great early training for a college president. And I have my parents to thank for it.
Collectively, my family has made many sacrifices over many years to allow me to pursue my dreams. My partner, my teammate in multiple adventures over the last 32 years — 30 of them in marriage — has been my wife, my buddy, Laura. She is without doubt the most patient and supportive person I know and the most amazing mother I will ever encounter.
Our two children, Josh and Anna Louise, are already smarter, nicer and better people than I could ever aspire to be. They are my greatest pride and my deepest joy.
My thanks go to the Transy Presidential Selection Committee and the Board of Trustees. I am grateful for your trust, support and commitment to stewardship of this wonderful place and for being my partners in the endeavors to come. My job now is to make you look brilliant.
Thanks also go to Megan Moloney and all those who have worked so hard and so well to make this investiture ceremony come together. I trust you all took really good notes because I hope you won't need to put on one of these again for a long, long time!
I am also grateful to the Transy faculty, staff and alumni and members of the greater Lexington community — for the warmth of your welcome, the candor of your counsel, and your potent desire to give tirelessly of yourselves for our students.
And to the students — you are Transylvania University! You are Transy today and tomorrow.
People with hope, vision and commitment helped craft the Transy we know today, a place where we seek to provide not just a credential but an underpinning for lives of meaning. To kindle unknown capacities, to embolden and to empower.
An exciting but uncertain future faces Transy, faces higher education, faces all of us. So what does that future hold?
As some of you already know, one of my favorite philosophers is the venerable trainer of Jedi Knights, Master Yoda. As he says in one of the "Star Wars" movies, "Always in motion is the future."
In one scene, young Luke Skywalker is at the mouth of a dark, foreboding cave. He asks, "What's in there?" and Yoda replies, "Only what you take with you."
So what do we take with us into that uncertain future? We take our ideas, we take our optimism and our aspirations, we take our hope. This does not mean we simply rest on our many deserved laurels or do things the way we have always done them. Benjamin Franklin gave us all a pointed warning when he said, "When you're finished changing, you're finished."
And so in the coming months we will explore some challenging strategic decisions. Together, we will pursue bold paths for Transy. We will develop and implement comprehensive plans for:
Delivering the fullest Transy experience possible while protecting the health and safety of our community during the COVID-19 pandemic.
Upholding our commitments to access and individual development and ensuring we take action to live out our belief that Black lives matter.
Enhancing our capacities to deliver our enduring mission and core values in ways uniquely suited to preparing students of today as leaders of the future.
Enabling continued innovation and financial strength through enrollment growth.
There is no doubt that this is an ambitious list. There is no doubt that items on this list will challenge us.
We will make mistakes along the way. But we are ready. And we are grateful, grateful for the opportunity to make a difference in this rapidly changing world.
Tom Friedman calls the globalized economy "the flat world," where (thanks to technology and reduced barriers) people anywhere can connect, collaborate and compete with anyone, anywhere. In the age of Zoom this is even more accurate.
Daniel Pink has argued that we are on the cusp of a new age — following on the heels of the Agricultural Age, the Industrial Age, and the Information Age, he has coined the term, "The Conceptual Age." This, he claims, will be a time when creators and empathizers will be the key — because those things cannot be outsourced or automated.
Perhaps most powerfully, he argues that we need to prepare students who will be not just problem solvers but problem finders. These people can look around the corner and identify a solution where we are not even thinking there is a problem. We must shape Transy for this age and those who will live in and craft it.
We must prepare our students for an age where information is available like never before — but critical thinking and assessment of that information has never been more difficult or more necessary.
Joseph Aoun, in this book "Robot-Proof," contends that today's graduates will need to build on the traditional literacies by adding three more — data literacy, technological literacy and human literacy. He argues that in addition to these literacies we will need a set of "cognitive capacities" including systems thinking, entrepreneurship, cultural agility and critical thinking.
I believe that Friedman, Pink and Aoun are on target. If we are to properly prepare our students and ourselves, we must seize these challenges. We must understand, embrace and forge this "Conceptual Age" by delivering an exceptional, personalized education designed to enhance the literacies and cognitive capacities of our students.
We will do this through initiatives where students are provided opportunities to explore the world (literally), to research and create, to get real world experiences through internships, and to serve their communities. Will we also do it through more innovations in how, where and when we offer our academic courses and programs? Will we get more creative in how we use our calendar, in how we use technology, in how we meet and engage students who have come to expect — and thrive in — an on-demand, personalized environment and economy?
I hope so and I believe we will. Our students' future success depends on it — and Transy's future success depends on it.
I began with Bart Giamatti and I return to him, as I continue to find his descriptions of the university and the value of liberal arts education to be eloquent and inspiring. Giamatti said:
"The university today is very different from the one 25 years ago, or 50 or 100 or 250 years ago, and yet it is not different. It is still a constant conversation between young and old, between students, among faculty; between faculty and students; a conversation between past and present, a conversation the culture has with itself, on behalf of the country. … Perhaps it is the sound of all those voices, over centuries overlapping, giving and taking, that is finally the music of civilization, the sound of human beings shaping and sharing, mooring ideals to reality, making the world, for all its pain, work. The university … is a good place that continues to want to make her children better."

Bart Giamatti
What a wonderful and accurate description of Transylvania University: a good place that continues to want to make her children better. A place making the world, for all its pain, work.
Clearly, the challenges we face may only be addressed together, and the goals I have outlined are not mine alone to accomplish. They may only be achieved if we commit to each other and persist together.
So as we set sail on this voyage together, it is fitting for us to be, I hope, inspired and challenged by Sir Francis Drake, the first Englishman to circumnavigate the globe. His poem "A Prayer for Spiritual Revival" may, I trust, call to us and call us to reflect. Drake wrote:
Disturb us, Lord, when
We are too well pleased with ourselves,
When our dreams have come true
Because we have dreamed too little,
When we arrived safely
Because we sailed too close to the shore. …

Disturb us, Lord, to dare more boldly,
To venture on wider seas
Where storms will show your mastery;
Where losing sight of land,
We shall find the stars.

Sir Francis Drake
May we indeed find the stars and may they shine brightly on Transylvania University. And in that light, may we pass on the light.