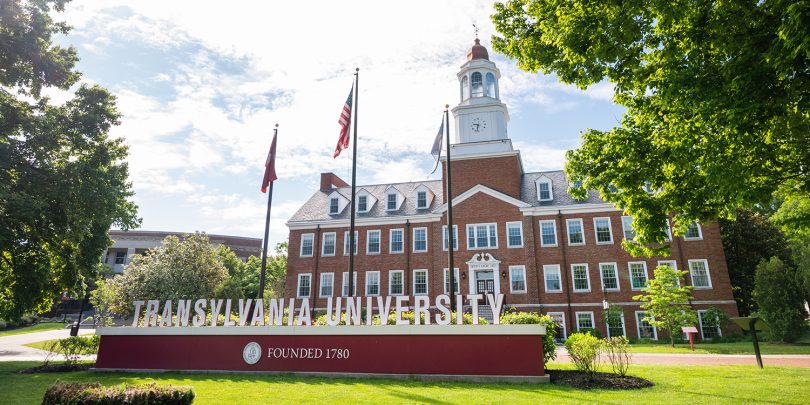 Members of the Transylvania University community are working to dismantle systemic racism as part of the Lexington mayor's newly formed Commission for Racial Justice and Equality.
Several Transylvania alumni — including one with a leadership role on the commission — and Johnnie Johnson, the school's vice president for admissions, have joined a diverse group of 70 community leaders, grassroots advocates and others in this effort to not only listen to issues concerning racism but also to find solutions.
"To me, this means people in the community having enlightened discussions and coming up with strategic plans on how to move the city of Lexington forward in a more diverse and inclusive way," Johnson said. "Systemic racism is real, and for us to address it we have to first admit that it exists. This commission addresses that very issue."
Roszalyn Akins, a 1976 graduate and recipient of an honorary Doctor of Humane Letters from Transylvania, has been named co-chair of the commission. Also, Rachelle Williams Dodson '98, a member of the school's Board of Regents, serves on the Education and Economic Opportunities subcommittee (read her perspective on the commission). And Joshua Santana '70 is on the Racial Equity subcommittee.
According to Mayor Linda Gorton's office, "Each subcommittee will set its own goals and objectives, guided by the overall mission to identify systemic and systematic practices of racism in Lexington; assess the historic marginalization of African Americans in this community; and recommend and advocate the systemic changes that will protect and promote racial opportunity, diversity, equity and unity."
Gorton gave the group a two-month deadline to make its recommendations. "I understand change won't happen overnight," she said, "but I am determined to make many improvements quickly, and to continue to make immediate changes as opportunities present themselves."
Johnson said, "Now we can begin to define systemic racism, break it down to its core, realize who benefits from it and come up with solutions to rid the city of the problem. This is not an overnight fix — it's something that has to last for generations."
He and Transylvania itself — a school that has been part of the Lexington community for more than 200 years — have important roles to serve in these efforts.
"I'm honored to be a part of the commission and look forward to learning from other community leaders and having an impactful change on the future of the city and the Commonwealth as a whole," Johnson said.
Transylvania President Brien Lewis also sees the commission having a positive impact. "This is not a movement to erase or rewrite history," he said. "This is a chance to admit our past transgressions, learn from them and change the future. I am proud that the university and members of the Transy family will be deeply involved in this important undertaking."