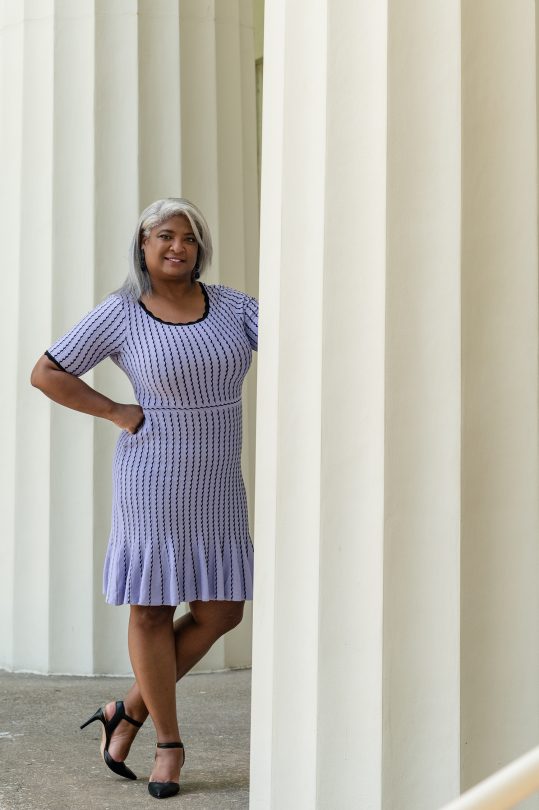 After recently moving to Lexington, Deidra Dennie mentioned to the owner of a storage facility that she would soon be starting a job at Transylvania University.
After he exclaimed that it is the best university, Dennie asked him why he felt that way. He told her how at the beginning of the pandemic, Transylvania opened its Beck Center gym to give homeless shelter clients and a place to sleep while social distancing. "That's what it's all about," he told her.
"I was like: 'You're right — that is what it's all about.' How do we as a university and as individuals here help the world be a better place?"
Dennie brings her passion for positive change to her role as Transylvania's vice president for diversity and inclusion, which she begins today.
"My most immediate goal is to listen and understand what it is diversity, inclusion, equity and justice mean here at Transy," Dennie said.
The reception she's gotten so far makes her optimistic about her job going forward. As soon as her hiring announcement went out, members of the university community started reaching out to her, telling her how excited they were to have her on board. "So, I have lots of Transylvania faculty and staff Facebook friends now," she said. "That has never happened to me before in my career — that made me over-the-moon happy."
Dennie also is building relationships with students, including groups like the Black Student Alliance, and she plans to look into the possibility of bringing a Black sorority to campus. "My work can't happen without students," she said. "They're change agents that I need in order for us to make this different, to make this better." Dennie encourages students to reach out to her if they'd like to talk.
She begins at a turbulent time in our nation's history, as people take to the streets to protest police brutality and racism. "This is our civil rights movement of the 21st century," Dennie said. "Let's do it right — let's have some really good outcomes." She sees this as an opportunity to "pivot into a position where you're on the right side of history."
As a liberal arts institution, Transylvania already values having its students understand what's going on in the world and how to be better citizens. And recognizing the importance of these issues, the university recently made the diversity and inclusion position that of a full vice president serving on the president's Cabinet — a group that provides strategic leadership for the school.
Part of Dennie's job will include building on what the university has already accomplished, such as gains from the Project One initiative. Efforts will include engaging faculty and staff, perhaps in programs such as anti-racism training.
President Brien Lewis also wants to address systemic racism both in the institution and off campus. "Our Transylvania community values the richness that comes from individual differences," he said. "I believe Deidra Dennie has not only the expertise, but the proactive attitude to serve as an effective liaison for cultivating inclusion and equity within the student body, faculty, staff and greater community."
Dennie has worked in the field of diversity, equity and inclusion in higher education and private industry for the past 17 years. She most recently served as chief diversity officer at Anne Arundel Community College in Maryland.
After completing her bachelor's degree at the University of Louisville, she earned a master's in human resources development from Webster University and a Doctor of Public Administration from Valdosta State University.
Now she is prepared to help lead Transylvania during a momentous time.
"I'm thrilled to be here," she said. "I'm ready to rock and roll."