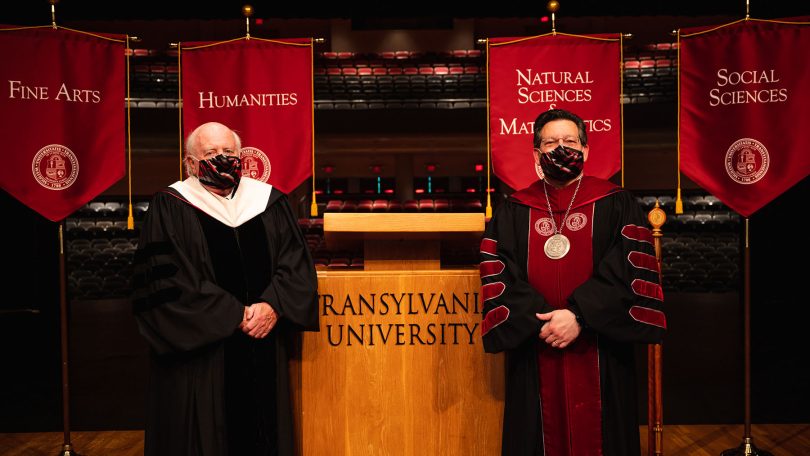 On Monday morning, the first day of Brien Lewis' first full week on the job at Transylvania, he carried an armful of regalia across the university's campus to the Mitchell Fine Arts building for an investiture ceremony unlike any in Transylvania's past.
Joined by Board of Trustees chair Norwood "Buddy" Cowgill '65, wife Laura and four university staff members, Lewis was installed with no frills and no pomp and circumstance, but with cameras rolling, as the university's 28th president.
"The lack of pomp and circumstance doesn't lessen the importance of what we are here to do … celebrate the arrival of a new president," Cowgill said.
"An exciting but uncertain future faces Transy, faces higher education, faces all of us," Lewis said, alluding to many of the changes faced by Transylvania and many universities in the midst of the COVID-19 pandemic. His remarks, which were edited into a 22-minute video of the ceremony, will premiere on the university's social media channels Tuesday at noon.
"So what do we take with us into that uncertain future?" he asked. "We take our ideas, we take our optimism and our aspirations, we take our hope. This does not mean we simply rest on our many deserved laurels or do things the way we have always done them. Benjamin Franklin gave us all a pointed warning when he said, 'When you're finished changing, you're finished.'"
Included in the video are greetings from representatives of Transylvania's faculty, staff, students and alumni, as well as remarks from board chair Cowgill. Watch the full ceremony below beginning at noon Tuesday.