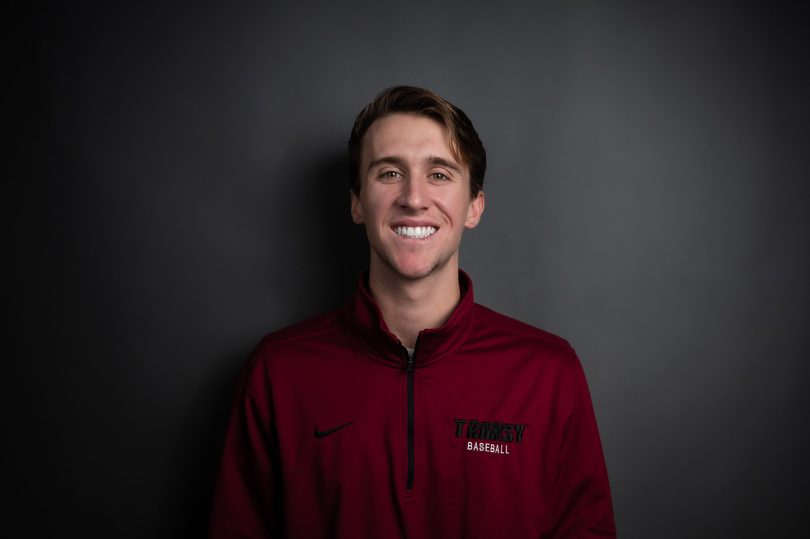 Transylvania baseball junior infielder Hudson Chastain was named to the Academic All-America Third Team for Division III baseball by the College Sports Information Directors of America (CoSIDA) on Tuesday.
Chastain, a junior from Knoxville, Tennessee, is only the second Transylvania baseball player in program history to be selected as a CoSIDA Academic All-American with his placement on the All-America Third Team.
Despite the cancellation of college baseball in spring 2020 due to the COVID-19 pandemic, CoSIDA continued its sponsorship of the annual Academic All-America awards program. For the 2020 season, student-athletes were selected based upon career statistics, including production in the abbreviated 11-game 2020 season for the Pioneer baseball team.
The CoSIDA Academic All-American Teams recognize the nation's top student-athletes who excel both in the classroom and on the field of competition.
After a record-setting sophomore campaign in 2019, Chastain picked up from where he left off this spring in charting a promising 6-5 record for the 2020 edition of the Pioneers.
Starting and appearing in all 11 contests for Transylvania, Chastain led the Pioneers in batting average, hitting .447. The junior ranked third on the team in on-base percentage (.480), and fourth on the team in slugging percentage (.596).
Over his three-year career, Chastain has appeared in 90 games, hitting .369 with 134 total hits, 21 doubles, three triples, 44 walks drawn, and 76 runs batted in with 28 stolen bases.
An accounting major and history minor, Chastain has equaled his on-field production in the classroom and in co-curricular realms. The junior has produced a 3.94 cumulative GPA and recorded a 4.0 GPA in his most recent semester. Chastain also serves as the Student-Athlete Advisory (SAAC) Co-President and will reprise that role for the 2020-2021 academic year. Chastain is a member of Omicron Delta Kappa, the Alpha Lambda Delta Honor Society, the Transylvania Accounting Club, and serves as the Dean of Students for the Student Advisory Council.
Chastain is one of 33 student-athletes across all three Division III teams to be named an Academic All-American and one of two players from a Heartland Collegiate Athletic Conference team.
Chastain is the second Transylvania student-athlete to win a CoSIDA Academic All-America award within the last two academic years and the fourth Pioneer to do so over the last decade.
Last month, Chastain was also awarded the first CoSIDA Academic All-District Team award of his career and was one of three Transylvania student-athletes in the 2019-2020 season to achieve that level of honors.