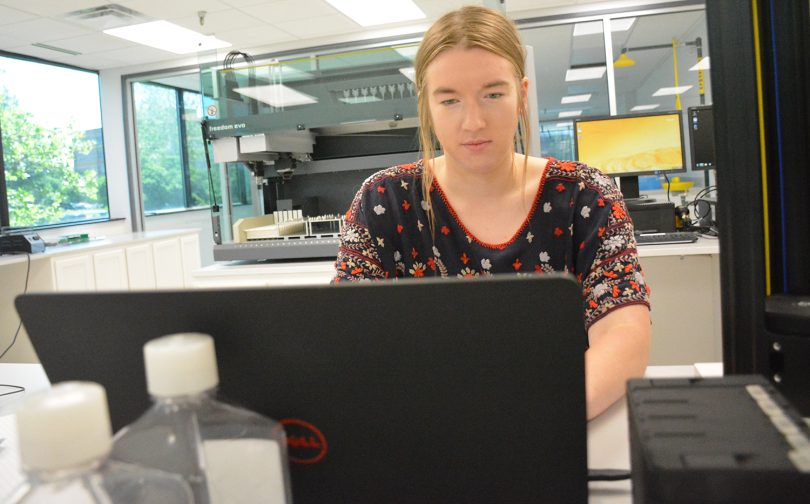 One never knows what's going to happen in life. But for Pioneers, it's about being agile and adaptable, capable of making a sudden pivot, and then embracing and succeeding on that new trajectory.
As Harper Zeitz '20, winner of Transylvania's Ruchman Biology Award, was finishing her senior year in the midst of the novel coronavirus and a dwindling job market, she quickly realized the need to take action and to cast a wider net. She might need to defer her interest in ecological biology and her original plan to work as a fish and wildlife service technician before moving on to do research in graduate school.
As she entered the job market, Zeitz opened herself to new kinds of opportunities. She quickly learned the benefits of having a biology degree from Transylvania — how her experience and qualifications gave her the flexibility to adapt to different types of jobs, and how she was perceived as a candidate with exceptional critical thinking and writing chops.
The result was almost immediate. Zeitz was surprised when a company that was building an epigenetics lab in Lexington responded on the same day she submitted her application —during finals week — inviting her to interview the next day. Zeitz was relieved and grateful that Transy's career development office could respond to her urgent call for help. She received coaching on how to interview and, eventually, how to work through the evolving job offer.
By the Monday after finals, she had a full-time job, dividing her time between writing content for blogs and reports and working as a tech in the new lab.
"If I hadn't had the resources that Transy provided, I don't know if I would have gotten this job, because there was a lot thrown at me super fast," Zeitz notes. "And if I didn't have that experience of critical analysis at Transy, I would be so in over my head."
"Transy gave me such a holistic educational experience. Yes, I was a biologist, but I did so much more than biology, and I can apply that to so many other facets."

Harper Zeitz '20


As part of her work, Zeitz spends a great deal of time reading and digesting science publications and research on holistic health and the measurement of biological rather than chronological age. She finds what's she's learning to be very relevant — even at her early stage of life.
"I really love science," she notes, appreciative that the job is deepening her understanding of the molecular side of her discipline. "It's making me a more rounded biologist." And after more than a month on the job, along with learning vast amounts about a new field, she's made important personal discoveries as well.
"I never expected it, but I'm really excited about it," she says of being part of a start-up venture. She's found how much she prefers the creativity of the writing to the repetition of the lab work. And, although she knows that eventually she will return to ecology and go to graduate school, the work experience has already helped her visualize a different kind of direction.
"Being in this job has definitely made me rethink what kind of program I want to go into," she says. "Maybe a dual master's with a Ph.D. track that deals with science writing and policy." It's the role of connecting people with knowledge that has sparked the new interest. "I really do like being that bridge between the communications people at my job, who may not have a science background, and the formal science — the two worlds of this job."
She notes how broadly Transy prepared her. A sociology and environmental science minor, Zeitz describes not only the breadth of skills and knowledge she developed in her liberal arts education, but also her growth as a person. She points to the close mentoring relationships with her professors, her team sports (field hockey and lacrosse) and the integral sense of service that is woven into the Transy experience through volunteering. The entire Transy experience, she says, makes for a more well-rounded person.
"It's one thing to be able to read content, write notes and be able to regurgitate it back. That doesn't mean you're fulfilling yourself as a person. That's not the whole point of learning — to just be good at taking tests and getting good grades. I think a lot of it, too, is being a good person and being able to make connections with people."
Through her volunteer work at Transy, including as an organizer for Food Justice, which provides snack packs to students who face food insecurity at Harrison Elementary, she says she found a different level of understanding by "interacting with people who face these difficult life situations." The personal connection makes the difference.
"I really like that Transy allowed me to get out of my shell and make these friendships with my professors and be able to talk to them on a human level." As a result, she says, "I don't have a hard time talking with or just being able to connect with people." It's something that is helpful in her job.
"Transy gave me such a holistic educational experience," Zeitz concludes. "Yes, I was a biologist, but I did so much more than biology, and I can apply that to so many other facets."