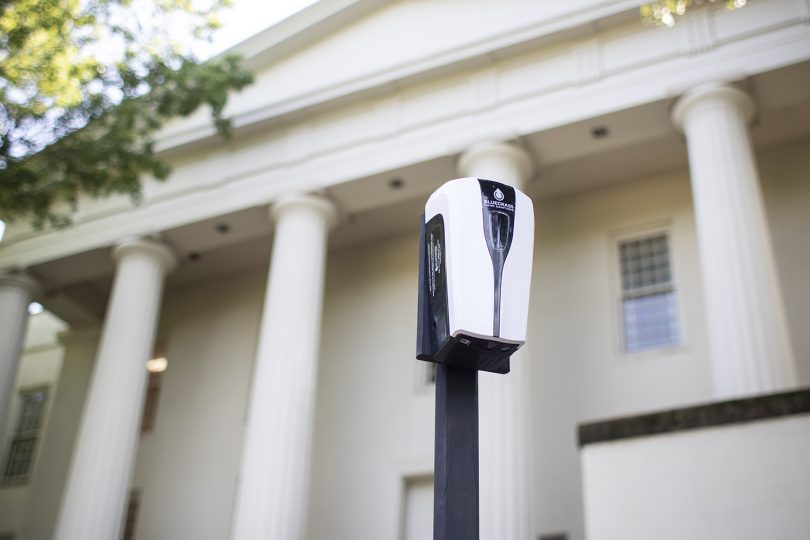 Transylvania University has partnered with a nearby craft distiller that has retooled operations to make hand sanitizer as well as bourbon.
The school has ordered more than 400 gallons of the sanitizer along with 60 touchless dispensers from Bluegrass Distillers on West Sixth Street. It's an opportunity for the university to not only continue its support of local businesses but also help implement the Healthy at Transy plan for students to safely return to campus this fall.
"The work is really rewarding, and our people like it because the mission is really clear," distillery co-owner Sam Rock said.
After bourbon making shut down because of the pandemic (it has since restarted), the distiller made some equipment changes, learned how to work with extremely high proof alcohol (in the 195-200 range) and began producing the hard-to-find hand sanitizer.
"We just did it all by hand and were running two shifts," Rock said. The workers "ramped up and did whatever they had to do to do it." His business hired clients of the Lexington Rescue Mission to keep up with demand.
Bluegrass Distillers at first focused on supplying those most in need, think EMS crews and nursing homes. "Once those people got stocked, we started looking for ways where universities and schools could reopen," Rock said. "I have little kids, and I think one of the most important things is getting the children back to school. We have to have an educated population."
Besides supplying Transy, Bluegrass Distillers ships the product to Eastern Kentucky University and school districts across Kentucky and beyond. It's also going into retail outlets throughout the country.
The hand sanitizer follows a formula from the World Health Organization. And it's been denatured — so you can't drink it.
Kelsey Ley, Transylvania's manager of campus appearance, was glad for the opportunity to work with a nearby business. "When reaching out to our larger vendors, it was hard to find someone who could guarantee an amount or time that we would receive it," she said. "It was great finding a local business willing to work with us — and right down the road for any emergencies."