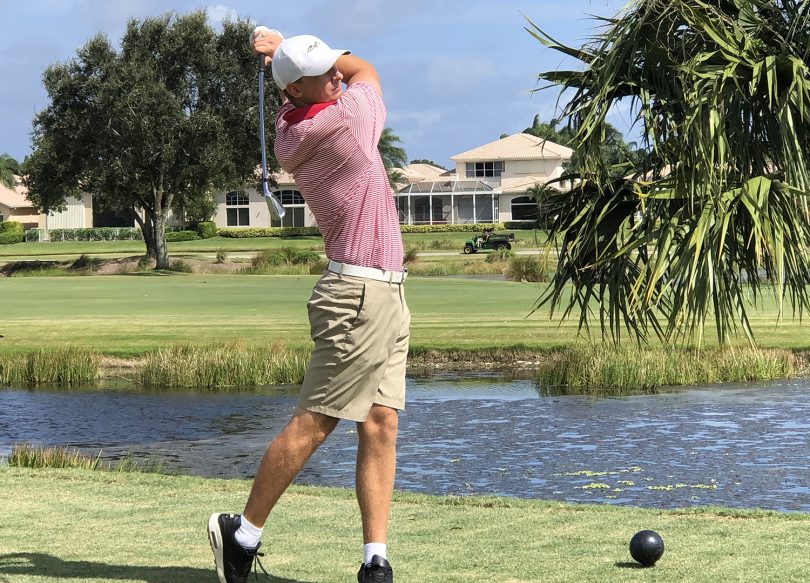 For the second year in a row, Transylvania University golfer Harrison Lane has been selected to the Srixon/Cleveland Golf All-America Scholar list.
The national recognition honors excellence in the classroom as well as on the links — which aren't two easy things to balance.
"When I decided to come to Transy I knew I was joining a golf program that really set a high standard for success," Lane said.
However, he didn't realize how much time the combination of golf and school would consume. Sometimes he'd study until the early hours of the morning. Other times he'd play in an out-of-state tournament on a Monday, ride home that night and take a test Tuesday morning.
"The grind was very challenging, and it would really wear me down at times," Lane said. "I love the saying 'bend but don't break' because I truly believe that's what it takes to be a student-athlete at a school like Transylvania."
Lane is in the class of 2020 but is one credit away from graduating and plans to finish his Transy golf career next spring — to make up for a season cut short by the coronavirus pandemic.
As he looks back on the past four years, he also appreciates the support he's gotten from his team, classmates and professors. "Transy is a special place because of the community that pushes you to be your best," he said.
An especially supportive member of this community has been his coach, Brian Lane, who's also his father. "He's my greatest role model, and to be able to play for him over these last few years has been special," Harrison Lane said.
His dad said he's proud of his son, who epitomizes what is great about Transylvania. "His work ethic and positive attitude has kept the strong tradition that our golf team started in the early 2000s alive and hopefully will continue for many years to come. Being able to see Harrison's success as his college coach and as his father has been a tremendous honor that I will always cherish."
This success has included twice being selected to the Heartland Collegiate Athletic Conference's Tom Bohlson All-Academic Team and being named to the HCAC All-Conference Team.
Brian Lane also noted the Pioneer men's golf team has made 13-straight trips to the national championships and has the longest consecutive conference championship winning streak in NCAA divisions I, II or III. Additionally, Lane expects this year's team will receive the 10th Golf Coaches Association of America All-Academic Team award in the past 11 years.
As a junior and sophomore, Harrison Lane competed in the DIII national championships, including last year's tournament hosted by his school at Keene Trace Golf Club in nearby Nicholasville.
NCAA Division III programs especially emphasize the importance of academics for student-athletes. Harrison Lane's recent recognition by the GCAA honors those who maintain a cumulative GPA of at least 3.2 and, on the golf course, a stroke average under 79.
Pioneer men's golfers have made the GCAA's Srixon/Cleveland Golf All-America Scholar list a total of 29 times.
"It takes an incredibly disciplined person to excel at such a high level in golf and in the classroom," coach Lane said.