One Saturday morning each May, a crowd gathers on the lawn in front of Transylvania University's historic Old Morrison to celebrate the school's graduating seniors.
While gathering as a crowd is decidedly frowned upon these days, celebrating students about to embark on their life journeys after Transylvania is decidedly not.
The university this year is arranging a virtual commencement — complete with a singalong to "Hail, Transylvania" recorded by the school's choir specially for the event — on May 23 at 9 a.m. The school plans to have an in-person ceremony whenever it's safe.
"While it is not possible for us to be together at this time, it is very important to everyone at Transylvania that we recognize our graduates' accomplishments and congratulate them on reaching this important milestone," said Michael Cairo, interim vice president for academic affairs and dean of the university. "We hope the virtual celebration we have put together will honor them on this special day and provide a connection between our graduates, faculty, staff and administrators."
In addition to "Hail, Transylvania," the virtual commencement will feature aspects similar to those in an in-person ceremony.
Four faculty members — one from each division — will read the names of each graduate during a slideshow, which will include photos of students (many in cap and gown) along with information like majors and minors. Viewers will be able to watch the entire show or go directly to the slides of individual students.
Also on tap, Interim President John Williams will deliver a commencement celebration address similar to what he would have done during a traditional ceremony; he will confer degrees and make remarks to students.
Other videos will include messages from faculty, staff, alumni and the graduating seniors themselves.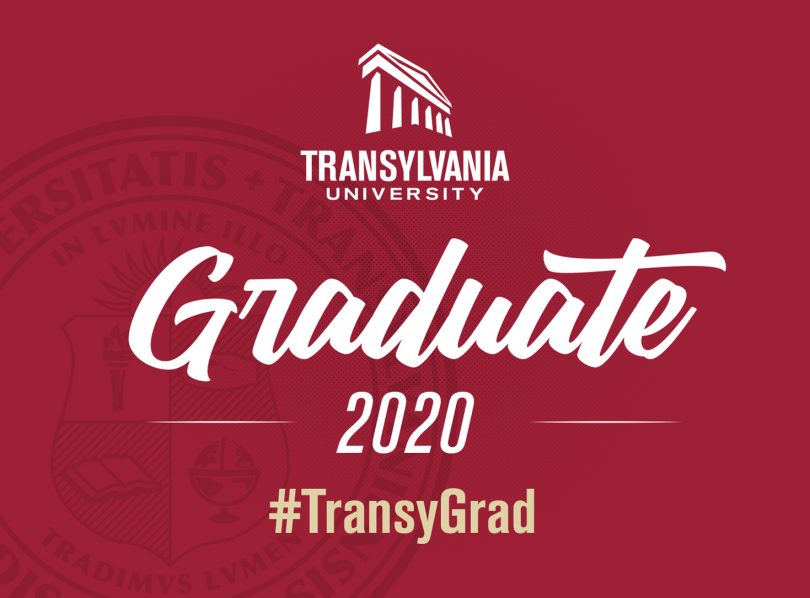 While the virtual commencement will be posted at 9 a.m., when the regular ceremony would have started, it will remain live so you can watch it at your convenience.
In the week leading up to that Saturday, seniors will have their traditional toast with faculty and staff, an awards presentation and a last lecture — all virtually, of course.
They'll also receive a box from the university with a yard sign to let neighbors know of their accomplishment, a sticker to put on their toasting glass, and a pennant.
Despite the challenges presented by the COVID-19 pandemic, the university wanted to take extra steps to make sure the graduating students are honored for their efforts.
"We are exceptionally proud of the hard work and dedication our seniors have put toward their academic pursuits," Cairo said.