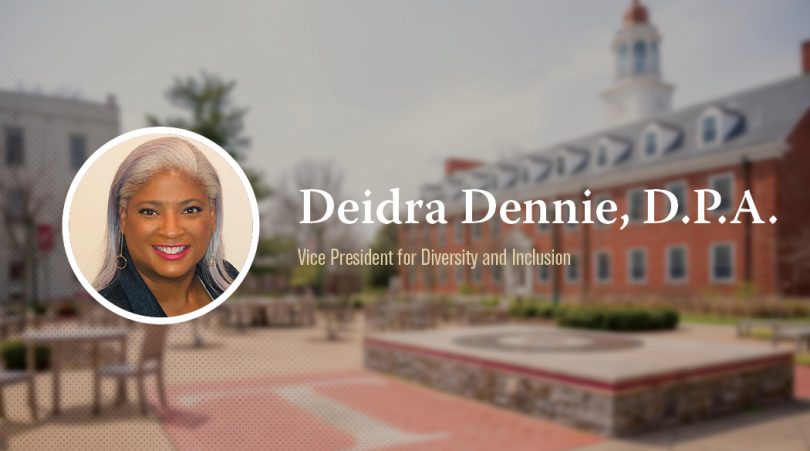 Deidra Dennie has been named Transylvania University's new vice president for diversity and inclusion. Dennie currently serves as the chief diversity officer at Anne Arundel Community College in Maryland and has worked in the diversity, equity and inclusion field in higher education and private industry since 2003.
"At Transylvania, we are committed to fostering a campus characterized by compassion, respect, ethical concern and social responsibility for all. That's why I elevated this position to the cabinet level and why it's so important for the vice president of diversity and inclusion to regularly be part of our leadership discussions," President John N. Williams said.
President-Designate Brien Lewis said, "Our Transylvania community values the richness that comes from individual differences. I believe Deidra Dennie has not only the expertise, but the proactive attitude to serve as an effective liaison for cultivating inclusion and equity within the student body, faculty, staff and greater community." Lewis begins his tenure at Transylvania July 1.
As vice president for diversity and inclusion, Dennie will serve as the chief university diversity officer and as a member of the president's cabinet. She will advise the president and cabinet on matters of interest regarding diversity, equity and inclusion and will oversee the Office of Diversity and Inclusion.
"I am thrilled to be joining Transylvania University on July 13 and am anxious to get to work engaging with students, faculty, staff and alumni," Dennie said. In particular, she is looking forward to designing events and programs that support, challenge, engage, celebrate and embrace the uniqueness of Transylvania. 
In her current position, Dennie provides strategic, integrated direction and consultation to school administration on issues regarding equity, diversity, inclusion, social justice and cultural competency. She also oversaw a comprehensive assessment of student climate and culture on the 47,000-person campus. Prior to her current position, Dennie served as director and Title IX coordinator at both Armstrong State University (now Georgia Southern University) and Kennesaw State University.
"I hope my experience serves as a benefit to the educational experience of students, as I work with everyone to ensure our environment reflects the multifaceted and multicultural nature of Lexington and Transylvania," Dennie added.
Dennie's move to Transylvania is a return to Kentucky. She completed her bachelor's degree at the University of Louisville. She holds a master's degree in human resources development from Webster University and a Doctor of Public Administration from Valdosta State University.