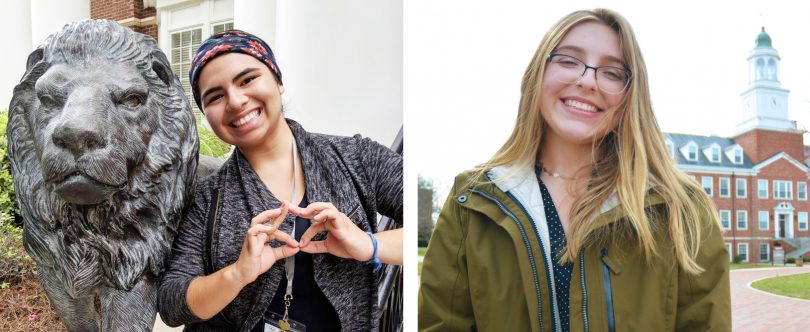 Transylvania University juniors Alexa Valarezo and Hayle Hall have been awarded this year's prestigious Charles and Susan Shearer Scholarship, which pays for their senior year of study.
The honor goes to students who demonstrate outstanding academic performance, impressive leadership qualities, significant campus contributions and tremendous strength of character. It covers both the tuition and general fee.
"I am so honored to be able to represent Transy as a Shearer scholar," said Valarezo, a math and religion double major from Louisville (who's pictured left in the above photo). "I have looked up to the recipients of this award during my time at Transy, and I hope to continue the tradition by honoring those before me and inspiring others."
Valarezo has served in various leadership roles, including in the campus Student Organization for Latinos, Student Activities Board and her Phi Mu sorority.
"Alexa is an exemplary student that embodies many characteristics I expect from a Transylvania student," math professor Michael Kelly said in a recommendation for her to be awarded the scholarship. "She is intelligent, passionate about the liberal arts, and desires to use her education to make a difference in the world."
Hayle Hall also was excited about the news. "I am incredibly grateful to have the honor of receiving the Shearer Scholarship," said Hall, a writing, rhetoric, and communication major from Prestonsburg. "I am so thankful for the opportunities and experiences that Transylvania has given me, and I cannot wait to continue to serve our community next year."
Hall last year traveled to China after receiving a U.S. Department of State Critical Language Scholarship — she studied for 10 weeks in an intensive language and cultural immersion program with all expenses paid. She also won a Juhe Chinese Composition Competition, works in the Writing Center, is a Chinese language tutor and serves as a resident adviser.
"Hayle is not only a superlative student, but also a highly engaged campus and community leader," said Scott Whiddon, WRC professor and Writing Center director, in his recommendation.