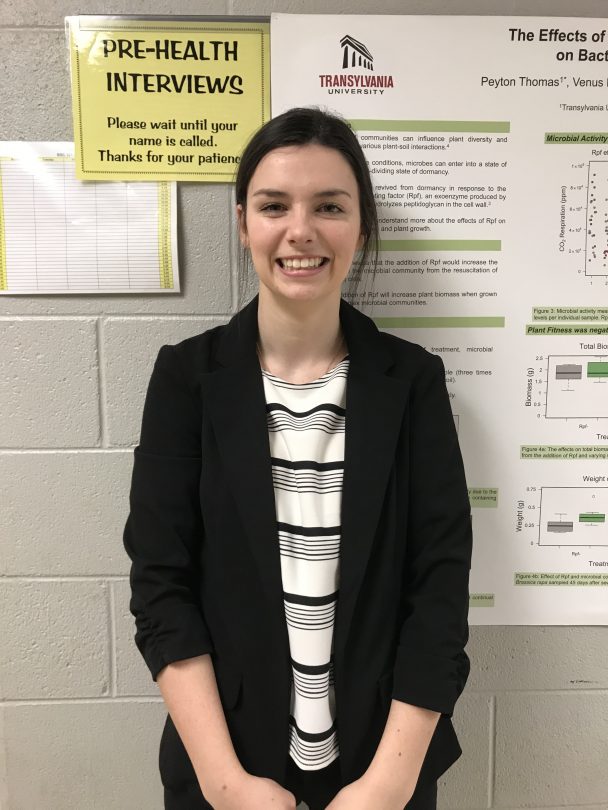 Transylvania sophomores Victoria "Tori" Griffith, Justin Hudnall and Miranda McCormick have been selected to take part in the University of Kentucky Early Assurance Program. This is the third year of Transy's partnership with UK, which assures the admission of up to three Pioneers to the UK College of Medicine-Northern Kentucky Campus.
The program secures a spot in medical school and provides experiences that offer special preparation, including assisting in a gross anatomy lab, exposure to hospital and office practice, shadowing and mentoring from physicians, MCAT readiness and a one-week boot camp.
"Transy's partnership with UK has turned into a wonderful pathway for some of Transy's high-achieving pre-med students," says Robin Prichard, coordinator of pre-health preparation programs, part of Transy's Center for Academic and Professional Enrichment.
"Those who qualify for the Early Assurance Program are the best of the best. These students have maintained a high GPA in very challenging courses and have attained recommendations from Transy science faculty."
Tori Griffith, of Maysville, Kentucky, finds reassurance in knowing that as long as she follows the guidelines, keeps up her academics and scores well on the MCAT, she has a place in medical school when she graduates in 2022. Being part of the program, she says, "allows me to continue to focus on my grades and experiences while knowing I have an early assurance to the medical school I would wish to attend after graduating from Transy." It helps the math major and biology minor toward her goal of building a career in the northern Kentucky area.
The program will also help Justin Hudnall of Morgantown, Kentucky, meet goals he expressed when he first arrived at Transylvania: "to graduate from Transy, to go on to a medical school that is rewarding and challenging and eventually to become a doctor who helps every patient he sees."
It's a wonderful opportunity that I'm excited to begin in order to experience the field I've been anticipating entering since I was a child.
Miranda McCormick
For Miranda McCormick, whose hometown is Owensboro, Kentucky, the program offers a variety of opportunities and connections in the medical field that she says she wouldn't otherwise be able to experience. She also sees it as a way to learn more about her particular interests in oncology and cardiology. "I think this program will enable me to explore both of these branches of medicine while also exposing me to a variety of others, which will help me solidify my field of interest," McCormick says.
And, of course, being accepted is "a big stress reliever," she adds, eager to make the most of the advantages many of her medical school peers won't experience. "Ultimately," says the double major in molecular and cellular biology and religion, "it's a wonderful opportunity that I'm excited to begin in order to experience the field I've been anticipating entering since I was a child."
Submitting an effective application is the crucial step in achieving their goals. And these students are quick to recognize the benefits of having the help of Prichard and the pre-health program.
"Transy prepared me to have a successful application through campus opportunities and Robin Prichard," Griffith explains. "At Transy I have the opportunity to be part of different organizations, such as the Pre-Health Club, in which I could learn about these opportunities. I have been going to Robin to discuss applying for this program since late last year and feel she very much prepared me for the application process. She helped calm my nerves and gave me everything I needed to be successful for the application of the program."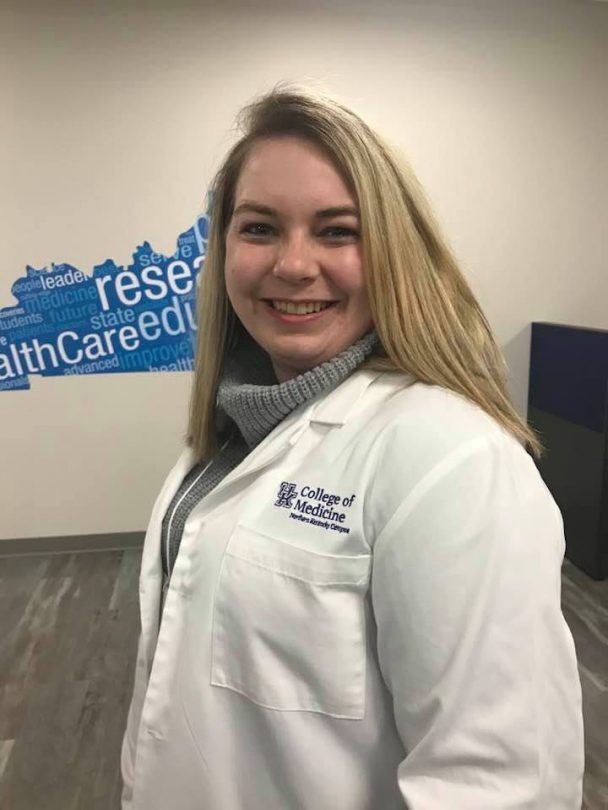 McCormick concurs, adding that Transy prepared her for a successful application "by allowing me to form bonds with many of the pre-health faculty, which made the application process go smoothly." These close bonds, developed in an intimate, supportive community, will also be possible in the program that has accepted the three Pioneers.
"Many Transy students are very attracted to the UKCOM-NKY campus because of the small class size and community feel that the medical school offers," Prichard explains. "Some students have even remarked that the community there reminded them of their experience at Transy." Even the dean of UKCOM-NKY, Dr. Steven Haist, has contributed to that community feel, Prichard adds, in being very active in getting to know Transy students.
In May, the first student from Transy to enter the program, Alex Voelker, will graduate and take up her reserved spot in the UKCOM-NKY medical school.