This article by professors Kurt Gohde and Kremena Todorova is part of a series by the Transylvania community on the theme of our academic year: Resilience. As we face the biggest public health crisis in a generation, we're digging deep to find what it takes to bounce back, to face adversity with both grit and kindness.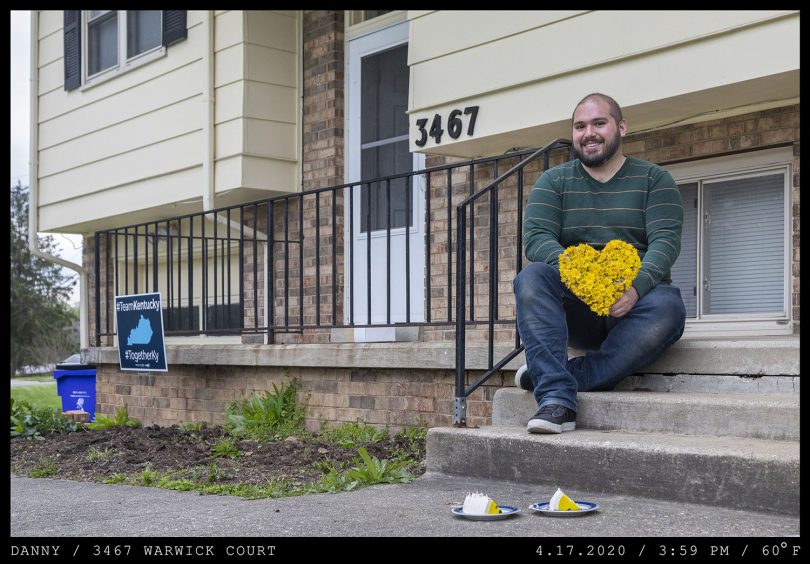 On Monday, March 16, universities and public schools in Lexington remained closed due to the COVID-19 pandemic.
That Monday followed a weekend when all major social events were canceled, including the Shamrock Shuffle 3K race and the city's St. Patrick's Day Parade. Public libraries shuttered, too.
On that Monday, most coffee houses, restaurants and bars shut down. Instead, Kentuckians were asked to practice social distancing. This was hard, even for the introverts among us and even if we tried calling it something else, like "physical distancing," in order to affirm our lasting commitment to community.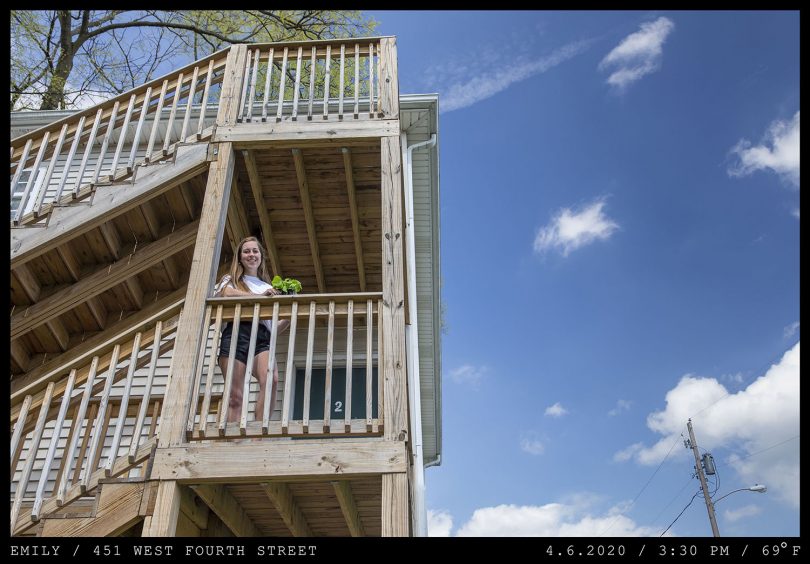 On that Monday, the two of us began a new artwork. Eventually, we named it "Lexington at the Time of COVID-19." But on that day, what we knew was that we wanted to photograph Lexingtonians on their porches, in front of their homes, leaning out of windows — while they practiced social distancing and we kept at least 6 feet away.
We set out to create these socially distant portraits in order to affirm our fellow Lexingtonians' resilience in the face of this unprecedented crisis of public health. If we could highlight different folks' lives during the pandemic, the photographs would surely give others hope, even if they didn't personally know the people who sat, stood or celebrated birthdays in front of our cameras.
We have worked to make this series of portraits a document of this strange moment of our collective existence. This is why every picture we take contains what we call a "time stamp" on the bottom: It lists the name(s) and street address of the person or people included (pets too!), as well as the date, time of day and temperature. Ten years earlier, we created a different artwork — "DISCARDED" — which used the same kind of time stamp. We always liked how it anchored out photographs in a particular time and place.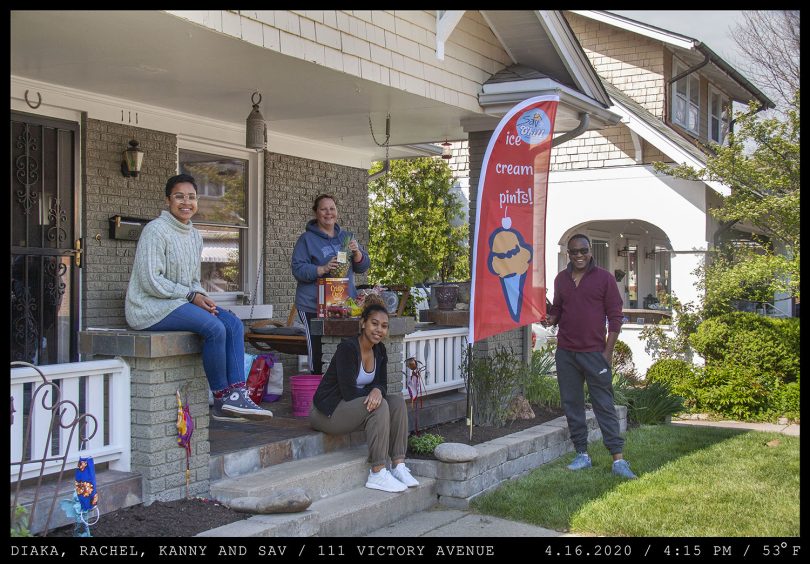 "Lexington at the Time of COVID-19" is an artwork about inclusiveness as well. Though the routines of social distancing required us to begin with people we knew, we have been deliberate about reaching out and including all parts of our Lexington community, especially as anti-Asian violence is on the rise nationally, as ICE continues its raids against undocumented immigrants, and as the administration's leadership persists in encouraging white supremacist groups.
We will take daily photographs until we are no longer asked to practice social distancing. When the pandemic is over, we plan to have a gallery-style exhibition of all our photographs and to invite everyone we've photographed to a celebration, the kind of party where people are able to shake hands, hug, or give gifts — all the things we are currently missing while photographing.

---
Pictured are members of the Transylvania community: top to bottom, Danny Woolums '13, Emily Neat '20, Diaka Savane '20 (left) — and art professor Kurt Gohde and English professor Kremena Todorova, who frequently collaborate on a variety of community art projects.
Check out the Herald-Leader and WEKU stories on "Lexington at the Time of COVID-19."