This article by professor Zoé Strecker is the first in a series by the Transylvania community on the theme of our academic year: Resilience. As we face the biggest public health crisis in a generation, we're digging deep to find what it takes to bounce back, to face adversity with both grit and kindness.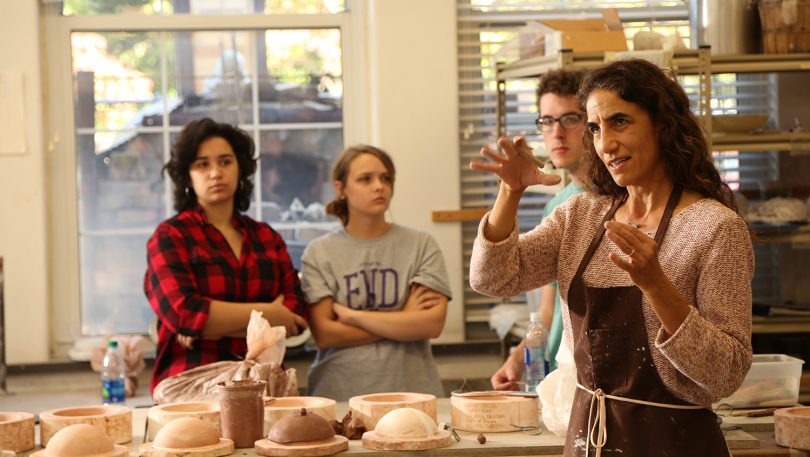 Last year at this time, we were in the throes of planning the upcoming year of Creative Intelligence programming. We selected "Resilience" as a theme and confronting climate change was on my mind when I wrote the following:

"Resilience is the most persistent kind of strength because it is tied to creativity, responsiveness to context, and humility. The word seems to float through our consciousness in these times of unprecedented changes in our climate and challenges to our core democratic ideals. We say that we need to become resilient to withstand difficult forces. More constructively, we can think of resilience as the essential quality needed to cooperate, to find communal balance among ourselves and within the vast and beautiful web of life."
The guests we invited are artists, scientists, policy makers, courageous truth seekers and storytellers: people who call our attention not only to solutions but also to problems that need solutions, wounds that need healing, stories that need more accurate and humane telling. Some of these guests have not yet come to campus because the pandemic struck and everything was rescheduled.
This pandemic has already revealed two facts that are intertwined around the truth that resilience is about strength in the fabric of community. One fact is that weak spots in our social fabric causes the entire cloth to fail. Our social contract has clearly not provided for vulnerable members of society. Lacking secure income, people go to work sick and bring us all down. Lacking humility, people arrogantly and ignorantly gather and travel and spread this shockingly contagious virus across the globe. Lacking flexibility, people who cannot do remote work are put at risk because they stock physical shelves with the food and medicine that all of us need to survive or drive physical trucks to deliver those goods, or care for people with real physical needs.
The second revelation is that we are capable of bold action on a global scale in the face of necessity.
This has, perhaps, never happened before. It is incredible to witness.
When this crisis has passed, we will emerge with the knowledge that we can act collectively for a greater good. This fact gives me tremendous hope that we have the capacity to slow and even reverse climate change. Coronavirus is causing a devastating crisis full of pain and suffering. It will end. But climate change, if it is not slowed or stopped, will continue forever.
We have a chance to shape the future as we shape our recovery from this crisis. To revitalize our lives and our economy, we should support work that moves us rapidly toward a decarbonized and just economy – clean energy production, thriving local food economies, affordable and sustainable housing, protected ecosystems, social justice.
How will we, at Transylvania, support this essential work for the future? We will educate. We will cultivate resilience in our learning, our teaching, our work as citizens. We will look to each other and to our rescheduled Creative Intelligence guests to develop methods of fostering nimbleness, hardiness, flexibility, adaptability, responsiveness, humble comprehension of limits and inventiveness sparked by the desire, not just to survive, but to flourish in community.
---
About the author: Zoé Strecker is a visual artist, writer and art professor at Transylvania. She also directs the university's Creative Intelligence Series, which draws creative and thought leaders from across the nation to campus each year.