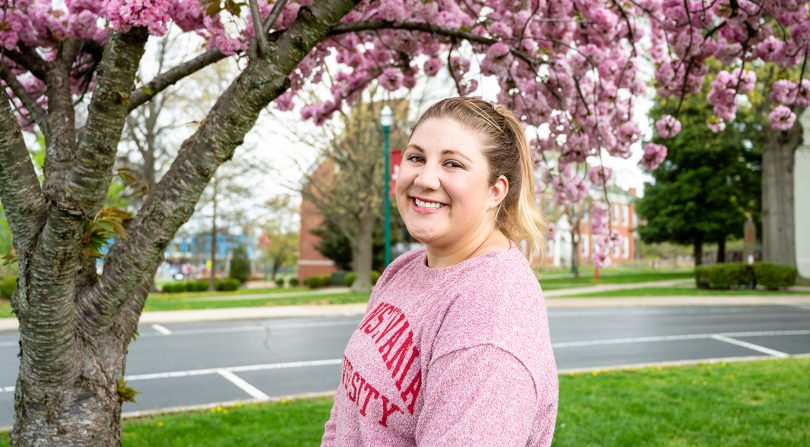 When the annual conference of the Southern States Communication Association was canceled to protect its participants from COVID-19, the faculty and students who were honored to have been accepted to present their work lost an important platform — and a trip to Texas. In a recent message to its members, event organizers took time to celebrate the participants of the Undergraduate Honors Conference, lauding the quality of their research and writing.
A handful of students were highlighted as recipients of special awards. Among them was Transylvania University's Annebelle Klein, a senior majoring in writing, rhetoric and communication and a work-study student in Transylvania's Office of Marketing and Communications.
The SSCA named Klein as one of six Clevenger Scholars (students whose review scores ranked in the top 10%) for her submitted paper, "Pragmatic Politics Versus Idealistic Solutions: A Communication Analysis of the Discourse Surrounding the Climate Crisis."
What began as a research paper in her first year at Transy and developed into a senior seminar paper was further refined for submission to SSCA. It was singled out as the recipient of the Franklin Shirley Award, given by the SSCA to the highest-rated Undergraduate Honors Conference paper. Klein is the second student from Transy to have placed in the top five papers.
"I've always been interested in the relationship between the environment and politics," Klein says, explaining her choice of topic. "As I progressed further into the WRC major, I began to see the role that communication theory plays amidst those two hot topics."
In this era of social distancing, Klein communicated via email to express her gratitude to members of the Transylvania community who provided particular guidance, including Gary Deaton and Tim Soulis, faculty of writing, rhetoric and communication, and Megan Moloney, vice president for marketing and communications, all of whom served on her senior seminar panel.
"I truly believe that my paper wouldn't have been acknowledged," Klein wrote to them, "had it not been for all of the help and feedback you provided me while I was in both the early and final stages of writing. So, THANK YOU!"
Describing Klein's process, Soulis recalls how her work on this paper "was the living embodiment of the old adage that 'good writing is rewriting.' She had a great idea, sketched it out, wrote a very rough draft and then kept honing, refining and polishing until it was a work of art. Like Michelangelo seeing his 'David' in a slab of stone, Annie carved away the dross to let the essential emerge."
She is, Deaton adds, "an amazing representative of Transylvania and of our WRC program. Her intense efforts (in a very short window of time) to make the final version of the incredible work that it became is a testament to Annie's talent, her character and her tenacity."
And her dedication to excellence, Deaton concludes, was less about earning a grade or an award and more about the ultimate impact of her work. "She wanted her paper to make a difference in the ways people think critically about crucial issues in our world."
Klein plans to attend law school in the fall and study environmental law.