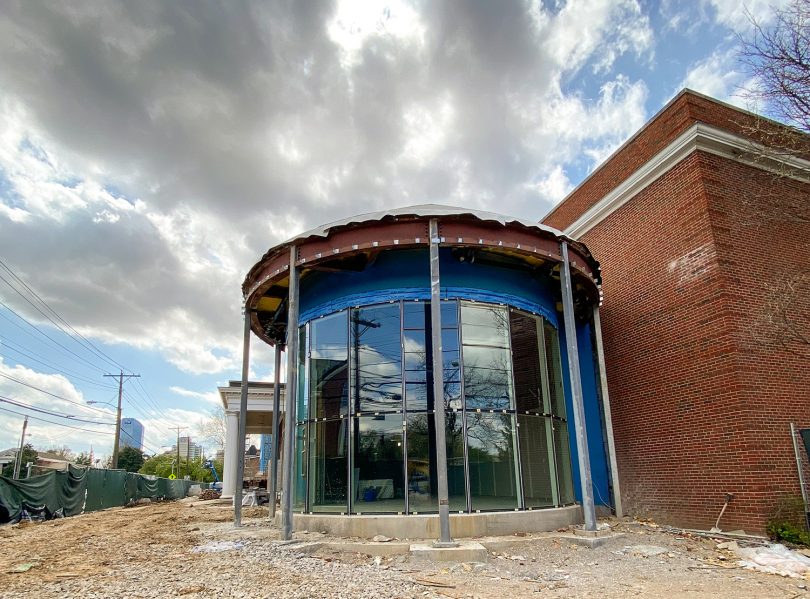 Beginning in August, a visit to the Transylvania University Bookstore will no longer mean an off-campus excursion down Third Street.
Part of the school's new, $30 million Campus Center, the bookstore will feature an atrium with large windows and a location in the heart of campus.
"Being on that side of campus will be very convenient for students and staff to drop in and pick up what they need — and maybe stay awhile in the new seating area," manager Kristi Bowerman said. "The natural lighting the store will be getting from the atrium will make the new location a warm and inviting place." (After all, the school's motto is In Lumine illo Tradimus Lumen, or In That Light, We Pass On the Light.)
Bowerman said the goal is to open the week of Aug. 2 after moving in the bookstore fixtures and merchandise in late July.
The shop is about the same size as the current one across from the Hall softball field. Patrons will be able to enter from either the exterior facing North Broadway or the interior of the new Campus Center, which also will feature areas for student organizations, fitness, dining, community outreach and more.
For now, as Transylvania has shifted to remote learning because of the coronavirus outbreak, the bookstore is providing curbside service between 10 a.m. and 4 p.m. Most sales lately have been through the shop's website, with free shipping on any orders for the last month, Bowerman said.
Also, students who need to return winter term rental books can either print out free shipping labels to mail them back or return them curbside.
Call the bookstore for more information at 859-281-3570.