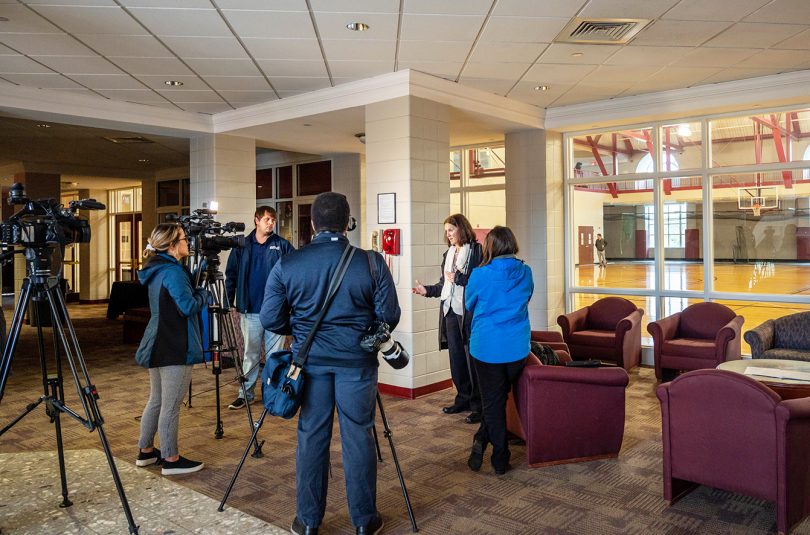 Donations are being accepted for the 40-50 Hope Center clients using Transylvania University's Clive M. Beck Center as temporary shelter.
The school on Tuesday opened its doors to provide the Lexington nonprofit with more space to meet government social distancing recommendations during the coronavirus outbreak. Inside the athletics facility, the clients can use showers, locker rooms and commercial laundry machines. And the university's food service provider, Bon Appétit Management Company, is preparing meals for the clients.
To help support them during their stay, the public is encouraged to donate items including: packaged snacks, toiletries, reusable water bottles, tennis shoes (all sizes), towels, cleaning supplies, over-the-counter medicines like alcohol-free cough syrup and Tylenol, board games and playing cards, sanitizing wipes and hand sanitizer, books (used paperbacks are great), and mesh laundry bags.
Drop off donations in a box or bag marked "Beck Center" at the George Privett Recovery Center, 250 W. Loudon Ave. Call 859-225-4673 when you arrive, and a staff member will retrieve the donation from your car; there's no need to enter the building. Hope Center staff will then take the items to the Beck Center.
Monetary donations are accepted as well.
The Hope Center serves over 650 each night. During the pandemic, staff members have been separating programs and clients as much as possible. All of those staying at Beck will undergo a basic health screening and temperature monitoring daily.
In addition to space inside the Beck Center, clients will have access to the outdoor seating area in Alumni Plaza. Hope Center staff will be on campus 24/7 for the duration of their stay.