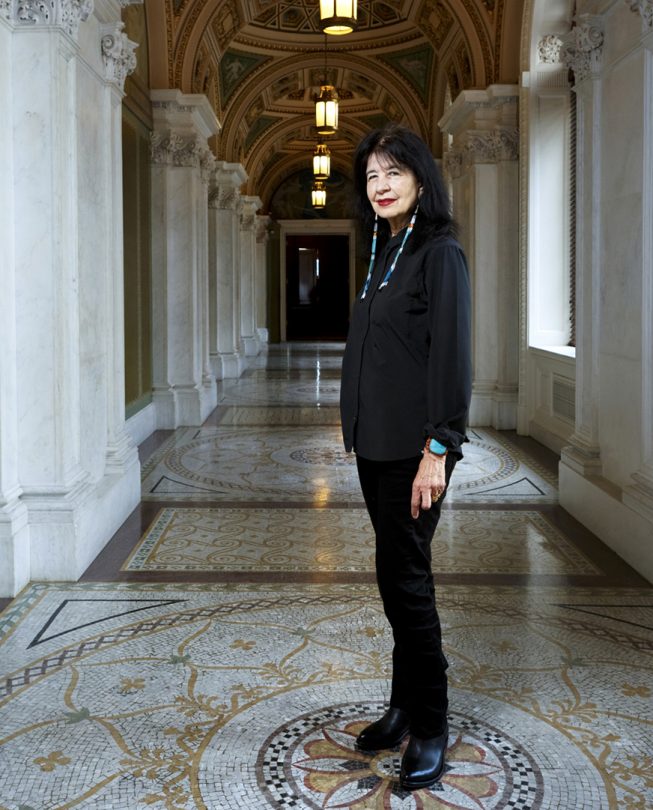 Note, this event is postponed until March 2021.
A former poet laureate himself, Transylvania University professor Richard Taylor looks forward to this month's visit by U.S. Poet Laureate Joy Harjo.
Transylvania will be among the few colleges to host a reading and lecture by Harjo while she is serving in this role. She'll deliver the school's annual William R. Kenan Jr. Lecture on March 18 at 7:30 p.m. in Haggin Auditorium. Free tickets are still available for her talk on "Resilience," the theme of this academic year.
"I think it's a big deal for Kentucky," Taylor said. Harjo, the first Native American U.S. poet laureate, is an internationally known, award-winning poet, writer and performer of the Mvskoke Nation.
Serving as Kentucky's poet laureate from 1999-2001, Taylor's job was similar to hers but on a different scale. As the nation's official poet — Harjo's full title is Poet Laureate Consultant in Poetry to the Library of Congress — she spreads the "good word about the meaning and importance of poetry, which too often in our very practical, material lives we neglect," he said.
U.S. poets laureate travel the country to "reawaken people to the possibilities of poetry," a form of expression we tend to overlook because of a lack of understanding, Taylor continued. "She will bring us back to ourselves, to cause us to reflect and appreciate not only the beauty around us but to raise questions about what it means to be on this planet and the miracle and mystery of our existence here."
Taylor praised Harjo as a poet, saying she is very engaging. Part of what makes her so compelling to audiences is her musical talent. A flute and saxophone player, Harjo has won a Native American Music Award for Best Female Artist of the year. She also has been lauded for her children's books.
Zoé Strecker, a Transylvania art professor and director of special academic programming, looks forward to Harjo's visit as well. "She writes with the depth and beauty of her ancestral voice, the voice of the 'Old Ones,' as she frequently calls them," Strecker said.
Harjo draws from the history of the Mvskoke people and her connection to the land in her new, critically acclaimed poetry collection, "An American Sunrise."
Taylor noted that modern society has lost the intimacy with the natural world that we used to have. We're so distracted by things like technology — and even by our inclination to explain things logically — that we don't pay as much attention to what's happening around us; in contrast, being aware is something poets almost by definition do.
Informed by awareness, a poet's words can teach us things we can't learn anywhere else, Taylor said. "In a way, poetry touches us all."
He is strongly encouraging his students to attend Harjo's lecture, which he hopes will increase their awareness and appreciation of words that are put together well.
"Poetry requires us to give language and experience attention, and its dividends are enormous, incalculable, unmeasurable," Taylor said. "We can't quantify the kind of experience a good poem generates in a student's mind."
Harjo's talk is part of Transylvania's New Frontiers series, which invites the public to go beyond the familiar and explore ideas, art and music.
The Kenan Lecture is one of the university's biggest events each year, having drawn to campus such notables as Kurt Vonnegut, Salman Rushdie, Elie Wiesel and Beverly Sills.