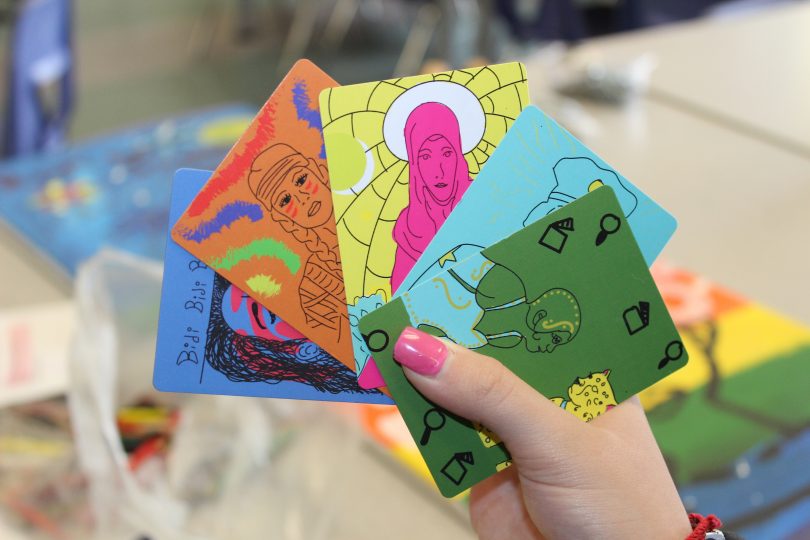 Pirates. Inventors. Astronomers. Rulers. The challenge for Shawna Morton '20 in designing a deck of cards to illustrate the lives of so many extraordinary women was in selecting only 31 — one for each day of Women's History Month.
The same lives that inspired Morton and her artwork were soon being reimagined by Cardinal Valley Elementary students in their after-school art club. The collaboration, an essential part of the Michigan native's project, provided each student a deck of the 31 trading cards — every card layered in vivid colors and unexpected history — and a culminating exhibit of their artwork at the Kentucky Theatre gallery.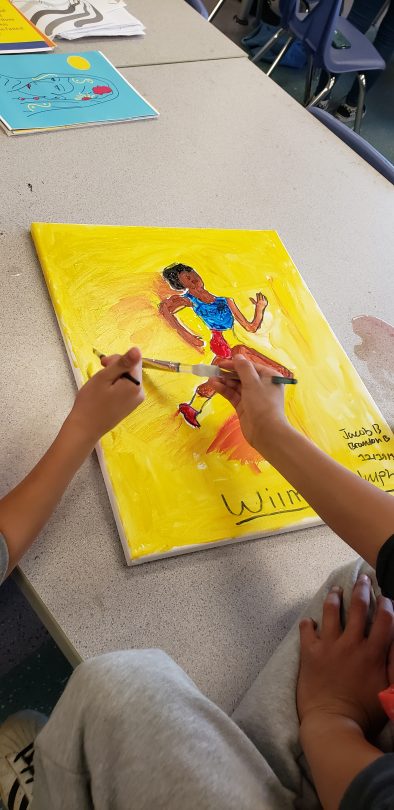 For Morton, this project, funded by the Kenan Fund for Faculty and Student Enrichment, encapsulates all that she has learned and become during her four years at Transylvania.
Inspiration for the project bubbled up in a name, Sybilla, while Morton was meditating. "I Googled it," she remembers. "It turns out there are multiple Sybillas throughout history that were really influential women and I didn't know about them. And that bothered me. So I thought, 'Who else do I not know about?'"
As a Transy Pioneer and a religion major, she'd already become open to not knowing. "I'm never uncomfortable with having more questions than what I came in with," she admits. Yet, as she developed her idea, she grappled with whether she was the right person to see it to fruition. After all, she was a musician on scholarship at Transy (a bassoonist and singer who plays saxophone in jazz band), a writer for The Rambler and a softball player.
But in art, drawing in particular, she was more of a novice; it's something she'd taken up for sheer enjoyment. To make digital art, she would need to learn new software and technology. She had never mounted an exhibit before. But Professor of Art Kurt Gohde who was her first adviser at Transy, provided the moral support as well as the community connections and a physical example of baseball trading cards he had created that featured homeless people. Gohde told her, "It's your idea. Who better to do it?"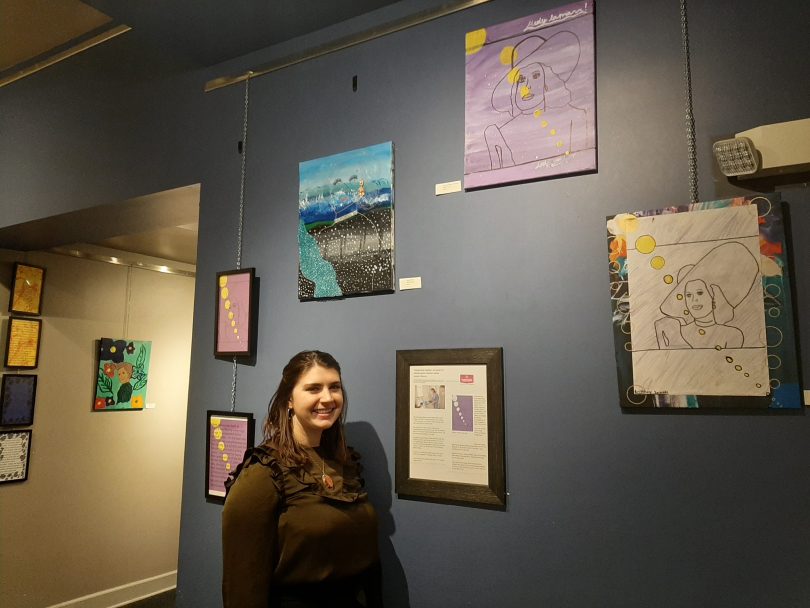 From the very start, Morton was excited to see what broader impacts might arise from introducing the women's stories to the elementary students. "I just hoped they'd see the possibilities of what you can do, and that there are just no limits to what you can do."
At the opening of the exhibit on March 1, the imaginative art made by fourth and fifth graders popped off the walls, side by side with enlarged versions of Morton's original designs. The creative, thoughtful 8 and 9-year-old artists stood and mingled around the art. They were at once shy, proud, interested and supportive of each other.
Two boys had been inspired by Noor-un-Nissa Inayat Khan (also known as Nora Baker), a WWII British spy who served as a wireless radio operator in occupied France before being sent to the Dachau concentration camp, where she was killed. The boys created two small, clay human figures and a painting titled "Battle for Freedom." After filling the canvas with the sea, a ship, airplanes and rockets, and adding details of smoke and finally waves to punctuate the story on the canvas, Yael Leal remembers thinking that he and Fernando Hernandez had finished.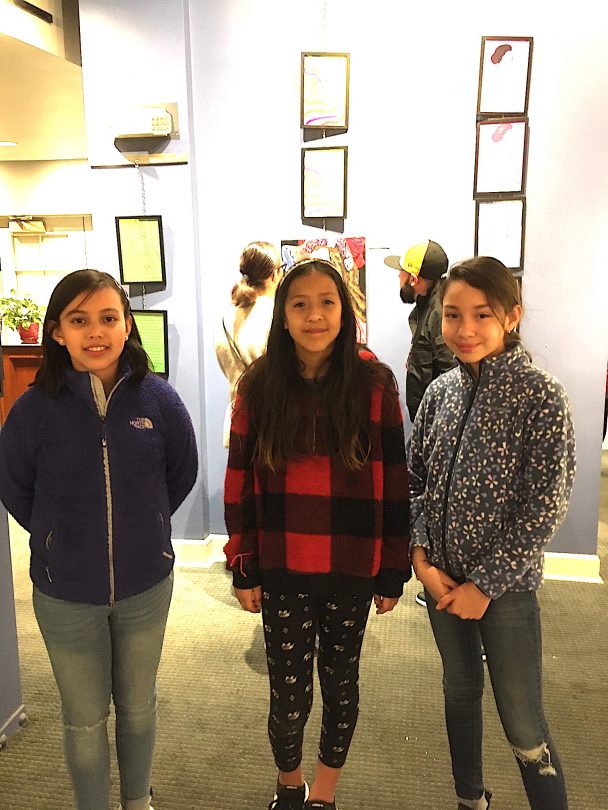 "Then I thought it was missing something," he reflects. "I was thinking about it." He decided to add two of his own words, "Wah if?" His question represents "things that you could say," he explains, as he looks toward the ship in the throes of warfare in Battle for Freedom: "What if this? What if that?"
The connection to something deeper than color on paper is exactly what Morton hoped the project would achieve.
Science fans in the art club leapt at the chance to learn about women in their fields of interest, ranging from astronomy to ecology. More than one student chose Hedy Lamarr, the glamorous 1940s movie star, because she invented a "secret communication system" during WWII that eventually became today's Wi-Fi and Bluetooth technology.
Britthany Rodriguez looked up at her painting, saying, "I really felt inspired about her. I don't know how to explain this, but I really like what she did. She was someone important."
Two girls shared an interest in x-ray crystallographer Rosalind Franklin, whose discoveries were essential to the understanding of DNA. "I love science and I saw that she's a scientist," one student explains her choice.
Her classmate adds, "It helped me a lot to know about other people that also like the same things that I do."
Identifying role models was a significant outcome of the project, as Michelle Armstrong, Cardinal Valley's visual arts teacher, affirms. "What I have seen is that the students now can put a name to a woman with a profession they might be interested in," she says. "We've learned about women that were underrepresented, and the students have role models for themselves. It was a fantastic collaboration for sure."
This makes Morton happy because she worked hard to select a range of people from different backgrounds and parts of the world, as well as fields of study. "That's a tough task when you can only pick 31," she notes, smiling. "There are so many women who are left out of history." That's why Morton is eager to continue to develop the idea by starting her own business — even as she plans to accept an offer to intern in public relations for the state of Michigan when she graduates in May.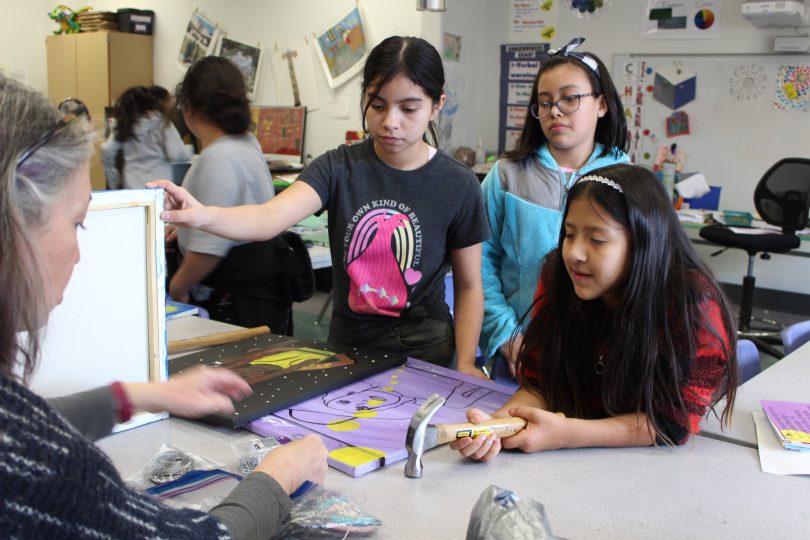 She'll be bringing a new sensibility with her as she returns home. "I think we have ideas in our head about what we can and can't do," she says of her own transformation through this process. "We limit ourselves so much on what we can do and the differences we can make in people's lives." It's a matter of strategy as well.
"When we want to make a change in the world, we think of this huge, unattainable thing and that we need a huge platform to do it," Morton says. "But even small things like this project can be steps in the right direction. I don't think we have to think so big when we want to make a difference."
---
The exhibit will up for the rest of March at the Kentucky Theatre, 214 E. Main Street, in Lexington. Gallery hours are 5-10 p.m. on weekdays and noon-10 p.m. on Saturdays and Sundays.