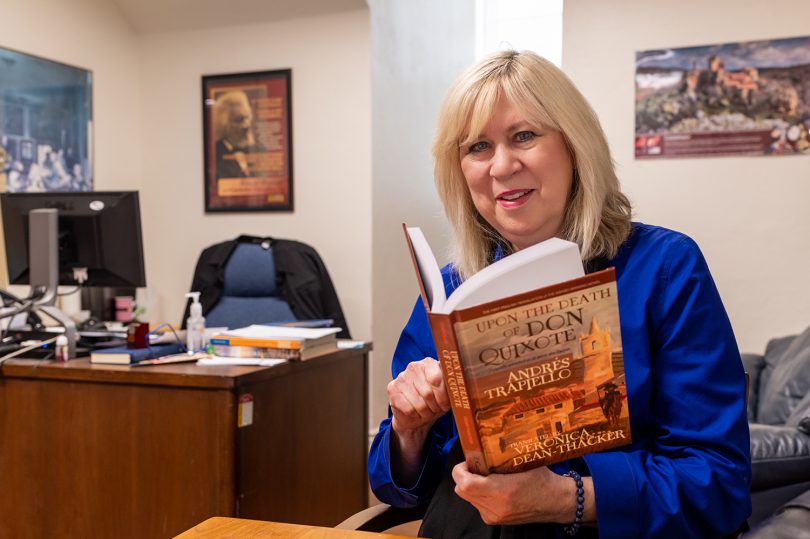 Don Quixote is dead. Now what?
A newly published novel translated by Transylvania University professor Veronica Dean-Thacker picks up where Miguel de Cervantes left off in the early 1600s with the "Second Part of the Ingenious Knight Don Quixote of La Mancha."
"Upon the Death of Don Quixote," originally written in Spanish by renowned writer Andrés Trapiello, imagines what happens after the demise of one of the most well-known characters in all of literature — How does the family cope with Don Quixote's passing? Is his hometown going to be turned into a shrine? What's the deal with his housekeeper being in love with him for years without anybody knowing about it?
"Trapiello really weaves this marvelous tale about all that," Dean-Thacker said.
Juan de la Cuesta – Hispanic Monographs last month released Thacker's translation of Trapiello's book, originally published in 2004 in time for the 400th anniversary of Part 1 of Cervantes' masterpiece.
It all started for the Spanish professor when she was visiting León; Trapiello's brother Pedro gave her a copy of "Upon the Death of Don Quixote" and said, "You really need to read this."
"When I read it, I thought it's too bad the English-speaking world doesn't have access to this story," Dean-Thacker said. "I was almost sickened at the end when I thought all my family and friends are never going to be able to read this — unless I do something."
Trapiello was inspired to continue Cervantes' story because the other characters were sort of "left in the dust" with the protagonist's death, she said. "There are so many lessons from Don Quixote's life that are reflected in these characters."
As for Cervantes' original, Dean-Thacker called it "such a compelling novel, and so much of literature that has been written since reflects what's in that story in one way or another."
Dean-Thacker is translating another Trapiello novel, a sequel to "Upon the Death of Don Quixote" titled "The Adventures of Sancho Panza."
As for her recently released translation, "Now I'm very ambitious thinking it would make a great film," she said.