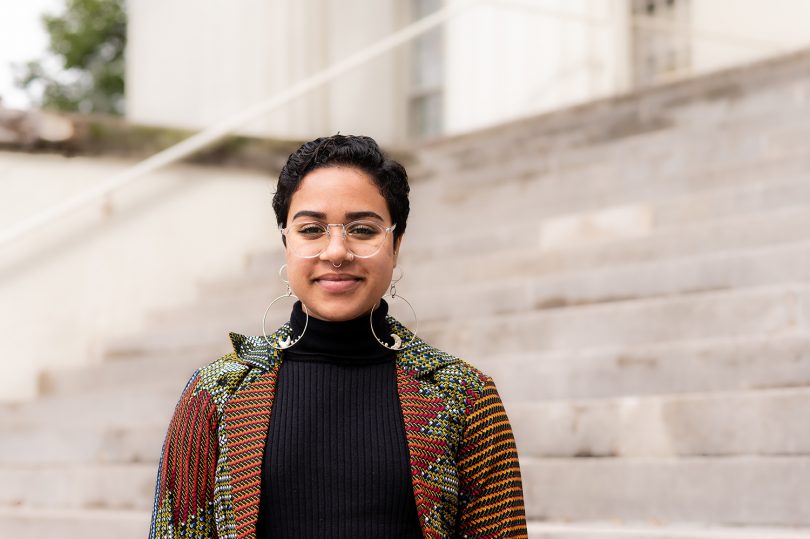 Growing up in Lexington, Diaka Savané '20 remembers playing on the steps of Old Morrison as a little girl. Each year, during the Mayfest Arts Fair in Gratz Park, she'd find her way back to the entrancing space. She had no idea that her future lay beneath her feet.
"I didn't know it was a university until I came for a visit," she recalls of her first real campus experience as a senior in high school. She'd just returned to Lexington after a year in France and found her friends busily applying to numerous universities. She applied to one.
"I could have easily chosen somewhere far away to go to school, but I was enchanted by Transy after I visited," she says. "I was that student that came back to all of the events for the prospective students. I liked it so much."
Transy became the place where she would grow as a person, scholar and leader. As she joined campus life, she began to feel a shift within herself, from a self-described "uninvolved" high school student to someone who wanted to be as involved as she possibly could. Savané says she remembers the importance of making that shift to be more aware and ask "why, what and how" for things she didn't understand.
As a Pioneer she could be comfortable asking those questions. She discovered her interest in sharing knowledge with others, on campus and as a volunteer tutor at the nearby Carnegie Center for Literacy & Learning. She points to Transy's small, interactive community as being integral to her growth, visibility and access to opportunities.
"The faculty and staff are involved and they reach out," she says, noting how she was recruited to be a leader and mentor in Transy's Pioneer Pathway college empowerment program. "People have reached out to me because they've noticed I'm interested in being more active," she notes.
In the process, the international affairs and French major has gained the kind of experience she's needed to develop as a leader. Her goal, she explains, is to help people feel welcome and included, and to have their perspective heard. She listens to lead. And she learns from listening to different points of view.
"It's so important that everyone is heard — and to understand where people are coming from."

Diaka Savané


Her efforts and nurturing presence were acknowledged in her junior year with the award of a Charles and Susan Shearer Scholarship, which recognizes outstanding academic performance, leadership qualities, campus contributions and strength of character. The merit award covers tuition in her final year at Transy.
Whether writing as a columnist for The Rambler, bringing together different perspectives at a community On the Table event, or chairing the social justice committee for the Black Student Alliance, Savané has worked to create an environment that is open to the exchange of ideas. In fact, she looks forward to angles she never considered. In preparing for these events, she says, "I can anticipate as much as I want what others will think and share about a topic, but I'm always surprised when that doesn't align with what I thought was going to happen — which is great."
She's learned the value of becoming comfortable with being uncomfortable and sees that as the way forward in dealing with challenging issues, such as race, that can't progress if people shy away from discussion. "A lot of people don't understand that you have to be uncomfortable to make it comfortable," she notes. "It's so important that everyone is heard — and to understand where people are coming from."
As she nears graduation, Savané now sees how these and so many other opportunities — from participating as a First Engagements scholar and coordinator to the Peace Corps Prep Program — have given her highly applicable skills and a sense of professionalism for life after Transy. Her dream is a career working abroad, possibly as a foreign service officer.
"Being allowed to hold these leadership positions has allowed me to experience and learn while doing," she continues. "I could sit and read papers on leadership and then go into a job, but I'm much more hands-on than that."
At the heart of her journey are the essential relationships she developed with faculty, staff, her 100 Doors alumni mentor, older students and even community members off campus. She extends her gratitude to all of them for their guidance.
"Talking with people is the number one thing," she says of her journey. "And asking questions."
Read about Savané's travel to Guinea in the latest issue of Third & Broadway.