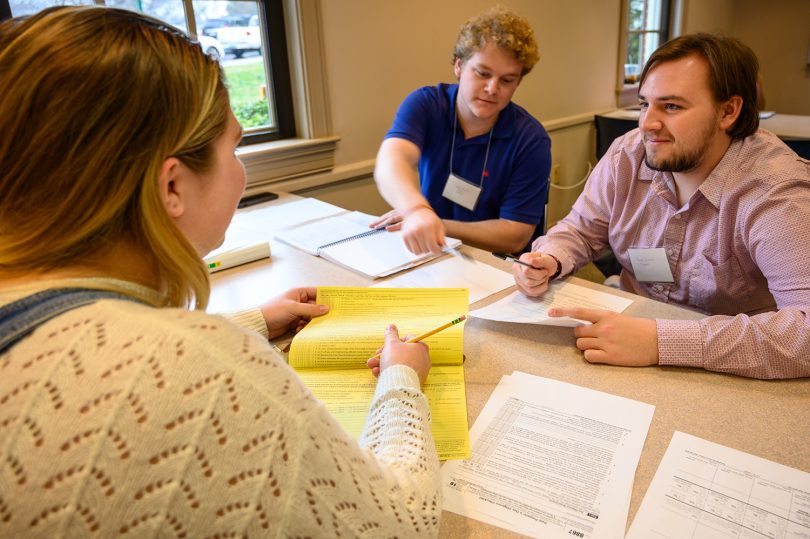 Tax season isn't typically associated with the warm fuzzies.
But for senior Hannah Talkers, participating in Transylvania University's Volunteer Income Tax Assistance program is a way to feel good by serving others, while at the same time learning skills that could pay off for her down the road.
"We get to help people who do not have an extravagant income by doing their taxes — which is something little that goes a long way," Talkers said.
She and other accounting students are preparing income tax forms at no cost for local community members who make $52,000 a year or less. The students are available each Wednesday of this month from 3-5:30 p.m. at the Cowgill Center for Business, Economics and Education off Third Street. No appointment is necessary.
If you are interested in this free service, bring all of the necessary information, including W2s, 1099s (interest income statements), state and federal tax returns from last year, the IRS forms you received in the mail, and photo IDs and social security cards. (You must provide documentation, including IDs, for dependents.)
Schedule C form preparation is not part of this free program.
To get ready for the VITA sessions, which Transylvania has provided for more than three decades, students train on preparing income taxes and work under the supervision of accounting professors.
"From an academic perspective, VITA is very helpful — learning actually how to do taxes and the processes needed," Talkers said. Students in fact can receive half of an academic credit for participating. "We have another tax class, but having clients and being able to file their returns ourselves is very helpful." She added that getting this real-world experience will help students down the road when they're looking for jobs.
Talkers, who has been participating for three years, also mentioned the value of interacting with the public and going around to hang up posters advertising VITA across Lexington. "We get to meet and talk with people around the community that we normally wouldn't meet without this program."